"We must accept this result and then look to the future. Donald Trump is going to be our president. We owe him an open mind and the chance to lead," Clinton said in a brief concession speech at the New Yorker Hotel in Manhattan.
"Our constitutional democracy enshrines the peaceful transfer of power," she added. "We don't just respect that. We cherish it. It also enshrines the rule of law; the principle we are all equal in rights and dignity; freedom of worship and expression. We respect and cherish these values, too, and we must defend them."
Clinton's effort to start healing the raw feelings following the campaign came hours after Trump praised the former secretary of state at his victory party for her years of public service.
During the general election campaign, Clinton had called Trump temperamentally unfit to hold the Oval Office, while Trump had routinely referred to her as "Crooked Hillary" and said in a debate that he'd appoint a special prosecutor to investigate her.
Senior Trump aide Jason Miller tweeted on Wednesday that Clinton's speech marked an "important step in bringing our country together."
Clinton also spoke directly to the women who supported her historic candidacy, calling it "one of the greatest honors" of her life and asking them to not give up their fight. "To all the little girls watching this, never doubt that you are powerful and valuable and deserving of every chance in the world."
She was introduced by her running mate, Sen. Tim Kaine (D-Va.), who said he was proud of her "because she loves this country." Kaine boasted that throughout Clinton's campaign, "nobody would have to wonder" if she would accept the results of the election ― unlike Trump, who hinted he might have challenged the results if he'd lost.
The Democratic presidential nominee received a standing ovation as she entered the room. People in the crowd shed tears as she started to speak.
"This is painful, and it will be for a long time, but I want you to remember this: Our campaign was never about one person, or even one election. It was about the country we love," she said.
"Never stop believing that fighting for what's right is worth it," she added.
Clinton and her team had been confident of victory heading into Election Day, believing they would win Florida's 29 electoral votes, which would have made it all but impossible for Trump to win. But Trump won Florida narrowly, as well as North Carolina and Ohio, two other battleground states. And then he won Pennsylvania and Wisconsin, two longtime Democratic states that Clinton had been counting on.
"I pledge to every citizen of our land that I will be president for all of Americans, and this is so important to me," Trump said.
Trump is scheduled to meet with President Barack Obama at the White House on Thursday. In brief remarks from the Rose Garden on Wednesday, Obama reminded disappointed Democrats that he had had sharp disagreements with former President George W. Bush when he took office, too, and expected to be able to work with Trump during the coming transition.
Before You Go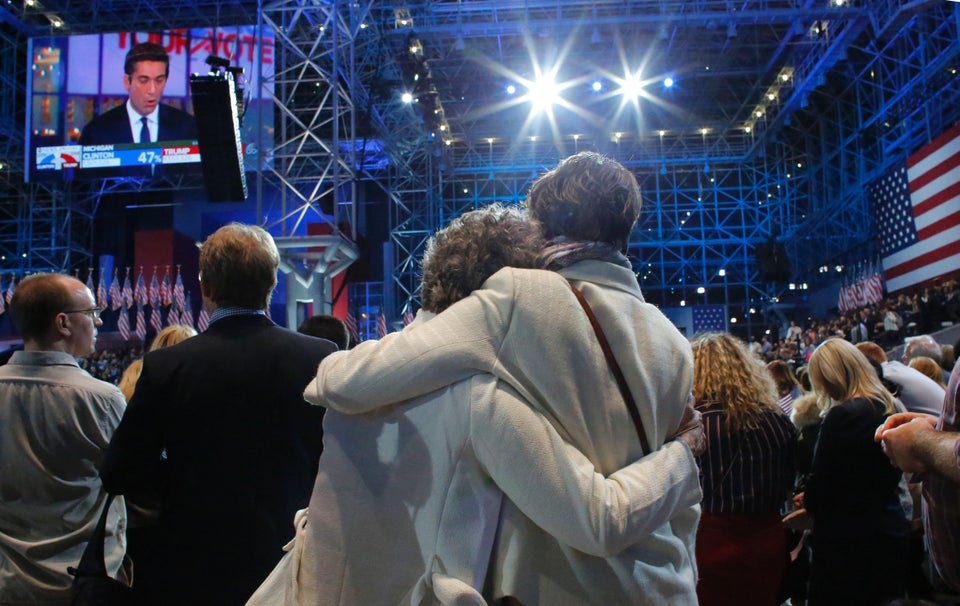 Clinton Supporters React After Election Loss
Popular in the Community