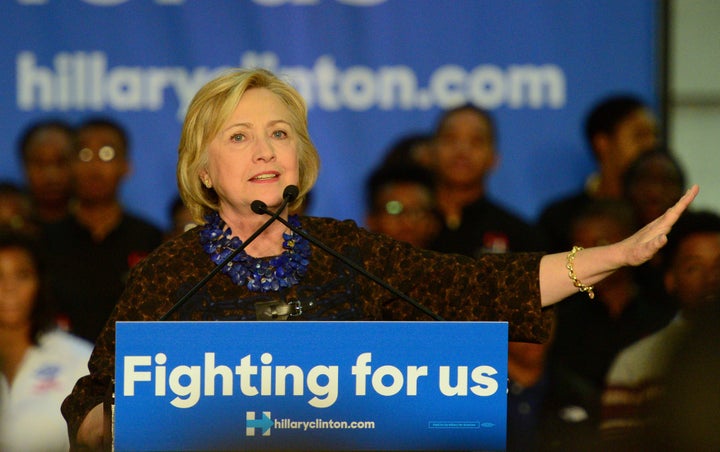 Hillary Clinton joined SiriusXM's Joe Madison on Monday to discuss criticism of her criminal justice platform as well as the black teenager who was thrown from her desk by a school resource officer in Columbia, South Carolina, last week.
The Democratic front-runner said she was disturbed by the video of former Spring Valley High School resource officer Ben Fields manhandling a 16-year-old student known only as Shakara.
"The adults in a school should be modeling appropriate behavior to deal with any disciplinary issues that might arise, and that was clearly not the case in the incident we have seen in the school in South Carolina," she said.
Critics have characterized Fields' actions as assault, and the footage has led the FBI and Department of Justice to launch investigations into his conduct. Fields, who was also a sheriff's deputy in Richland County, South Carolina, was fired Wednesday after a 48-hour investigation.
Clinton said school administrators and teachers should develop alternative measures to handle students who are being "difficult."
"I don't know the facts around the young woman who was thrown to the floor -- as we all saw -- but whatever the facts are, it doesn't justify behavior like that," she said. "And it's important that we all take a deep breath here and try to understand better how to deal with kids who may have different challenges in their lives, and they need to be addressed in a more effective way."
Black students are suspended and expelled from schools three times as often as their white peers. For black girls, the rate is twice that much. In South Carolina, black students make up 36 percent of the state's total enrolled student population but they make up 60 percent of those suspended from school.
"I know a lot of adults complain that kids aren't as respectful, that they don't follow authority. Well, the fact is we are responsible in many ways for modeling the behavior we want from our children," Clinton said, addressing the crux of arguments supporting Fields' handling of Shakara. "And people in positions of authority -- particularly teachers, police officers, etc. -- we need to take a very hard look about how we deal with the problems kids have today, and try to help children where they are. And if they're acting out, there's a lot of alternatives to picking them up and throwing them on the ground."
Clinton also responded to the criticism that she is taking the black vote for granted.
Student activists interrupted Clinton's speech unveiling her criminal justice platform last week at Clark Atlanta University. Two of the students told The Huffington Post that they believe Clinton is only offering rhetoric and no concrete solutions to the issue of mass incarceration. But Clinton said Monday that the purpose of her speech was to present her solutions for black America's issues -- such as police reform, mass incarceration, education, health care and employment along with rebuilding and empowering marginalized communities.
"People in general -- this is not about any particular community -- but people in general right now in our country are turned off by politics. Some of them have given up on politics. They are discouraged or disappointed," she said. "And I have a big task in front of me to really convince people that it matters who is elected -- what our goals are; what our experiences are; what we want to do to try to empower and enable people from all walks of life to live out their own dreams … So I'm not taking anybody for granted, and I'm not taking any issue for granted."
Listen to the entire interview:
Popular in the Community