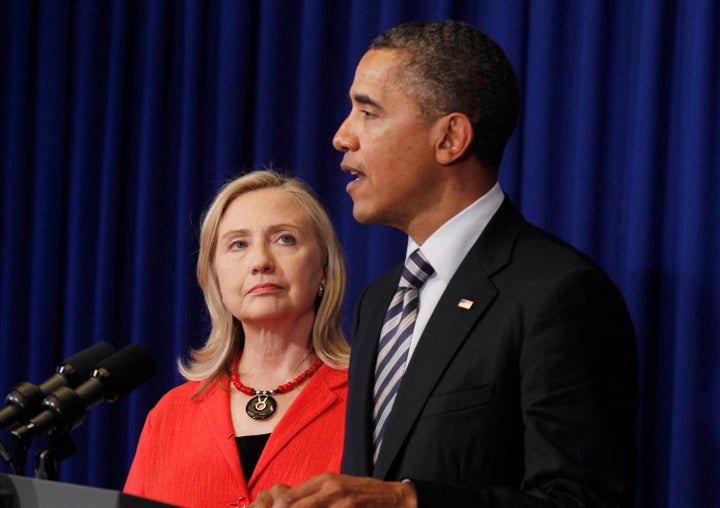 Secretary of State Hillary Clinton "rejected" President Obama's proposed 2011 budget for her department, according to a memo obtained by the New Yorker's Ryan Lizza, and described in the magazine Monday.
"At the proposed funding levels, we will not have the capacity to deliver either the full level of civilian staffing or the foreign assistance programs that underlie the civilian-military strategy you outlined for Afghanistan; nor the transition from U.S. Military to civilian programming in Iraq; nor the expanded assistance that is central to our Pakistan strategy," Clinton wrote in the six-page memo.
As military operations in Iraq and Afghanistan draw down, responsibility for those conflict zones increasingly falls to the State Department, which will be staffing the largest U.S. embassy in the world in Baghdad and overseeing a team of several thousand armed contractors.
At the same time, the State Department's budget, especially for non-military foreign operations, has been under near constant assault from budget-conscious congressional critics.
To defend its ability to operate abroad, the State Department has launched a major public information campaign to promote the fact that the American foreign aid budget is only about 1 percent of the federal budget, even as surveys show that the average American assumes it to be closer to 25 percent.
Hillary Clinton has taken the battle with Congress over foreign aid funding public before -- telling legislators last year that she would "recommend personally" that the president veto a proposed House bill severely curtailing State Department operations.
"We know we are going to have to put everything on the table. I'm not saying we should be exempt ... I'm just saying that as we look at everything that is on the table, we have to try to do a reasonable analysis of what our needs and interests are," she added.
"I want to emphasize that I fully understand the economic realities within which this budget is being constructed, and I share your commitment to fiscal responsibility. But I am deeply concerned about these funding levels," Clinton wrote. "You and I often speak about the need to restore the capacity of civilian agencies. There is little room for progress unless you provide guidance that you are open to an increase in overall funding levels."
REAL LIFE. REAL NEWS. REAL VOICES.
Help us tell more of the stories that matter from voices that too often remain unheard.
BEFORE YOU GO