On Sunday, Hillary Clinton returned to Iowa for the first time since her 2008 presidential bid, lending fuel to speculative fire about her White House aspirations.
Appearing at outgoing Sen. Tom Harkin's (D-Iowa) annual steak fry fundraiser alongside her husband, former President Bill Clinton, the former secretary of state spoke to the crowd of about 5,000 Democratic activists in Indianola, Iowa.
"Hello, Iowa," Clinton began. "I'm back!"
She addressed 2016 speculation head on, teasing that she has "a few things on [her] mind" lately.
"Now when Tom Harkin called and asked me to come, I have to admit i wasn't sure what to say," she said. "I've got a few things on my mind these days. First, and most importantly, Bill and I are on constant grandchild watch. I'm calling Chelsea every 5 minutes to make sure things are going alright."
She continued, "There's that other thing. It is true I am thinking about it."
It was one of several knowing references to her likely presidential campaign. (Clinton has said she will officially decide early next year). While offering praise for Harkin, who is retiring after three decades in the Senate, Clinton commended the senator for learning to "Never quit, never lose faith, never stop fighting for others, and when you get knocked down get right back up." The motto called to mind Clinton's own defeat during the 2008 Iowa caucuses. While recalling her late mother's support, she paid tribute to her belief that "everyone deserves a chance, not just a second chance but a third chance." And in his introduction, Harkin dubbed the Clintons "the comeback couple."
However, Clinton insisted her priority Sunday was helping Democrats in the upcoming midterm elections.
"I'm here first and foremost for Tom, for Ruth [Harkin], and for the great candidates that you have a chance to elect," she said.
Clinton praised Iowa's high-profile Democratic candidates, Senate hopeful Bruce Braley and gubernatorial challenger Jack Hatch, for believing that "women should make their own health decisions" and that "equal pay should mean you get equal pay for equal work."
"Too many people only get excited about presidential campaigns," she said. "Look, I get excited about presidential campaigns too. But those campaigns only happen every four years. And every two years, you're electing members of Congress and senators and state officials who will have a big say in the quality of your schools, your health care, your lives. So use the enthusiasm that Iowa is so well known for every presidential year and channel that into these upcoming elections."
"It's really great to be back," she concluded. "Let's not let another seven years go by."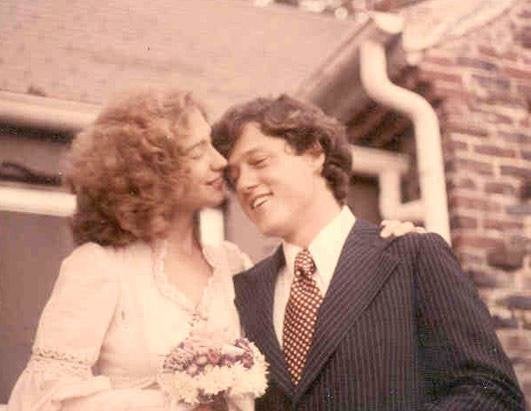 Hillary And Bill Through The Years
Popular in the Community