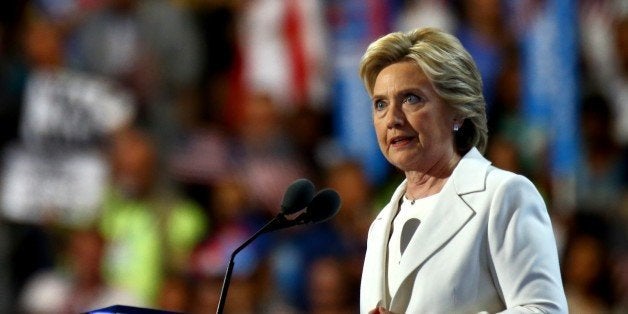 Hillary Clinton accepted the Democratic Party's nomination as their candidate for president, a historic moment in American history. "When there are no ceilings, the sky's the limit," she promised convention delegates. Her speech reflected the party's progressive platform in an effort to rally her base, but it offered little for Republicans uneasy about Donald Trump.
This was arguably the most important speech of Clinton's political career. She has been plagued by concerns about her trustworthiness, and had overcome a difficult primary challenge from Senator Bernie Sanders, whose loyal delegates still had to be convinced about her candidacy.
Speaking directly to Sanders' supporters, Clinton said, "Our country needs your ideas, your energy, and passion. That's the only way we can turn our progressive platform into real change for America," she said. "We wrote it together -- now let's go out there and make it happen together."
Referencing the courage of the Founding Fathers in standing up to a king, she said, "America is once again at a moment of reckoning." She then asked for unity, "We have to decide whether we all will work together so we all can rise together." The theme of her campaign is "Stronger Together" and much of her speech carried that message, which she described as a guiding principle for the country.
Clinton's speech was filled with attacks on Donald Trump. "He's taken the Republican Party a long way from "Morning in America" to "Midnight in America," she said. "He wants us to fear the future and fear each other." She asserted that, "We are clear-eyed about what our country is up against...but we are not afraid." She continued, "We will not build a wall. Instead, we will build an economy where everyone who wants a good paying job can get one." She called for a clear path to citizenship for immigrants, and said she would not ban a religion.
"Don't let anyone tell you our country is weak. We're not," she proclaimed. "And most of all, don't believe anyone who says, 'I alone can fix it," she said referring to Trump's claim in his acceptance speech a week earlier. "Donald Trump says he wants to make America great again-- well, he could start by actually making things in America again," she said of Trump's offshore manufacturers.
Clinton attacked Trump's lack of temperament and experience. "Imagine, if you dare imagine--imagine him in the Oval Office facing a real crisis. A man you can bait with a tweet is not a man we can trust with nuclear weapons."
Clinton, who was affectionately introduced by her daughter Chelsea, talked about her upbringing, her family and her career. It was part of an effort to re-introduce herself as genuine, authentic and a person committed to service. President Bill Clinton, who was at times emotional, watched his wife from the seats below the stage.
Hillary Clinton covered many of the issues important to progressives. She called for a constitutional amendment to overturn Citizen's United, expansion of voting rights, comprehensive immigration reform, Wall Street reform, equal pay, expanded social security and health care, and she declared climate change is real. Charging that Donald Trump is in the pocket of the gun lobby, she said she would not repeal the Second Amendment, but would enact common-sense gun reforms.
Clinton's speech came on the final night of a convention that had heard from many impressive speakers over the course of the week. Perhaps the most powerful moment in Thursday night's program was provided by the father of Captain Humayun Khan, a Muslim American soldier who was killed in Iraq in 2004. "Have you read the Constitution?" Khizr Khan asked Trump while pulling a copy out of his suit pocket. "Have you ever been to Arlington Cemetery? Go look at the graves of brave Americans who died defending the United States of America." he said. "You will see all faiths, genders and ethnicities. You have sacrificed nothing."
In contrast, Hillary Clinton's speech was not powerful, it was not soaring, it was not inspirational. It certainly did nothing to excite Republicans, and it failed to convert Hillary haters to her campaign. While she is the first woman to be nominated by a major party as their candidate for president, her speech will not stand out in history.
Clinton will almost certainly get a bump in the polls because of the highly polished Democratic Convention. But she will have a fight to the finish in November against a flawed candidate who is promising change and that he alone can fix everything.
Calling all HuffPost superfans!
Sign up for membership to become a founding member and help shape HuffPost's next chapter