Hillary Clinton promises to reduce the growth and burden of student debt if she is elected president by taxing high earners, she plans to announce Monday.
The Democratic presidential candidate wants state and federal governments to increase their funding for students at certain public colleges while also allowing existing borrowers to refinance their high-rate loans and enroll in plans that limit payments to 10 percent of their income. The plan, which would cost $350 billion over 10 years, needs congressional approval and support from states to be viable.
The centerpiece of Clinton's proposal, to be unveiled Monday, promises that students who commit to working at least 10 hours a week can attend college without having to take out loans for tuition. Families would still have to contribute, but less than under current guidelines. State and federal funding would make up the balance. The plan calls for the federal government to incentivize colleges to control costs and states to increase expenditures to support colleges. Students would still have to pay for their living expenses, which the College Board estimates will be about $17,410 for the typical student in the coming nine months.
Clinton also wants to eliminate tuition for community colleges.
Her plan wouldn't increase the national debt -- a concern that's less urgent when the government can borrow at current near-historically low interest rates -- because she'd limit tax deductions for high-income earners in order to pay for it.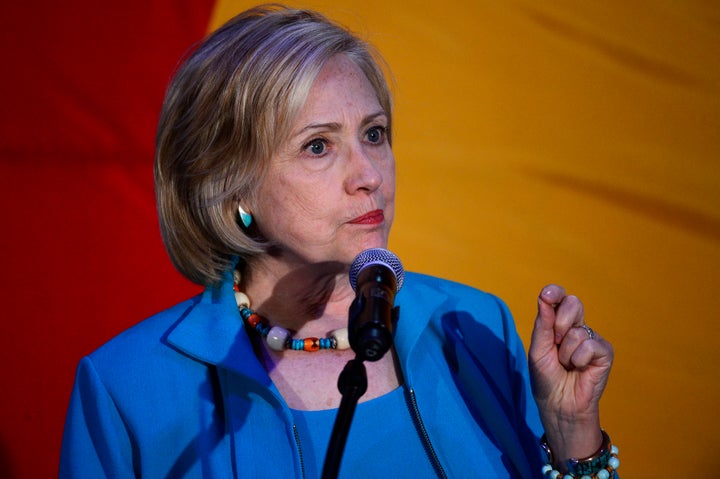 Clinton's ambitious proposal to revamp the murky and expensive world of higher education attacks nearly everyone associated with it: Colleges that cheat students or fail to control costs; states that reduce funding for public colleges and force students to make up the difference and dodgy student loan companies that collect borrowers' monthly payments or attempt to recoup their defaulted debt.
Other aspects of her plan include tightening up standards colleges must meet in order to access federal student aid, more stringent oversight of for-profit colleges, increased borrower protections and virtually eliminating the need for loan companies that collect borrowers' monthly payments and cost taxpayers up to $2 billion a year.
Fact sheets describing Clinton's proposals contained few details.
It's a plan that borrows heavily from the Obama administration, expanding on some of Obama's efforts but also reversing some of his highly criticized practices.
For example, Obama has previously pushed states to increase their funding of public colleges, but has had little luck. Obama also has expanded plans that enable borrowers to limit their monthly payments to a portion of their earnings. Clinton's plans go further.
But unlike Obama, Clinton promises to crack down on loan contractors engaged in wrongdoing. One of her proposals would nearly get rid of them by allowing borrowers to repay their loans by deducting payments from their paychecks.
Clinton also wants to end the hefty profits the federal government generates off the student loan program. The program creates tens of billions of dollars in annual earnings thanks to the difference between the sky-high rates that borrowers pay on their loans and what the federal government pays to finance those loans. The Obama administration has been criticized for failing to rein in practices and policies that result in profits.
Popular in the Community