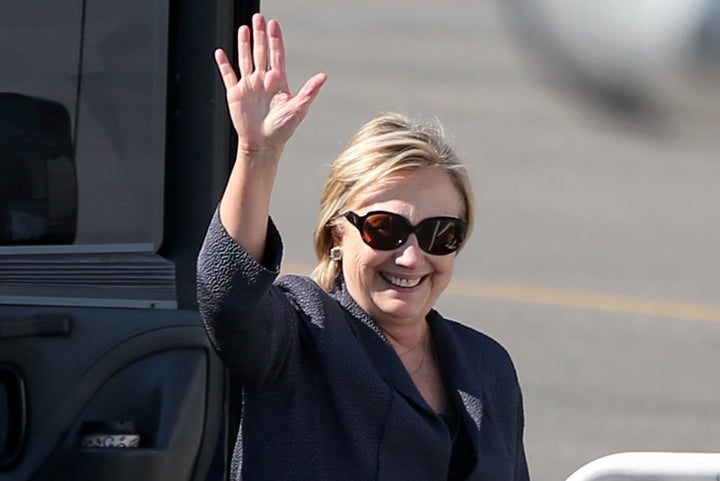 The students of America have spoken, and they want Democratic presidential nominee Hillary Clinton to be the next commander in chief of the United States, according to the results of Scholastic News mock election released Tuesday. 
The results show Clinton dominating Republican presidential nominee Donald Trump, earning 52 percent of the vote from K-12 students. Trump received 35 percent of the vote. The rest of the students wrote in other choices, including Libertarian nominee Gary Johnson, Green Party nominee Jill Stein, Sen. Bernie Sanders (I-Vt.) and less conventional figures, like Kanye West. Students mailed in ballots or voted online between August and early October.
Clinton beat Trump in a number of key battleground states like Ohio and Florida. Here's a map of the breakdown: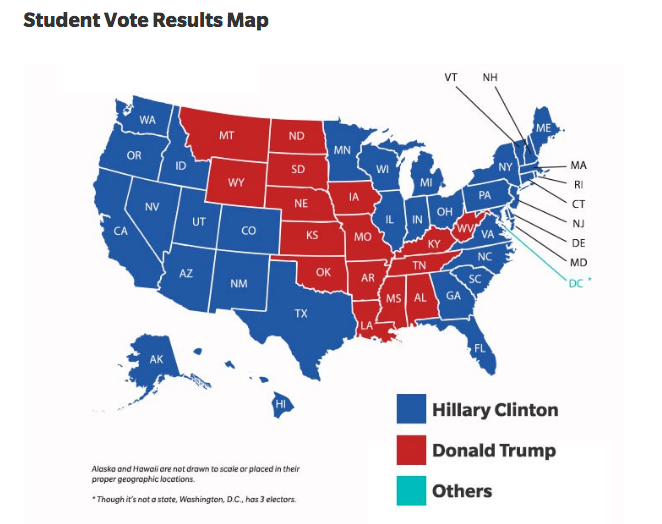 Although about 153,000 kids from every state and the District of Columbia cast votes, the mock election is not scientifically representative of the U.S. population. The purpose of the activity is encourage civic engagement among students. 
Still, Scholastic News says kids have only failed to accurately predict the outcome of the presidential election twice since 1940 ― in 1948, when Harry Truman faced Thomas Dewey, and in 1960, when John F. Kennedy faced Richard Nixon. 
This presidential election has been particularly challenging for teachers. Racially charged bullying has been on the rise in America's classrooms as a result of Trump's campaign, according to an April report from the Southern Poverty Law Center ― a phenomenon known as "The Trump Effect."
Furthermore, some of the most newsworthy moments of the election cycle have involved inappropriate language. After a 2005 video of Trump saying his fame allows him to "grab [women] by the pussy" came to light, teachers struggled to talk about current events in their classrooms. 
When 11th-grade educator Jarrett DeMent talked to students in his civics and government classes about the tape, he told them they were not allowed to repeat specific language used by the Republican nominee. 
"Being that they are juniors in high school, I told them, 'If you really want to know the exact quote, I'm sure you can find it online. But as far as what we're talking about in class, we're not going to exactly quote it,'" DeMent previously told The Huffington Post.  
I try to tell the truth, not necessarily sugarcoat the truth, but make it a more age-appropriate truth.

Erik Weibel, a 14-year-old Scholastic News Press Corps reporter
A student reporter for Scholastic News said he struggles with similar issues. Erik Weibel, 14, reports on political news as part of the Scholastic News Press Corps. 
He recently covered on a Trump rally, where he interviewed attendees about the 2005 tape. When he wrote an article about the event, he did not repeat what Trump specifically said in the video.
"Kids reading the article, they need to know this about the candidate. They need to know he said mean things about women. But they don't need to know exactly what he said," Erik said. "I try to tell the truth, not necessarily sugarcoat the truth, but make it a more age-appropriate truth." 
While Erik, who goes to school in Pennsylvania, would not disclose his own political leanings, he says most of his peers seem to be Trump supporters. 
Calling all HuffPost superfans!
Sign up for membership to become a founding member and help shape HuffPost's next chapter