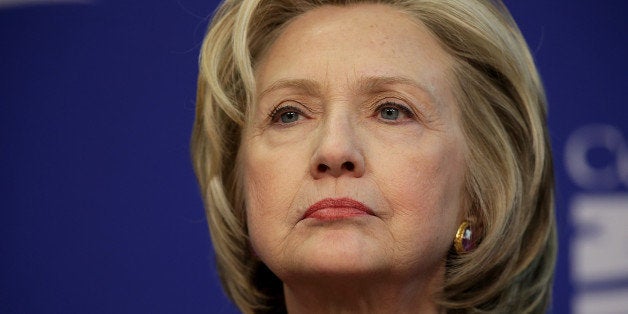 A group known as The HRC Super Volunteers has launched a campaign aimed at journalists to prevent the use of sexist language when covering potential 2016 presidential candidate Hillary Clinton.
The group began as an online Facebook community made up of some 150,000 members who came together during the 2007-2008 primaries to take a stand against sexist reporting.
One of the founders, John West, approached journalists via email this week to warn them about using "coded sexism" in their writing about Clinton such as words and phrases like, "ambitious," "tired," "entitled," "worn out" and "will do anything to win."
"Already we have seen the coded language of sexism and innuendo used by major news outlets and we are not happy," West wrote in an email obtained by The Huffington Post.
He proceeded to give several examples from major news outlets:
The New York Times stated Hillary continued to "scramble in the dirt on the crabbed limbs of legal compliance."
Washington Post comparing Hillary to a "stale, musty" old car.
The New Yorker prefers the derogatory term "petulant."
USA Today refers to Hillary Clinton's "reputation for secrecy."
Washington Post: "[H]er judgment and penchant for secrecy."
NBC News: "Folks, this is the Clinton Way. Secretive."
TIME: "penchant for secrecy."
New York Times: "[T]he imbroglio could grow into a problem with voters, including some women, if Mrs. Clinton comes to be seen as unduly secretive or imperious in the months ahead."
Politico uses the same technique, opening an article by calling her "devious" then concluding it by asserting that "it's hard to win if you're constantly on the defensive." See the trap? Attack her, then claim she's on the defensive.
Similarly, the "inevitability" frame is an artificial perch that others place her on and then try to knock her off. When her behavior doesn't conform to the media's expectations, she is "defiant."
"You are on notice that we will be watching, reading, listening and protesting coded sexism this time around," West warned. "We expect you to exercise restraint and take editorial responsibility."
New York Times' political reporter Amy Chozick tweeted about receiving an email from the group:
Support HuffPost
The Stakes Have Never Been Higher
Related
Popular in the Community