Ten months after a gunman opened fire in a D.C. pizza parlor over a debunked conspiracy theory involving 2016 Democratic presidential nominee Hillary Clinton and her campaign chairman, John Podesta, it was revealed that Clinton had quietly supported the pizzeria in the wake of the shooting.
Monday evening, during the first stop of Clinton's book tour for her new campaign memoir, What Happened, the evening's host, Lissa Muscatine, co-owner of the popular Washington bookstore Politics and Prose, told the crowd that Clinton and her husband, former President Bill Clinton, had purchased a number of pizzas from Comet Ping Pong and sent them to a local after-school literacy program.
"I told you what was going on and you responded instantly and were so supportive," recalled Muscatine, whose bookstore is located just down the street from the pizza place. "A few days after that, you and your husband said, 'What can we do to support Comet?'"
On Dec. 4, 2016, Edgar Welch fired an AR-15 rifle in the establishment. It was later reported that Welch had driven from his home in North Carolina to "investigate" the unsubstantiated claim that Clinton and Podesta had secretly run a child sex ring in the basement of the pizza place. No one was hurt, but the incident had a chilling effect in Washington, where the vitriol of the 2016 campaign had yet to feel so close. Welch was later sentenced to four years in prison.
The conspiracy theory, one of the more outlandish falsehoods that gained traction in an already wild election season, emerged from a misreading of a cache of leaked emails from Podesta published by the group WikiLeaks.
"This is a terrible example of what can be done by people who are malicious, unacquainted with the truth and pursuing their own agendas," Clinton said of the shooting.
"I can't tell you how important it was ... that you and President Clinton were there for us," Muscatine told Clinton. "I've never had a chance to thank you publicly."
Clinton did manage to find some humor in the incident.
"In one of the emails, John Podesta is talking about pizza. He's Italian and Greek, so you know," Clinton recalled, soliciting laughter from Muscatine and the nearly 2,000 people gathered for the book event at the Warner Theatre in downtown Washington.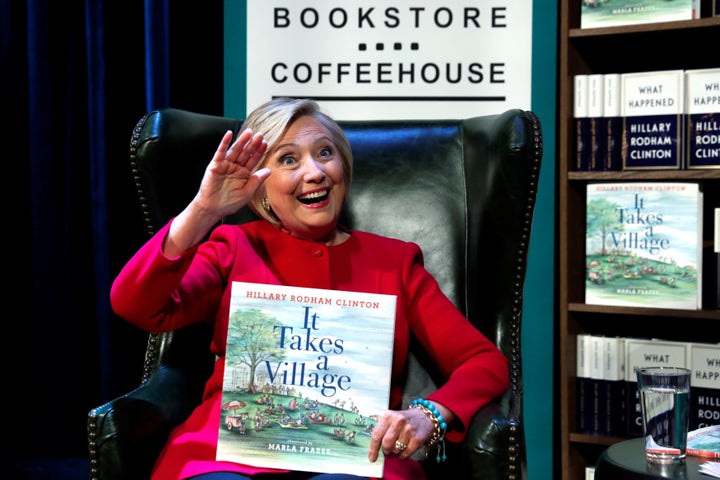 Support HuffPost
The Stakes Have Never Been Higher
Popular in the Community