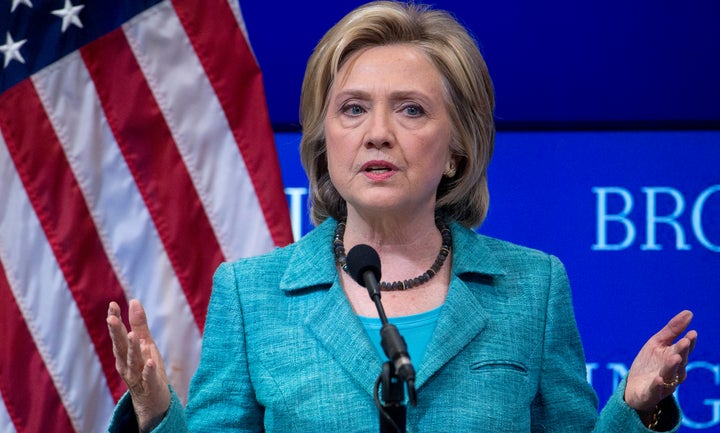 WASHINGTON -- Democratic presidential candidate Hillary Clinton said Wednesday at the Brookings Institution that the United States should press for an "emergency global gathering" where countries would commit to taking in refugees fleeing war in Syria. 
Though Clinton didn't name a specific number of refugees she thinks the United States should absorb, she did say that the country should "do our part." The U.S. has announced that it will accept 8,000 refugees in 2016, but advocacy groups have called for that number to be increased to 100,000. The crisis in Syria has displaced more than 4 million people, and advocates say the U.S. pledge represents "a drop in the bucket." 
The former secretary of state compared her proposed global gathering to the 2010 conference co-sponsored by the United Nations and U.S. that raised billions for earthquake-devastated Haiti from countries, banks and nongovernmental groups.
"We're coming up on the U.N. General Assembly, I think that there should be an emergency global gathering where the U.N. literally tries to get commitments," she said. "After the Haiti earthquake we had a huge gathering at the U.N., where, literally, it was like a pledge conference, where we said, 'What are you going to do? What can you contribute?' And, little countries to big countries, all stepped up. And it was a great show of support in the face of a terrible natural disaster." 
Clinton commended Jordan, Lebanon and Turkey for their "incredible" work supporting refugees, saying that those three countries have not received enough support. 
"We need to do something similar, and I've publicly called on the U.N. to convene such a gathering, doing it again today in front of all of you," she continued. "And the United States has to be at the table, has to be leading it ... I think that though it's not on our doorstep, we have a real interest in working not just with our European friends, I think this is a global responsibility. And, if you're too far away, or for whatever reason you don't think you can take refugees, then you have to contribute money." 
The comments were in line with those Clinton made last week in an interview with MSNBC's Andrea Mitchell. She said then that the crisis was "heartbreaking" and that the issue was one that affects the entire world, and not just Syrians. 
One of Clinton's opponents, former Maryland Gov. Martin O'Malley, has tried to make the refugee crisis an issue in the Democratic presidential primary. Since O'Malley called for the U.S. to absorb at least 65,000 Syrian refugees by the end of next year, it is significant that Clinton has, so far, refused to name a specific number of refugees beyond what the country has already committed to. 
Calling all HuffPost superfans!
Sign up for membership to become a founding member and help shape HuffPost's next chapter