DES MOINES, Iowa -- Hillary Clinton withstood attacks from her two Democratic presidential rivals on Saturday night over her framing of U.S. foreign policy in the wake of the terrorist attacks in Paris and made a provocative reference to the Sept. 11 attacks, in an attempt to explain her ties to Wall Street.
The debate -- which aired on CBS News at a time when much of the country was tuned in to college football -- appeared to be far from a disaster for the Democratic front-runner. And if the polls and general dynamics of the race are any indication, Clinton remains poised to withstand any resulting setbacks in the primary race. But the debate did expose some potential vulnerabilities for the former secretary of state in a general election setting.
A solemn mood prevailed at Drake University where the debate's opening round was focused on foreign policy, as Friday night's massacres in Paris that killed at least 129 people were an overriding presence.
Clinton, Sen. Bernie Sanders (I-Vt.) and former Maryland Gov. Martin O'Malley each sought to project a firm resolve on the issue of combating terrorism but disagreed on areas of strategy and context.
"We will support those who take the fight to ISIS," Clinton said, adding that was why the U.S. has troops remaining in Iraq and special operations forces in Syria. "This cannot be an American fight, although American leadership is indispensable."
It was Clinton's declaration that the battle against ISIS "cannot be an American fight" that drew immediate scrutiny from her opponents.
In a signal of the aggressive and assertive approach that he would maintain throughout the evening, O'Malley jumped to raise questions about Clinton's characterization.
"This actually is America's fight," he said. "It cannot solely be America's fight. America is best when we work in collaboration with our allies. America is best when we stand up to evil in this world."
And though it was evident that he would rather have had the debate remain focused squarely in his wheelhouse of domestic economic policy, Sanders also piled on, moving to turn the discussion into an indictment of Clinton's 2002 vote to authorize the Iraq War -- a decision she has since described as a "mistake."
"In fact, I would argue that the disastrous invasion of Iraq, something I strongly opposed, has unraveled the region completely and led to the rise of al Qaeda and ISIS," Sanders said. "I would say that on this issue I'm a little more conservative than the secretary, and I am not a great fan of regime change."
It was a trying exchange for Clinton, who has been widely perceived to hold a major advantage over both of her opponents whenever the public's attention turns to world affairs. Clinton holds a dominant lead in national polls and was widely declared the winner of the first 2016 Democratic face-off in Las Vegas last month.
Clinton did get an opportunity later in the debate to note that she had encouraged President Barack Obama to move forward with the raid that killed Osama bin Laden, and throughout the night, she sought to emphasize her stature and experience.
"This election is not only about electing a president, it's also about choosing our next commander in chief," Clinton said. "And I will be laying out in detail what I think we need to do with our friends in Europe and elsewhere to do a better job of coordinating the efforts against the scourge of terrorism."
The debate marked a departure from a Democratic nominating fight that had to this point largely been fought on predictable economic turf with Sanders positioning himself to Clinton's left.
"I represented New York on 9/11 when we were attacked," she said. "Where were we attacked? We were attacked in downtown Manhattan where Wall Street is. I did spend a whole lot of time and effort helping them rebuild. That was good for New York. It was good for the economy, and it was a way to rebuke the terrorists who had attacked our country."
Later in the debate, moderator Nancy Cordes cited a tweet that took issue with Clinton's move to cite 9/11 in order to justify her own Wall Street ties to a Democratic electorate that has become increasingly skeptical of big business.
"Well, I'm sorry that whoever tweeted that had that impression because I worked closely with New Yorkers after 9/11 for my entire first term to rebuild," Clinton said.
Clinton's opponents did not attack her directly for her 9/11 characterization, but they did go right at her for her ties to Wall Street in general.
"Why, over her political career, has Wall Street been the major campaign contributor to Hillary Clinton?" Sanders asked. "Now, maybe they're dumb, and they don't know what they're going to get, but I don't think so.
O'Malley added that Clinton's proposals for reining in Wall Street were "weak tea."
In response to this particular criticism, Clinton demonstrated that she had done her homework on the former Maryland governor, noting that O'Malley had chosen an investment banker to fill the position of Maryland's top financial regulator in 2010.
Throughout the evening, Cordes and the debate's primary moderator -- "Face the Nation" anchor John Dickerson -- earned praise on Twitter for holding the candidates to account and keeping them on topic.
When the debate turned to tax policy, Sanders would not say where he would place the top income tax rate for the highest earners, vowing only that it would be less than the 90 percent top rate that was in effect during President Dwight Eisenhower's administration in the 1950s.
Unlike in the first debate when he largely remained outside the fray on a stage that then featured two additional also-rans, O'Malley was front and center at just about every turn on this particular night. When the topic turned to immigration reform, he had one of his best moments of the debate -- and, perhaps -- of his entire campaign.
O'Malley earned massive applause from the crowd when he referred to the "immigrant-bashing carnival barker Donald Trump" and called for getting 11 million undocumented immigrants "out of the shadows," as part of a means to increase wages.
"Our symbol is the Statue of Liberty," O'Malley said. "It is not a barbed-wire fence."
Regardless of any boost he might receive from his steady performance, O'Malley remains far outside of striking range of Clinton in the polls, and Sanders -- though much more competitive -- has been losing ground in recent weeks.
The Democratic nomination, no doubt, remains Clinton's to lose.
Still, there were signs of more potentially ominous things to come for the leading Democratic candidate.
"I come from the '60s, a long time ago," Clinton noted at one point in the debate.
The national Republican Party has been eager to highlight the generational divide between several of its leading presidential candidates and Clinton. It was not difficult to imagine the "long time ago" line being used against Clinton in a general election attack ad next fall.
See the latest updates on the debate here.
See photos from the debate below: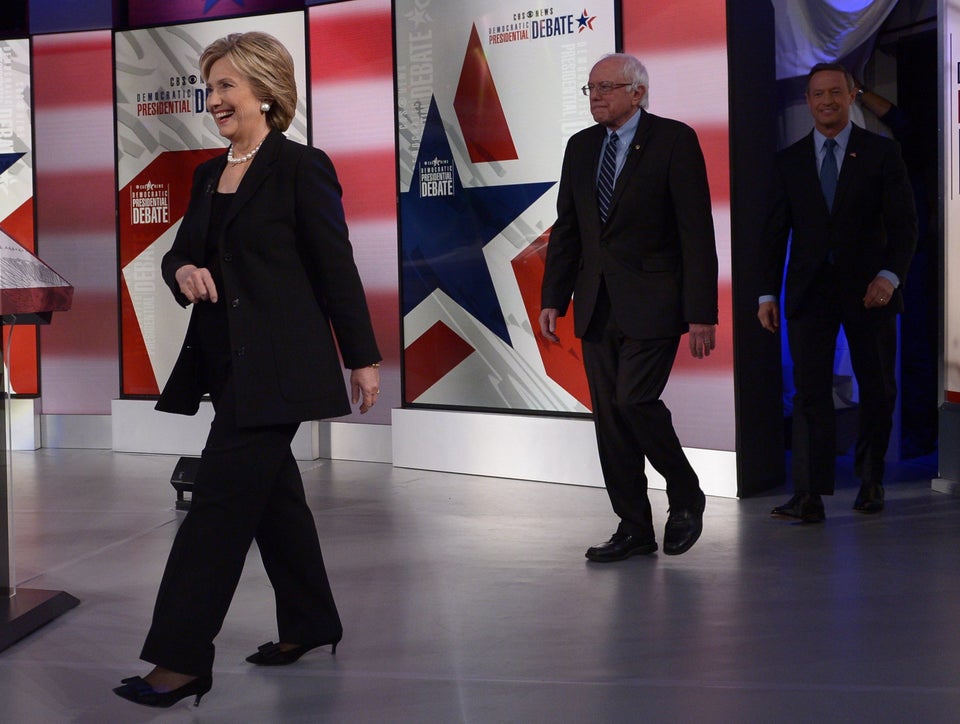 Scenes From Democratic Debate No. 2
Popular in the Community