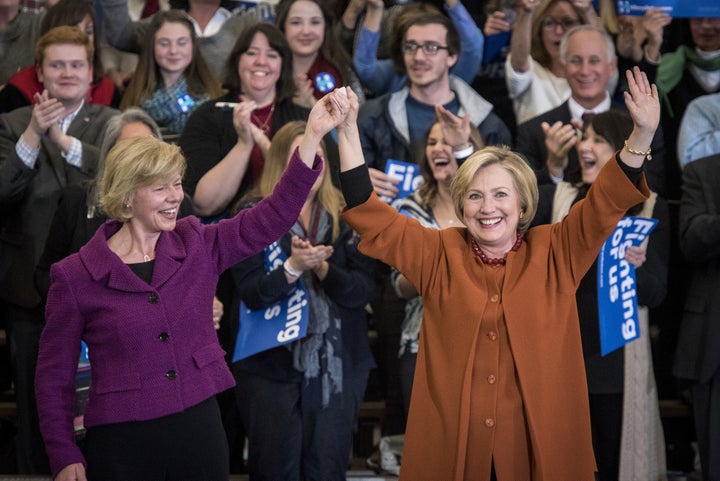 It was a time when it was exceedingly difficult to run as an openly gay, lesbian, bisexual or transgender candidate for national political office. While Democratic House members like Barney Frank and the late Gerry Studds, both of Massachusetts, had come out while in office and had even been re-elected, no candidate who'd already been out, like Baldwin, had ever been elected to national office as a challenger.
"Shortly after I won my primary, [Hillary Clinton] came out to Madison, Wisconsin, and actually stumped for me in what was a very competitive House race," Baldwin recalled, noting that their relationship went back to that very day. "And I believe my narrow victory is at least, maybe in large part, due to her research and her faith in a candidate who was going to make history and, I hope she believed, also make a difference."
Bill Clinton's record on LGBT rights at the time had been complicated — and controversial. He advanced LGBT rights like no president before, speaking out on equality, signing the first ever White House Gay and Lesbian Pride Proclamation, appointing the first openly gay ambassador, accelerating AIDS drug approval and signing an executive order banning discrimination in federal jobs. But Clinton also had created roadblocks by negotiating the "don't ask, don't tell" law in 1993 and signing the terrible Defense of Marriage Act in 1996, angering many activists. It was within that context that Hillary Clinton decided to campaign on behalf of Baldwin's historic candidacy in 1998.
 "She took a risk on me," Baldwin said. "We had at that point in our nation's history some folks who had come out while serving in office, but we'd never elected somebody who was already out. And the belief was, the common wisdom was, that the voters weren't ready, that the time hadn't come yet. And in fact, I had some discouragement from even seeking the Democratic nomination in the primary contest. But something that's never been done has only never been done until you do it. It meant something to me that she took that risk and helped make that happen."
It's no surprise, then, that Baldwin, who made history again when she was elected to the Senate in 2012, was one of the first women in the Senate to endorse Hillary Clinton for president after she announced her candidacy last year.
"I've had a chance to work with her in the years since [winning that first House seat]," Baldwin recalled. "I'm such an admirer."
REAL LIFE. REAL NEWS. REAL VOICES.
Help us tell more of the stories that matter from voices that too often remain unheard.
BEFORE YOU GO
PHOTO GALLERY
Hillary And Bill Through The Years