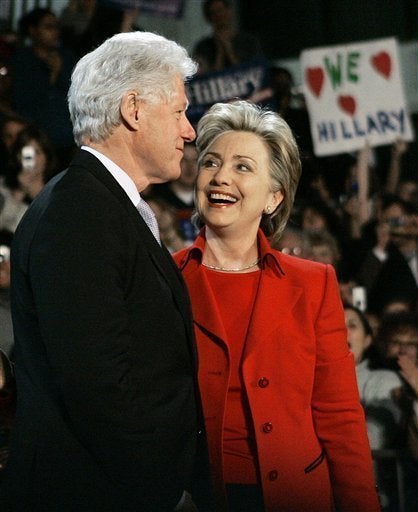 Sen. Hillary Clinton's campaign has released her 2000-2006 joint tax returns, showing $109.2 million in income over the last seven years.
In 2000, when the Clintons last made their returns public, they reported an adjusted gross income of $416,039. Since then, Bill Clinton alone has made $82 million from just his speech income ($51.85 million) and payments (totaling $29.6 million) from his two books -- "My Life " and "Giving."
TAXES PAID: $33,783,507

The Clintons paid $33,783,507 in federal taxes - 31% of their adjusted gross income. According to the most recent data available from the IRS, in 2005 taxpayers earning $10,000,000 or more paid on average 20.8% of their adjusted gross income in taxes.

CHARITABLE CONTRIBUTIONS: $10,256,741

The Clintons donated $10,256,741 to charity - 9.5% of their adjusted gross income. According to the most recent data available from the IRS, in 2005 taxpayers earning $10,000,000 or more contributed 3.1% of their adjusted gross income in cash contributions to charity. Information about the Clinton Family Foundation, including a list of charities to which the Clintons contributed through the Foundation, is available online in the Foundation's publicly available tax returns (www.foundationcenter.org).

AFTER TAX EARNINGS: $57,157,297

CUMULATIVE TOTAL(GROSS) INCOME: $109,175,175

Including, among other items:

* Senator Clinton's Senate Salary: $1,051,606
* President Clinton's Presidential Pension: $1,217,250
* Senator Clinton's Book Income: $10,457,083
* President Clinton's Book Income: $29,580,525
* President Clinton's Speech Income: $51,855,599
"The Clintons have now made public thirty years of tax returns, a record matched by few people in public service," Clinton spokesman Jay Carson said in a statement. "None of Hillary Clinton's presidential opponents have revealed anything close to this amount of personal financial information."
TaxProf provides a year-by-year breakdown of the Clintons' charitable giving (as a percentage of their annual gross income)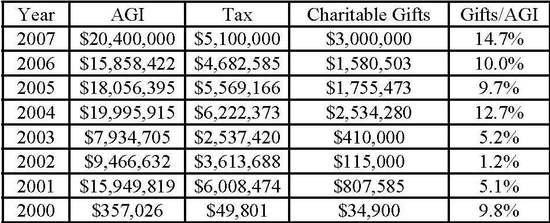 First, a couple of things that could bite Hillary:

The returns show more than $50,000 in income (and $40,000 in losses) in 2006 from funds with the name Quellos, an asset manager accused in a scathing bipartisan 2006 Senate committee report of structuring "tax shelters."

The 2006 return also contains a foreign tax credit worth $285,368, which could be an issue in a race that has been hostile to the notion of overseas jobs -- though the details of that figure (line 47 of the 1040 from 2006) aren't immediately obvious.

On the other hand:

A number of readers have e-mailed to say the Clintons' charity is ersatz, as it went to their family foundation. In fact, the foundation was giving the money away to a range of groups; you can see the foundation's 990, which has been written about before.
Following Clinton's tax return release, DNC Communications Director Karen Finney released a statement "on John McCain's 26 year history of refusing to release his tax returns":

"While both Democratic candidates for president have released several years worth of full federal tax returns, John McCain has not. As a self-professed champion of disclosure and ethics, John McCain should explain why for the past 26 years he has not seen fit to provide this important financial information to voters. Presidential candidates have disclosed several years worth of returns for decades, John McCain stands as a disturbing exception."
Popular in the Community