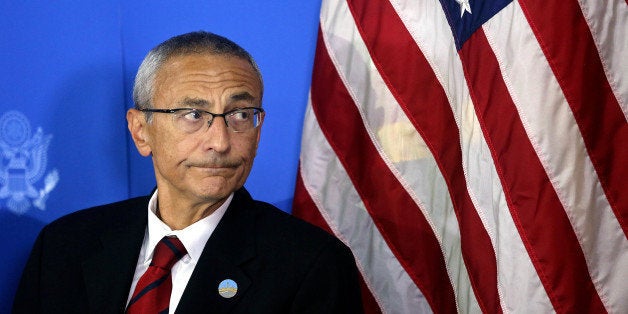 WASHINGTON -- House Speaker John Boehner (R-Ohio) on Sunday called on Hillary Clinton to help him and President Barack Obama push a major free trade deal through Congress. The unlikely Boehner-Obama alliance is battling opposition to the Trans-Pacific Partnership from tea party Republicans as well as rank-and-file Democrats.
"She can't sit on the sidelines and let the president swing in the wind here," Boehner said.
Or can she? To pile a third cliche on the heap, Clinton, a candidate for president and Obama's former secretary of state, has little interest in putting her shoulder to this particular wheel. At a closed-door gathering of wealthy progressive donors in April, Clinton campaign chairman John Podesta was asked how the campaign would deal with the issue.
"Can you make it go away?" Podesta replied jokingly, according to sources in the room at the time. His quip was an acknowledgement that the Trans-Pacific Partnership is a thorny political issue, but he didn't elaborate on Clinton's stance.
Podesta, a source close to him said, was referring to the fight over trade promotion authority, or TPA. Known as "fast track," TPA would grease the skids for trade deals like the Trans-Pacific Partnership. If fast track passes, Congress would have 60 days to debate the trade deal and vote it up or down, with no opportunity to amend it. The source also said Podesta was speaking more in the context of how difficult the issue was for Democrats in general, not Clinton in particular. A Senate vote on TPA may come within weeks, or sooner.
Podesta's lament is born of a simple political calculation: Any benefits that might come from the vast trade deal, if they do, won't appear for years, while the down payment on the political price will be due upfront. The progressive base is strongly opposed to the deal, and largely considers NAFTA, the major free trade deal pushed through by President Bill Clinton, to have contributed significantly to the erosion of the middle class. Hillary Clinton invites a progressive backlash if she helps push TPA through, but may jeopardize her business support and alienate Obama with full-throated opposition. If TPA passes, the issue won't go away, as Congress would be allowed a 60-day period to review the final draft, which isn't yet complete.
On Monday, Senate Minority Leader Harry Reid (D-Nev.) said he would block the measure until the Senate first deals with a stalled infrastructure bill and a package of surveillance reforms, a tactic the White House pushed back on. Reid also suggested Boehner do some of his own work instead of calling on a Democratic presidential candidate to help him out. Republican support for the trade deal is lukewarm at best in the House, with tea party activists seeing the deal as a step toward one-world government.
"I think he's got all these Republican hotshots there, he's got all the business community supporting him. He can do it on his own. He doesn't need Hillary," Reid told The Huffington Post Monday.
Clinton has been cautious about Obama's TPP deal since launching her campaign. Last month, a campaign spokesman said she "will be watching closely to see what is being done to crack down on currency manipulation" and to "improve labor rights, protect the environment and health" in the final deal.
"We shouldn't be giving special rights to corporations at the expense of workers and consumers," the statement read.
In her book, Hard Choices, Clinton also expressed concern about a key piece of the trade agreement, writing that the United States "should avoid some of the provisions sought by business interests, including our own, like giving them or their investors the power to sue foreign governments to weaken their environmental and public health rules, as Philip Morris is already trying to do in Australia."
While it is widely described as a trade deal, much of the agreement deals with corporate governance issues, seeking to find "regulatory harmony" among different nations -- which can often mean weakening regulations. The provision Clinton referred to is known as "investor-state dispute settlement," which allows foreign companies to attack domestic laws or regulations before an international tribunal if they believe those rules unfairly curb investment returns. Those tribunals can't directly overturn laws, but they can impose hefty fines on the countries they rule against.
Sign up below to get Ryan's quasi-newsletter in your inbox. You can read back issues of it here to see what you're getting yourself into.
Want more updates from Amanda? Sign up for her newsletter, Piping Hot Truth.
Before You Go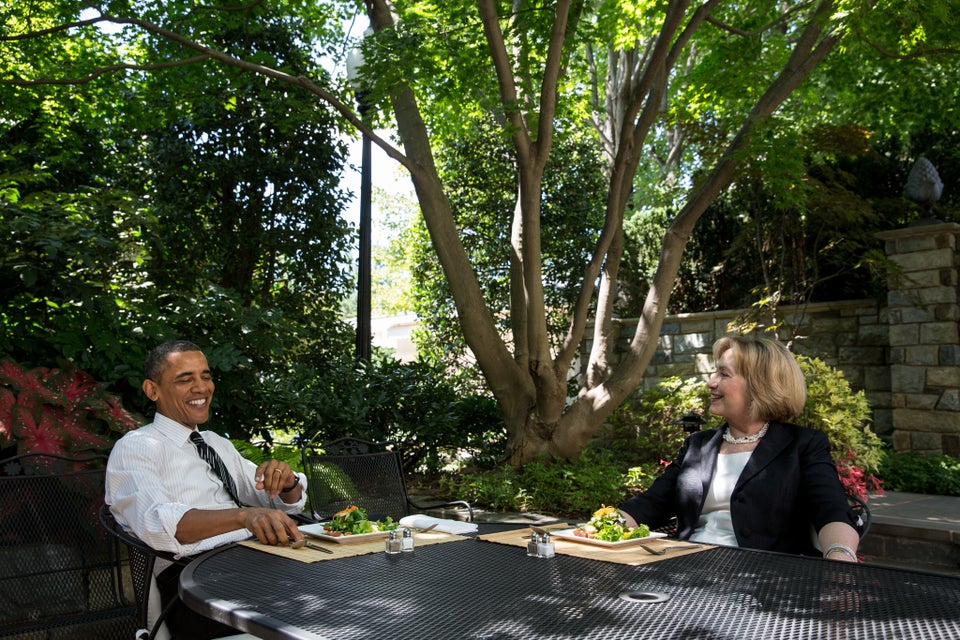 Hillary Clinton & Barack Obama
Popular in the Community