DES MOINES, Iowa –- Hillary Clinton's "super volunteers" are hitting the ground running this cycle, showing their excitement about the prospect of a second -- and successful -- run by their favored candidate.
"A super volunteer is someone who kind of just goes the extra mile for a campaign or their candidate and contributes to the democratic process," says volunteer John West.
A group of these super fans generated attention in 2008 with a viral video that showed one volunteer belting a tune he wrote, called "Hillary in the House."

Super volunteers are not part of Clinton's official campaign. Instead, they are dedicated supporters who stood with the candidate in the 2008 cycle, organizing grassroots efforts in an effort to help her win the Democratic nomination.
Now, volunteers like West and Jim Livesey are once again hitting the campaign trail, convinced their passion can make an impact in 2016.

West currently lives in Chicago and Livesey in Wisconsin, but both made the trip to Des Moines to support Clinton on Sunday, following her first campaign rally in New York City. Clad in Hillary Clinton attire, West and Livesey could be seen holding up signs, starting cheers and dancing in the crowd.
"I walk up to complete strangers and get them fired up," Livesey said. "We all have that bond that we are HRC supporters."

This community of volunteers has been meeting since 2007. Together, they spent thousands of hours phone-banking, traveling, helping with rallies, canvassing, fundraising and organizing online.
"You've got to have a lot commitment, passion, energy and experience to be a super volunteer," West said.

"You get out into the community and meet people and bring them into the political process, which is very important for this campaign to grow," added Livesey.
West visited 27 states while campaigning for Clinton in 2007. This cycle, both he and Livesey plan to travel across the country to show the former secretary of state their support.

"During the general election, I promised Hillary I would travel to Florida, Virginia, Ohio and Iowa," Livesey said.
Iowa will be a major focus for these volunteers ahead of the state's caucuses, and both Livesey and West plan to make the trip with a team of volunteers a week before the action begins.

Livesey fondly remembers the first time he met Clinton. He said he was shocked when she changed the conversation topic from policy, and instead asked him about his family.

"Hillary always acknowledges us because we have the signs," Livesey said. "I mean, this year alone I've met with her five times. I have five pictures with her."

Following the rally in Des Moines, both men walked up to the stage to meet with Clinton, taking pictures, holding up signs and exchanging a few words before she left for her next event in Burlington, Iowa.
"I think Hillary will have to work for every single vote, and that's how it is in Iowa," Livesey said.

Both super volunteers said they feel their efforts will pay off this time around.

"This is a beautiful partnership with grassroots and the campaign," said West.
Before You Go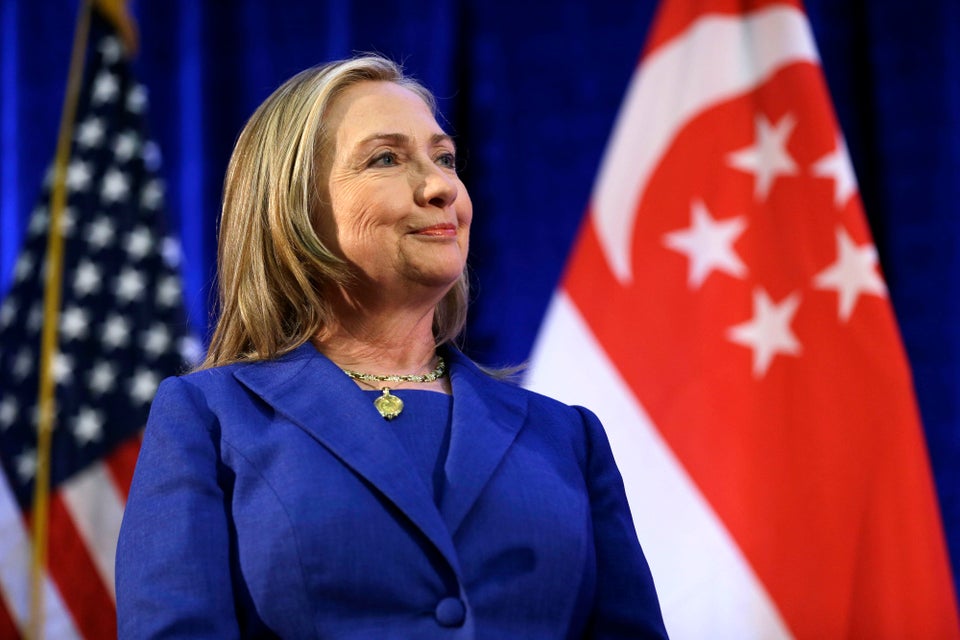 Hillary Clinton
Popular in the Community