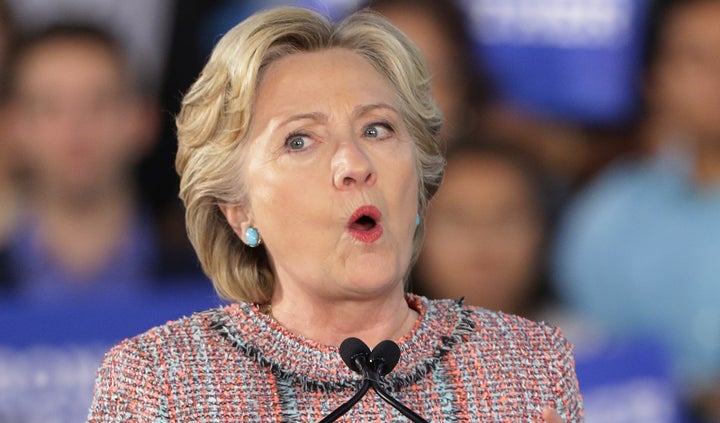 WASHINGTON ― On a Sunday in early February, Hillary Clinton appeared on ABC's "This Week" with George Stephanopoulos to defend her relationship with Wall Street. Her primary challenger Bernie Sanders had been pillorying her over paid speeches to Goldman Sachs. A video of Elizabeth Warren was circulating showing the consumer champion criticizing Clinton for supporting a bankruptcy bill that helped credit card companies squeeze vulnerable families. Clinton had opposed the bill as first lady, Warren said, but had fallen under Wall Street's sway in the Senate.
People had it all wrong, Clinton told Stephanopoulos. She hadn't switched her position to appease financiers. She had helped women's groups fix the bill to protect single mothers. Clinton said:
I was deluged by women's groups and children's advocates groups to do everything I could to make sure that child support and women's precarious financial situation in case of divorce or not being able to get the kind of funding they needed from a partner or a spouse in bankruptcy would not be in danger. … So I did go to work on behalf of all of these women's groups and children's groups because they needed a champion. … Nobody else was helping them. They were desperate to get help.
Clinton expressed outrage that her primary opponent would result to "innuendo, insinuation charges" about her record. "It had nothing to do with any money whatsoever, and I resent deeply any effort by the Sanders campaign to so imply."
It was a forceful, detailed defense. There was just one hitch. It wasn't true. And according to a trove of internal emails recently released by WikiLeaks, Clinton's team knew it.
"We have a problem," Clinton senior policy advisor Ann O'Leary wrote to campaign staffers that afternoon. "HRC overstayed (sic) her case this morning in a pretty big way."
"What did she say that was wrong?" spokeswoman Kristina Schake replied.
"She said women groups were all pressuring her to vote for it," O'Leary wrote back. "Evidence does not support that statement."
The Clinton campaign declined to address the substance of the emails, but spokesman Glen Caplin denounced WikiLeaks for releasing them. "By dribbling these out every day WikiLeaks is proving they are nothing but a propaganda arm of the Kremlin with a political agenda doing Putin's dirty work to help elect Donald Trump," Caplin said in a statement to HuffPost. "The FBI is now investigating this crime."
The bankruptcy bill, which was eventually signed into law in 2005, was designed to make it harder for people to qualify for bankruptcy ― a process in which a judge can discharge personal debts, allowing people to start over financially, albeit with a ruined credit rating. In addition to making it harder to file for bankruptcy, the bill effectively rearranged what types of payments creditors could seize during the bankruptcy process. Clinton had secured an amendment helping protect child support and alimony, but the tweak didn't impress women's groups much at the time.
"While this amendment may have provided some political cover, it offers virtually no financial help to single mothers, since the overwhelming majority of ex-husbands don't pay anything in distributions during bankruptcy," Warren wrote in her 2004 book, The Two-Income Trap. "Of far more importance was the fact that the bill would permit credit card companies to compete with women after bankruptcy for their ex-husbands' limited income."
Over 30 women and family groups opposed the bill, including the Children's Defense Fund ― where Clinton once worked ― the Feminist Majority Foundation, the National Organization for Women, the National Women's Law Center and the National Youth Law Center, according to a Women's eNews article from 2001. Twenty-four of the 44 women in the House of Representatives voted against the bill.
After Clinton revised this history on ABC, O'Leary marshalled the troops to try and make the best of the situation. She reached out to Sens. Barbara Boxer (D-Calif.), Barbara Mikulski (D-Md.) and Patty Murray (D-Wash.), looking for women surrogates who could defend Clinton's story. Staffers for all three were game, but Boxer wasn't a perfect fit.
"Boxer didn't vote because of a family situation, but unfortunately told the LA Times that she would have voted against it," O'Leary wrote.
Even Mikulski and Murray came with baggage. They had voted for the bankruptcy bill in 2001, but when a nearly identical version came up in 2005, they voted against it. The two agreed to put out a joint statement defending Clinton anyway: "We served with Hillary Clinton in the Senate, and no one worked harder with us to improve the lives of women and children, including during the 2001 bankruptcy reform debate."
But the ideal defense ― PR backup from women's groups ― seemed unlikely.
"Women's Groups - We cannot put something out proactive here b/c the record just isn't good," O'Leary wrote. "But, if called, Judy and Marcia are also prepared to say that Hillary fought really hard for changes, was with the other women Senators, and committed to keep working with them to strengthen the bill."
Marcia Greenberger, co-president of the National Women's Law Center and Judith Lichtman, a senior advisor with the National Partnership for Women & Families ultimately issued a formal statement touted by the Clinton campaign. Neither group was immediately available for comment for this article. "She fought for us," the two wrote in Februar. "To suggest that Senator Clinton was an outlier who was taking a vote for Wall Street in 2001 is simply false."
That's not how the National Women's Law Center described the vote in 2001.
"All of the members of Congress have been lobbied very hard on this bill and the commercial credit industry has put a lot of money into putting this bill through," Joan Entmacher, vice president of the National Women's Law Center told Women's eNews in 2001.
"You can't make commercial interests happy and still protect families," Entmacher added. "It is a zero sum game."
Popular in the Community