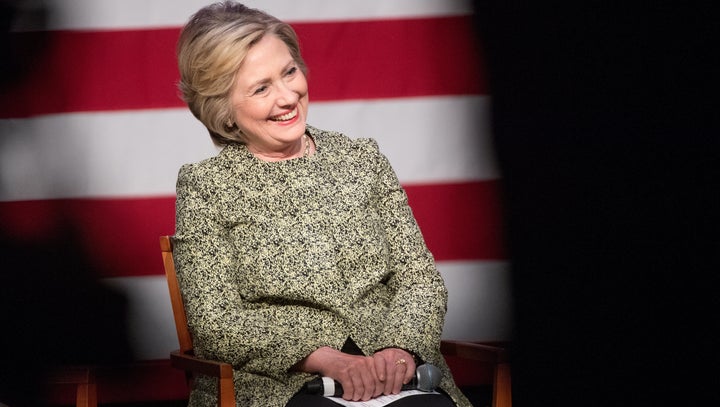 The Democratic presidential hopeful discussed the age-old "splitting the bill" question and the importance of pay transparency in an interview with Cosmopolitan.com published Tuesday morning. "I think splitting the cost on a date has to be evaluated on a kind of case-by-case basis," Clinton said. 
While the topic of splitting the bill is by no means an important question for the upcoming election, it is interesting to see where one of the most powerful women in the world stands on a hotly-debated feminist topic. (Because dating as a feminist can be hard.) 
Clinton told Cosmo that this "case-by-case" basis really depends on the person you're on a date with.
You know, many years ago I remember [splitting the bill], and I know a lot of young people who even today do because they kind of consider more casual dates, group dates, to be ones where everybody pays their fair share, but I think you also have to be alert to the feelings of the person that you are dating. If it's important to that person to either split in the beginning of the relationship, or for one or the other of you to pay for whatever combination of reasons, you know, you just have to evaluate that and take it into account. So I don't think there is a hard and fast rule, at least that I have ever seen followed in every instance.
The presidential hopeful also weighed in on pay transparency, when Cosmo's Prachi Gupta asked if she's ever discovered she was paid less because she's a woman. 
"Over the years, I learned in the jobs that I had where I stood relative to others who were working with me," Clinton said. "A few times, I had jobs that were public jobs, so the compensation was public information, but in the private sector, I was a lawyer and I, at the very beginning of my career, did not know where I stood in terms of pay, but as I got more experience and more confidence about my work, then I felt much more free to ask and so I did to find out where I stood." 
Is whether to split the bill a hard-hitting question? Nope. Is it helpful to single feminists everywhere? Yep.  
Head over to Cosmo to read the rest of Clinton's interview. 
Calling all HuffPost superfans!
Sign up for membership to become a founding member and help shape HuffPost's next chapter
BEFORE YOU GO
PHOTO GALLERY
19 Perfect Quotes From Hillary Clinton