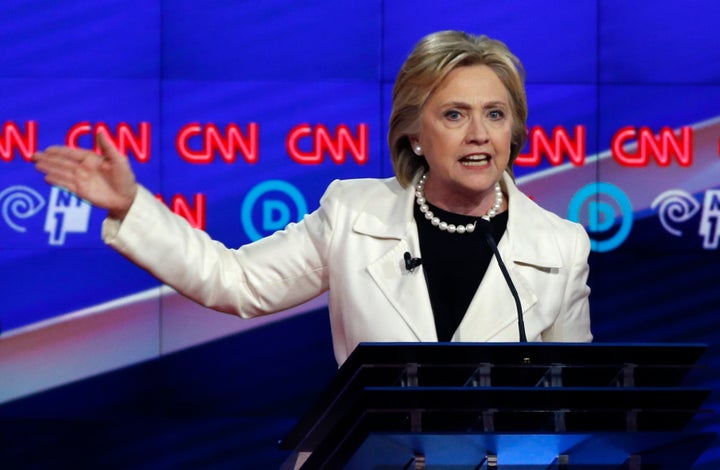 Hillary Clinton and Sen. Bernie Sanders (I-Vt.) met in Brooklyn, New York, on Thursday for the ninth Democratic debate, and once again, the moderators asked zero questions about abortion or women's reproductive rights.
The Democratic candidates haven't received a single question on the issue during any of their debates.
Clinton on Thursday called out the media for its oversight, saying the issue was a central one that the candidates need to talk about.
"We've had eight debates before; this is our ninth. We've not had one question about a woman's right to make her own decisions about reproductive health care -- not one question," Clinton said.
"And in the meantime we have states, governors doing everything they can to restrict women's rights," she added. "We have a presidential candidate by the name of Donald Trump saying that women should be punished. And we are never asked about this."
Last month, Trump suggested that women should be punished if they get an abortion. (He later tried to walk back his comments.) In response, Sanders called Trump's remark "shameful" but also criticized the media for focusing so much on his quips.
"Because media is what media is today, any stupid, absurd remark made by Donald Trump becomes the story of the week," Sanders told MSNBC's Rachel Maddow. "Maybe, just maybe, we might want to have a serious discussion about the serious issues facing America."
Clinton hit Sanders for what he said in that interview during Thursday's debate as well, saying, "Sen. Sanders said with respect to Trump, it was a distraction. I don't think it's a distraction. It goes to the heart of who we are as women."
Sanders reiterated that he has a strong record on reproductive rights and that he would "take on those Republican governors who are trying to restrict a woman's right to choose" if elected president.
The lack of questions has sparked the Twitter hashtag #AskAboutAbortion and frustrated reproductive rights advocates, who consider the issue crucial in the 2016 election.
"Where the media establishment failed, champion Hillary Clinton stepped in and drew attention to the invisible crisis of abortion access in this country," said Ilyse Hogue, president of NARAL Pro-Choice America, which has endorsed Clinton and pushed for discussion of the issue at the debates.
Abortion has come up only during GOP debates. The one time it did come up with Democrats was during a March forum hosted by Fox News. That, however, was a town hall and not a debate.
This piece was updated with comment from Ilyse Hogue.
Before You Go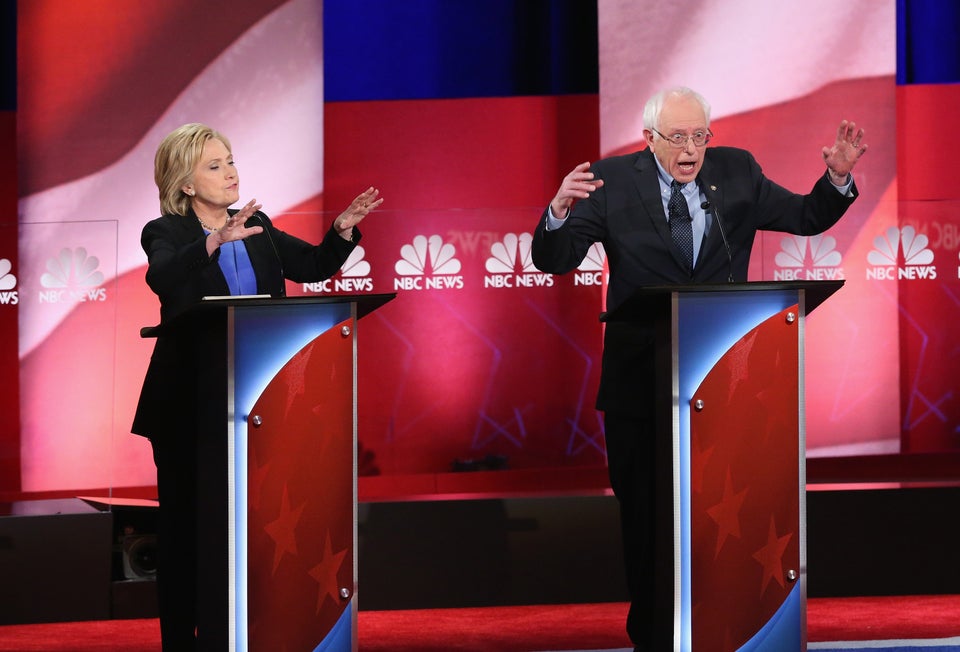 Bernie Sanders And Hillary Clinton Face Off
Popular in the Community