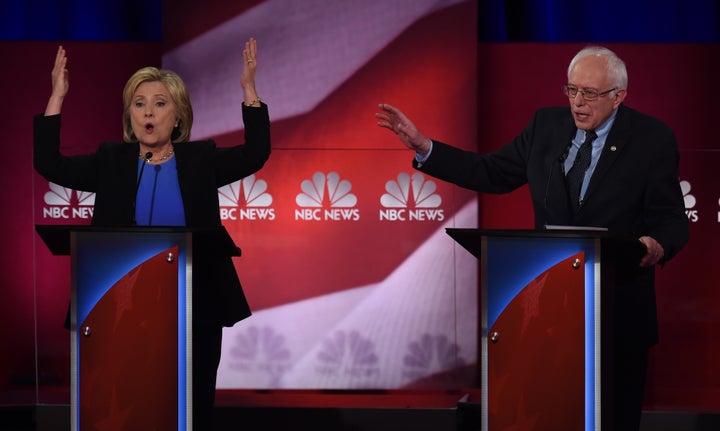 Yik Yak is an anonymous social media app popular with college students. Nearly all of its users are millennials, ages 18 to 34, according to Comscore. While it's not a scientific survey, posts on the app can provide a snapshot of how some college students and young people feel about the Democratic candidates.
Sen. Bernie Sanders (I-Vt.) had the most mentions on Yik Yak during Sunday's debate, and there were almost twice as many approving posts about him as disapproving ones, according to an analysis Yik Yak shared with The Huffington Post.
YouTube star Connor Franta, 23, noted that Sanders was "pretty popular among my peers," during the debate.
Meanwhile, just 7.6 percent of Yik Yak comments about Clinton were approving, while 52.5 percent were disapproving. Most mentions of former Maryland Gov. Martin O'Malley on the app were neutral.
Clinton is also facing some bad news from Yik Yak users in Iowa and New Hampshire.
"Looking at just the earliest voting states, Iowa and New Hampshire, Clinton's disapproval levels matched or surpassed what she received country-wide: she had greater than 50% disapproval among young voters in both Iowa and New Hampshire along with low-single-digit approval," Yik Yak wrote in its analysis. "Sanders fared better country-wide than he did in these states, earning 42% approval in Iowa but just 15% in New Hampshire."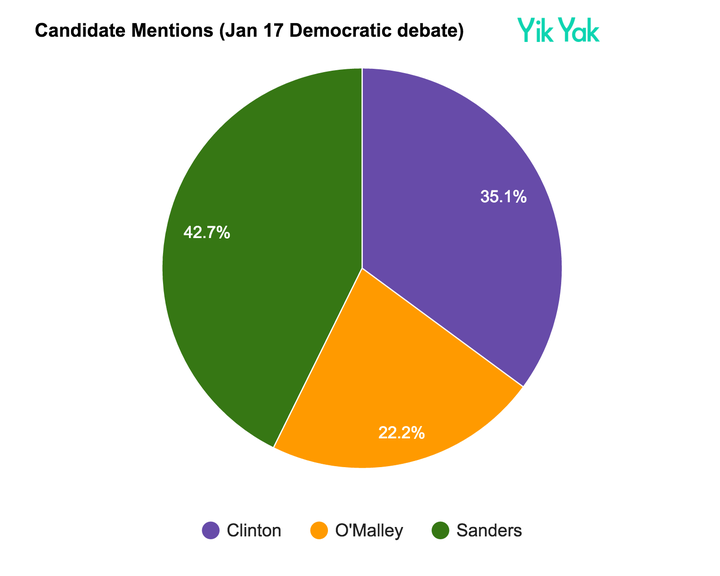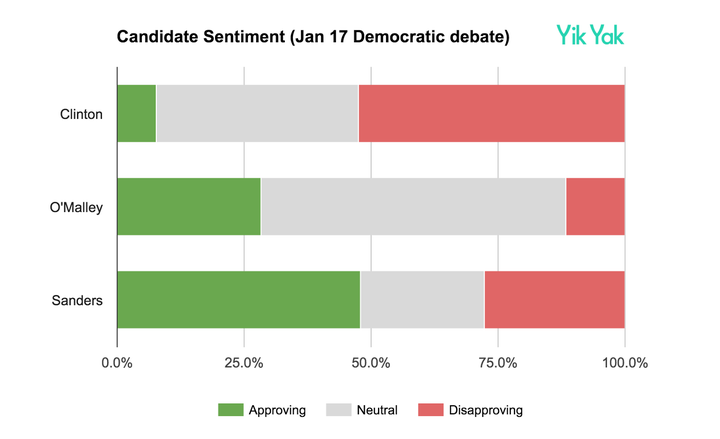 Clinton made a pitch during Sunday's debate that she would carry on Obama's legacy if elected. Pressed by the debate moderator to explain why she was losing 2-to-1 to Sanders in the youth vote, she responded, "I'm going to keep working as hard as I can to reach as many people of all ages about what I will do, about the experience and ideas that I have that I will bring to the White House, and I hope to have their support when I'm the Democratic nominee."
Yik Yak provided some examples of what users were saying about the debate.