 (Adds background, details)
* West says Tymoshenko is victim of political vendetta
* Tymoshenko's daughter says her health is worsening
KIEV, Jan 22 (Reuters) - The United States on Tuesday sent a message of support to jailed Ukrainian ex-prime minister Yulia Tymoshenko, ignoring new accusations against her by Ukrainian authorities relating to the killing of a business rival 16 years ago.
Tymoshenko is already serving a seven-year jail sentence for abuse-of-office meted out in October 2011 after a trial which the West said smacked of selective justice by the leadership of President Viktor Yanukovich.
Authorities have since piled up fresh charges against the 52-year-old politician, the most serious being last Friday when Ukraine's chief prosecutor said she was also suspected of ordering the contract killing of a parliamentary deputy and businessman in 1996.
In a letter to Tymoshenko, text of which was released by her party Batkivshchyna, outgoing U.S. Secretary of State Hillary Clinton said she was following Tymoshenko's plight with great concern.
"I ... want to reaffirm that the United States supports your immediate release. I hope the New year brings new prospects for your release and wish you a return to good health," the letter, which was passed on to Tymoshenko via the U.S. embassy, said.
The timing and wording of the message suggest the United States sees the new charges against the opposition leader as also being part of a political campaign against Tymoshenko, who is Yanukovich's fiercest rival after being narrowly defeated by him in a run-off for the presidency in February 2010.
Tymoshenko, the heroine of street protests in 2004 called the "Orange Revolution" which overturned the old post-Soviet order, is serving a jail sentence for abuse of office as prime minister.
That charge relates to a 2009 deal with Russia which the present government says saddled the Ukrainian economy with an exorbitant price for imports of Russian gas. She has denied any wrongdoing and says she is the victim of a political vendetta.

The United States and the European Union have supported Tymoshenko and the EU bloc has shelved agreements on free trade and political association with Ukraine over the issue.
In what appeared to be the beginning of a new, more serious case against her, Ukraine's chief prosecutor Viktor Pshonka last Friday said that Tymoshenko, a gas trader in the 1990s, had conspired in ordering a $2.8 million "hit" against powerful businessman Yevhen Shcherban.
Shcherban was shot dead in 1996 at an airport in the eastern city of Donetsk by attackers disguised as airport mechanics, along with his wife and several bystanders.
If convicted of Shcherban's murder she could face life in prison, Pshonka said in remarks carried by Interfax news agency.
Since being jailed in the eastern city of Kharkiv, Tymoshenko has spent much of the time in hospital for back trouble, causing a second trial on charges of embezzlement and tax evasion to be postponed repeatedly.
Tymoshenko said on Jan. 8 she was launching a disobedience campaign in protest at measures such as the installation of video cameras in her hospital quarters. She has refused to return to her hospital bed and has been sleeping in a chair in the hospital corridor and latterly in an adjoining shower room, her family says.
Tymoshenko's daughter, Yevgenia, said earlier on Tuesday her mother's health was rapidly deteriorating. "Her conditions are intolerable. Her situation has sharply worsened. She can not move or stand now," she told a Kiev news conference.
She denied the new charges against her mother. "They always accuse political prisoners of criminal deeds. That is why they are going through the motions of accusing my mother of murder: the motives are, of course, political," she said. (Editing by Alison Williams)

Related
Before You Go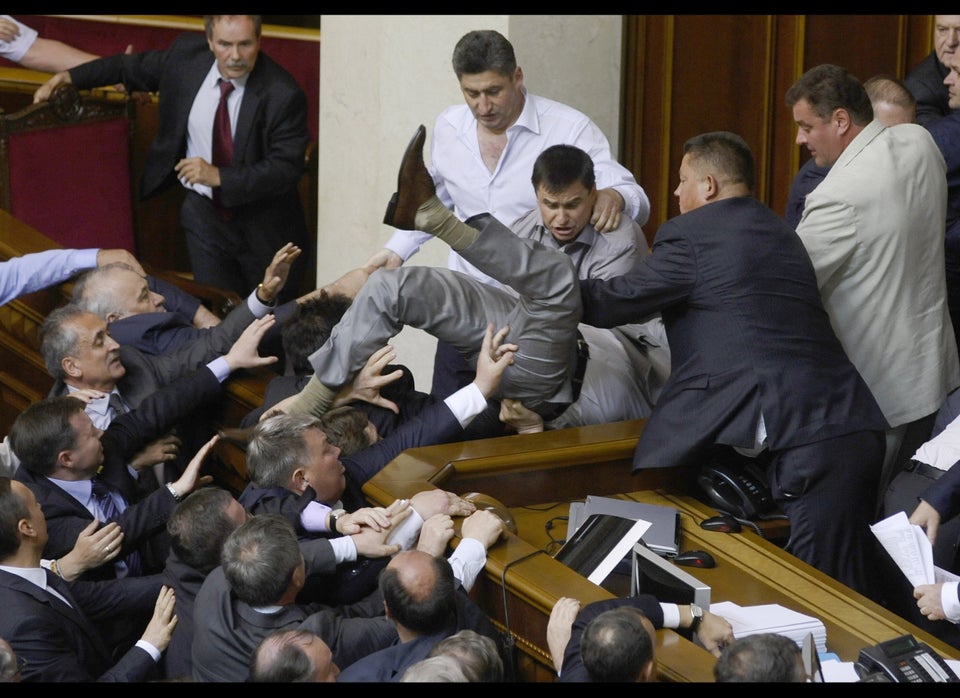 Ukrainian MP's Fist Fight
Popular in the Community