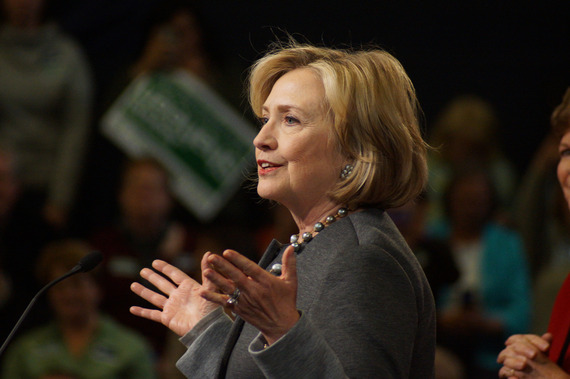 Hillary Clinton in Nashua, New Hampshire, November 2014. Credit: Marc Nozell, Flickr Creative Commons.
Future college students -- who face rapidly rising tuitions -- and today's debt-laden grads both could benefit from a proposal unveiled Monday by Hillary Clinton at a campaign stop in New Hampshire.
While its $350 billion price tag over 10 years would be a tough political sell in the current climate, Clinton's plan offers a vision of how she might tackle climbing higher education costs and student debt, as she makes her case for becoming the Democratic nominee for president in 2016.
Clinton's plan, called the New College Compact, stops short of aiming to give all students a debt- or tuition-free public college education, as her Democratic opponents Martin O'Malley and Sen. Bernie Sanders (D-Vt.) propose. Here's what it would offer:
For future students: Clinton's plan would give federal grants to states that pledge to lower costs so that no student will have to take out loans to cover tuition. In return, states would be required to invest more of their own funds in higher education over time, and students and families would contribute "a realistic and simplified" amount to college costs. All together, that would mean students could graduate from their state colleges without tuition debt, Clinton says.
For graduates with federal student loan debt: The proposal would give all borrowers the option to pay no more than 10% of their monthly incomes toward their student loans and to refinance their existing federal student loans at current, lower interest rates.
"It just makes sense. If you can refinance your mortgage or your car loan, you should be able to refinance your student loan, too," Clinton said Monday during a town hall event announcing the plan in Exeter, New Hampshire. (Some lenders currently offer private student loan refinancing, though customers must meet income and credit requirements to qualify. They also risk losing some of the benefits of their federal loans.)
The New College Compact would be funded by limiting the kinds of tax deductions high-income Americans can take. The proposal quickly drew criticism from some candidates for the Republican presidential nomination, who say there are ways to limit college costs without raising taxes.
"All that she's talking about is, 'Let's raise taxes and let's pour a bunch of money into a 20th-century outdated model,'" Sen. Marco Rubio, one of Clinton's Republican challengers, said Monday on Fox News.
Read more about the details of the plan, and how it compares to other candidates' proposals, at NerdWallet Grad.