WASHINGTON -- A mysterious email popped up in the latest tranche of State Department documents released in relation to Hillary Clinton's time at Foggy Bottom.
Titled "Gefilte fish," the email was authored by the then-secretary of state and addressed to two top aides. It reads simply: "Where are we on this?"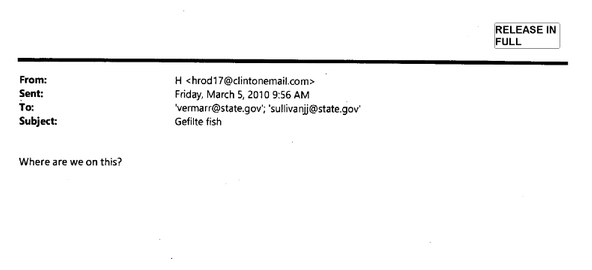 Naturally, there were questions.
Was it possible that Clinton, a gentile, was mixing her own carp, whitefish or pike? Could it be that "Gefilte fish" was a code name for a secret operation in coordination with Israeli security? Had the former secretary of state gone against all rational culinary instincts and actually ordered the Passover delicacy?
Alas, the explanation was decidedly more Washingtonian (read: boring). In February 2010, U.S. officials were upset that Israel had put a 120 percent import duty on American-caught fish that were supposed to be sent to the Holy Land for Seder dinners.
Clinton pledged during a congressional hearing to tackle the problem, admitting (the obvious) that it sounded "like one of those issues that should rise to the highest levels of our government."
The email, written in March, shows she actually did follow up -- and, apparently, effectively. Later that month, Rep. Don Manzullo (R-Ill.), whose district had already shipped two containers of carp to Israel, told a local Chicago paper that a deal had been reached with respect to the tariff on those containers. As for seven additional containers, the paper reported that they "would likely need to go through Canadian middlemen as our neighbors to the north have a free trade agreement with the Holy Land."
Popular in the Community