When Hilary Levey Friedman put her two young sons to bed on Nov. 8, she hoped they would wake up with a female president-elect. Instead, she woke up in a panic at 5:45 a.m. on Nov. 9, looked at her phone and saw that Hillary Clinton had officially conceded to Donald Trump ― perhaps the most anti-woman candidate in recent history.
She cried the next day, the hardest when Clinton gave her concession speech and told women: "I know we have still not shattered that highest and hardest glass ceiling, but some day someone will and hopefully sooner than we might think right now."
For Levey Friedman, a 36-year-old professor in Brown University's Department of American Studies, tears soon gave way to motivation. She had always felt called to public service, but Clinton's loss pushed her to act on those interests.
She is now taking concrete steps toward a potential run for office, including organizing a group of women in her town who are interested in politics, but have never run for office. The group has already had one strategy meeting, and Levey Friedman has accepted the chair position of her town's Democratic Committee.
"In the past I'd always say to myself, 'maybe I'm not smart enough, maybe it's not the right time,'" Levey Friedman told The Huffington Post. "But listening to [Clinton's] concession speech, her words sort of made me say to myself, 'OK, you need figure out what you're gonna do and take steps to think about running for office someday.'"
Levey Friedman isn't an anomaly. In the wake of an election defined by xenophobia, racism, and, yes, vicious sexism, women across the country are increasingly leaning in to the political process.
In the days immediately following the election, She Should Run Co-Founder and CEO Erin Cutraro worried that the misogyny Hillary Clinton faced in the 2016 election would deter women from running for office. But the result has actually been precisely the opposite. Organizations that specialize in encouraging and training American women to run for elected office have witnessed a surge in interest since election day.
She Should Run, a non-partisan organization dedicated to "expanding the talent pool of future elected female leaders," has heard from more than 4,500 women, spanning political parties and geographic locations, who want to be involved in the organization's incubator and Ask A Woman To Run For Office programs since Nov. 9 ― and that momentum isn't slowing. The organization has also seen a noticeable increase in donations, specifically those from new donors at the $5 and $10 level.
"We have nothing to compare this to," Cutraro told HuffPost. "We have never seen this level of determination for women to have their voices heard."
Similarly, Emily's List, a political action committee (PAC) focused on getting pro-choice Democratic women elected to office, told HuffPost that as of Dec. 9, they had raised $770,000 since election day ― 36 percent of which came from new donors. They have also noticed a spike in the number of women expressing interest in running for office, many of whom are specifically citing their support for Clinton and resistance to Trump as reasons for wanting to step up.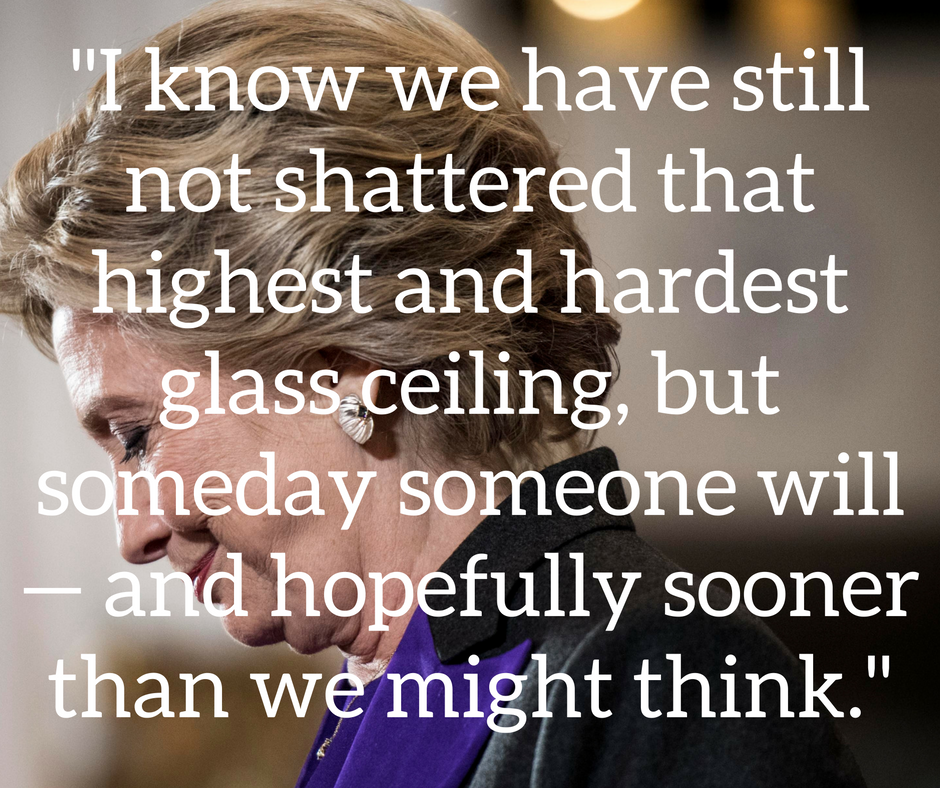 In 2016, women filled just 19.6 percent of Congressional seats, 24 percent of statewide elective executive offices (such as governor and attorney general), and 24.4 percent of state legislative seats. But the problem isn't so much that women don't win when they run for office ― research has shown that once women decide to run for office, they have essentially the same chance of getting elected as men do. However, women run at far lower rates than their male counterparts.
That gender gap likely stems, at least to some degree, from cultural messages that tell women and girls that elected office just isn't for them. That's where organizations like She Should Run come in. "We aim to affect the culture that has held women back from believing in themselves and all of us in believing in women's potential in elected office," Cutraro said.
Interestingly, the well of grief and anger caused by watching a highly-qualified female candidate lose the presidency to a much less experienced, openly bigoted man, has acted as a catalyst for some young women who thought they might be great at holding elected office, but hadn't really considered running.
Catherine Baxter, 25, campaigned for Clinton for a month this year, leaving Oakland, Calif., to phone bank and canvass in her native Ohio. When Clinton lost, Baxter felt like someone died. But she also felt compelled to start organizing. "In that moment, I couldn't just feel those things by myself," she told HuffPost.
Baxter got a group of 12 people together in her kitchen a few days after the election, and they started mapping out concrete ways they could get involved in direct actions, both locally and nationally. Baxter also decided to start saying out loud that she planned to run for office in a few years, maybe even back in Ohio.
"So many women and people of color and underrepresented people in general think, 'I'm too young' or 'people are going to think that this is silly or ill-advised,'" said Baxter, who currently works for the Op-Ed Project, a non-profit dedicated to lifting up voices of underrepresented experts. "Your knowledge and experience matters if you step up and say it does. Even just saying, 'I do want to run for office one day,' will put me in a better position to connect with people who know how to make that happen."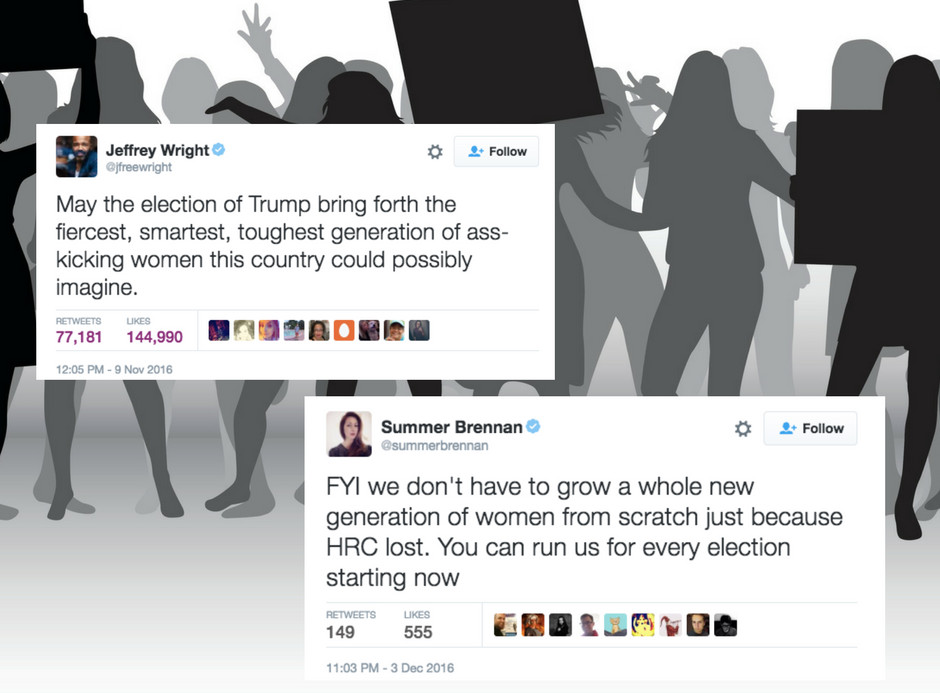 Sierra Barter, 30, felt similarly devastated ― and then motivated ― by the results of the presidential election. "It shook me to my core to know there was so much hate and bigotry, and that it was normalized and accepted so quickly," she said.
As CEO & Founder of non-profit The Lady Project, which brings entrepreneurial young women together, Barter, who is based in Providence, R.I., had always toyed with the idea of moving into political leadership. Watching the presidential election unfold pushed her to decide she would run in 2018.
"I know I am smart, motivated and I love Rhode Island. People have been telling me for years to run," she said. "Why wait? If anything good is going to come out of this nightmare, it should be more women getting riled up and doing something about it."
As the chair for She Should Run Frontrunners in D.C., Chelsea Wilson, 27, had already spent a lot of time encouraging girls to consider elected office a future possibility, as well as personally thinking about what a 5 or 10-year plan toward running for office might look like. The presidential election didn't so much push her to run as it did remind her how necessary it is for women to run.
"The entire election was excruciating to watch ― especially as a woman of color who is dedicated to creating a culture that inspires women and girls to lead," Wilson told HuffPost.
Wilson sees herself engaging in public service at the board level for the next few years, and then maybe moving back to Oklahoma where she was born and raised as a member of the Cherokee Nation. If and when she runs for office, she sees herself doing it there.
"It's probably gonna be awful," Wilson said laughing wryly, reflecting on the grueling experience of campaigning ― especially as a woman. "But the worst thing that could happen is that I would lose. That's it."
Once a woman makes the decision to run ― no matter her political party ― she may still find it difficult to get the big money needed to sustain a campaign, and may still find herself at the center of sexist vitriol during a campaign. After all, sexism knows no age or party line, and even a surge of young women making moves toward political office will not shatter the glass ceiling in one fell swoop. But it's certainly one hell of a start. And women who have dedicated their careers to building gender parity in politics feel it's worth seizing on the present momentum.
"It is in this very moment that we have to encourage and inspire as many women to step forward as possible," said Cutraro. "If we want to have an effective country, we're not gonna get there unless women's voices are at the table."
Related
Before You Go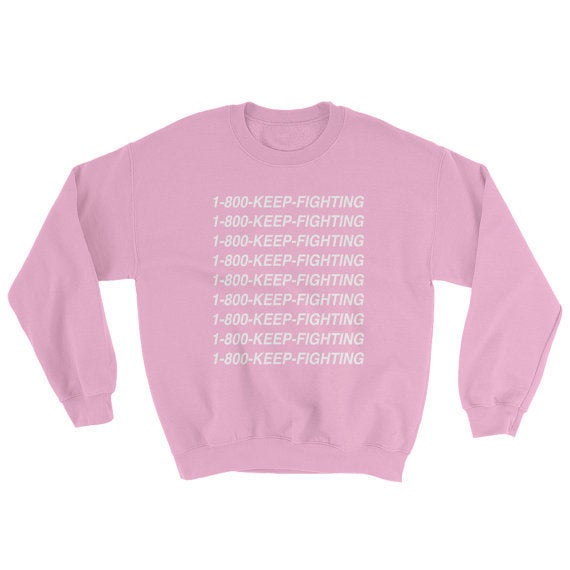 Gifts For Women Who Want To Start The Revolution