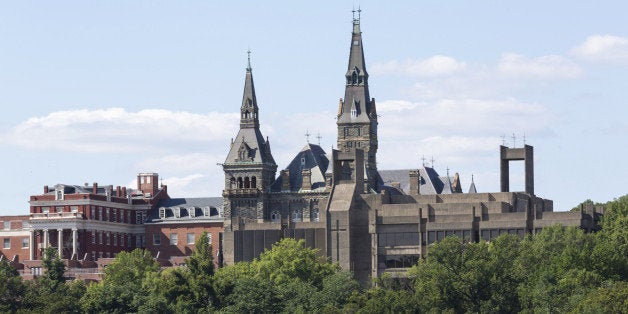 Mo Elleithee loves politics so much, he's quitting it. The practice of politics, that is. He still has faith and a passion for the perfection of politics -- with hope that a new generation will find better strategies than his has.
The 42-year-old communications director at the Democratic National Committee, a spokesman for Hillary Clinton's 2008 presidential campaign, is leaving the party next week just as the former first lady promises a campaign of a lifetime in 2016.
He is opening the Institute of Politics and Public Service at Georgetown University, his alma mater, with plans to pair aspiring students of an art and science he knows well with mentoring fellows and visiting candidates. The institute at Georgetown's McCourt School of Public Policy will use the presidential campaign "as a sort of realtime laboratory.''
"I am still passionate about politics,'' Elleithee says from his office in his final days at the DNC, "and it frustrates me that young people don't see that. It frustrates me that people like me have let them down, that we're the source of that frustration... If we can share with them what they know and they can help us be better than us, then this will be the best thing I've ever done.''
He has campaigned far and wide to reach this stage. He's seen big losses and smaller victories. He campaigned for Bill Bradley's 2000 presidential bid in New Hampshire, and for Wesley Clark there four years later. His dog Truman followed him into that Manchester operation -- the Beagle acquired from another earlier campaign, former Attorney General Janet Reno's failed bid for governor of Florida in 2002. Elleithee helped both Mark Warner and Tim Kaine get elected governor of Virginia. Kaine, as governor, officiated at Elleithee's Alexandria wedding in 2007.
His own marriage stands as a model for the reconciliation which he views as achievable in a modern riven society. His was raised in a Muslim household, his parents Egyptian immigrants. He married a daughter of Orthodox Jews from Skokie, Illinois. Their children five and two attend a Jewish pre-school and are learning "a healthy respect for both traditions.''
"We came from very different backgrounds and try to make it work,'' Elleithee says. "We always joke, if we can make it work, maybe there is hope in the Middle East. I don't see why that can't apply to politics.''
Mohamad Elleithee, who has gone by Mo all his professional life, was raised in Tucson, Arizona, born a year after his parents arrived from Egypt. He graduated from Georgetown and got a master's degree in political management from George Washington University. For two decades, he has helped steer candidates from New Mexico to New Hampshire in statewide, congressional and presidential races.
His entry into Virginia races came with former Sen. Chuck Robb's failed bid for re-election in 2000, losing to former Gov. George Allen. Elleithee would meet Allen in opposition again in 2006, when the popular Republican once seen as a potential candidate for president apologized for a campaign rally comment -- calling a volunteer for rival James Webb's campaign "macaca." Having started a consulting firm with a co-partner, Hilltop Public Solutions in Washington, Elleithee helped the Democratic Senatorial Campaign Committee defeat Allen and elect Webb to the Senate. He faced Allen again as a senior strategist for Senator Kaine in 2012.
On the front lines, political operatives play an increasingly bloody sport. In an essay at medium.com this week about his plans for Georgetown, he wrote: "I once had a national political reporter tell me he was `totally psyched' to hear I was joining a campaign, because that meant 'blood on the walls.' For years afterwards, I considered that a compliment.''
When people look at Washington today, he wrote, "all they see is a romper room of dysfunction. Hyper-partisanship is crippling us. Big money is flooding politics in ways the Founders could never have imagined. We're debating the major issues of our day 140 characters at a time.''
Interviewed by telephone from his DNC office today, he suggests: "Some would argue I'm probably part of the problem. I am part of the problem. But if I can get a few young people motivated and they can help get other energies that is a win.''
The institute that Elleithee will lead was created with the 2013 founding of the McCourt School, supported by a $100 million gift, the largest in university history, from Georgetown alumnus Frank H. McCourt Jr., class of 1975, the dean says.
"From the beginning, Mr. McCourt's vision was to create a school that would allow students not only to study and develop better public policies, but to actively engage in the political process and public service as a means to implement sound policy," Dean Edward Montgomery said in a statement at Georgetown's website.
Georgetown is hardly the first campus to tackle this problem. One of Elleithee's fellow veterans of campaigns past, Steve Jarding, has gone to Harvard to lecture in public policy at the Shorenstein Center. David Axelrod, the political operative who helped elect President Barack Obama, has opened an Institute of Politics at the University of Chicago. They too put students and politicians in the same room.
"What I don't want us to do is just bring in a bunch of veterans of politics and have them tell war stories -- but have them actually mentor students, and have teams of students assigned to these mentors and come up with a concrete idea about something they want to tackle, come up with an idea on how to make the system work better,'' Elleithee says. "That is kind of the vibe of what we hope to accomplish.''
He remains a devout Democrat. He and his wife Tali met campaigning.
"I am not one of these post-partisan people,'' Elleithee says. "I believe there is a role for partisanship. I don't think we always have to agree, but we have to make it work... and that's the part I care about.''
Elleithee allows that the pull of his growing young children is a factor in his decision to turn in his press secretary's credentials at the start of another all-consuming presidential election cycle. "I try to get home every night in time for bedtime," he says. "I almost never make it home in time for dinner.''
He hopes to invite those candidates to Georgetown when his program gets underway this fall to meet another new generation eyeing public life.
"To be involved and help shape the political dialog a little bit, that to me is the dream,'' he says. There's also "the governance side of this, and really focusing on a link between the two.''
He is asked, finally, if Obama couldn't make good on a vaunted campaign pledge to alter the corrosive tone of politics in Washington, how can he expect to?
"I'm not," Elleithee says. "I'm not even pretending I'm going to. I'm hoping that the next generation of folks will... We're losing them. If we lose them, we have no chance. The question is how we get them invested in fixing it.''
Popular in the Community