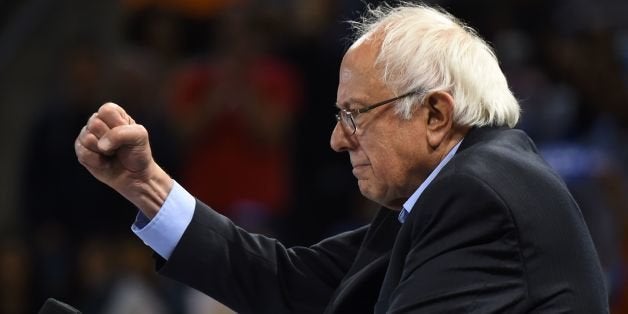 The media at the moment seems to be enamored with Hillary Clinton's delegate count, even though she hasn't achieved 2,383 pledged delegates. Since Clinton won't have 2,383 pledged delegates before the Democratic Convention, and still faces an FBI criminal investigation, it's only prudent that Bernie Sanders continue his campaign.
Furthermore, Vermont's Senator must expect to win, especially since storing Special Access Program intelligence on an unencrypted private server could be the basis for impending Espionage Act indictments. If you think this is unrealistic, then let's discuss SAP intelligence and Clinton's duty to keep this information safe.
According to NBC News, Hillary Clinton held "beyond Top Secret" intelligence on a private server that broke State Department rules:
Emails from Hillary Clinton's home server contained information classified at levels higher than previously known, including a level meant to protect some of the most sensitive U.S. intelligence, according to a document obtained by NBC News.

In a letter to lawmakers, the intelligence community's internal watchdog says some of Clinton's emails contained information classified Top Secret/Special Access Program, a secrecy designation that includes some of the most closely held U.S. intelligence matters.

Two American intelligence officials tell NBC News these are not the same two emails from Clinton's server that have long been reported as containing information deemed Top Secret...
The new revelation underscores the extent to which the email classification issue could continue to dog Clinton, as State Department and intelligence officials review sensitive information within messages that were blacked out before being released to the public.

Clinton, who tops national primary polling as a Democratic presidential candidate, has repeatedly said that none of the information she sent or received while secretary of state was marked classified, and nothing has emerged to contradict that. But it's become clear that classified information bled into the emails, which were sent over unencrypted channels open to interception by foreign intelligence agencies...

The declarations cover "several dozen emails containing classified information determined by the IC element to be at the CONFIDENTIAL, SECRET and TOP SECRET/SAP information."

An intelligence official familiar with the matter told NBC News that the special access program in question was so sensitive that McCullough and some of his aides had to receive clearance to be read in on it before viewing the sworn declaration about the Clinton emails.
Yes, Clinton won California and increased her pledged delegate count. However, nobody knows the FBI's findings pertaining to Clinton's SAP emails.
Most importantly, were these SAP emails put in jeopardy?
If so, then Bernie Sander must expect to win the contested Democratic convention.

These SAP emails, stored on an unguarded private server, were subject to the risks of hacking from other nations. POLITICO states that Clinton's server faced hacking attempts from several nations:
Hillary Clinton's private email server containing tens of thousands of messages from her tenure as secretary of state -- including more than 400 now considered classified -- was the subject of hacking attempts from China, South Korea and Germany after she stepped down in 2013, according to Congressional investigators...

The attempted security breaches and apparent gaps in protection raise further questions about the level of security Clinton used to prevent malicious intrusions from breaching her network. The FBI is currently probing whether her rare email arrangement at State -- exclusively using her own personal server rather than a State.gov account -- ever put national security at risk...

POLITICO reported last week that there were likely many more so-called phishing messages sent to Clinton during her four years as secretary, but virtually all those messages appear to have been deemed "personal" by Clinton's attorneys and deleted, although the FBI is reportedly making progress recovering some or all of the messages from tech firms that worked on Clinton's server.

The attempted intrusions reported late Wednesday by AP were more direct attempts from abroad to gain unauthorized access to Clinton's server and did not rely on email messages.

However, it is unclear whether they represented a concerted effort by one or more foreign intelligence services to access Clinton's data or if the efforts were part of the far more commonplace hacking on the internet.
Although he's had enough of the emails, there's simply no way for Bernie Sanders to know if Clinton jeopardized national security. There's no way for anyone to know, until the FBI discloses its findings, if China or other countries have Clinton's SAP emails. I explain this peculiar phenomenon in the following YouTube segment.
In your crystal ball, what happens with the FBI's email investigation?

If you don't know, Bernie Sanders must continue to campaign, and even expect to win in Philadelphia.
Finally, there's the issue of cloud servers. According to The Denver Post, the two firms Clinton utilized were unaware they'd be storing classified information:
The moment Denver's Platte River Networks realized that e-mails of its most famous client were being uploaded into the cloud, 26 months had passed since signing on Hillary Clinton and her family.

Platte River spokesman Andy Boian confirmed Wednesday that in June 2013, t he company hired Datto, a Norwalk, Conn., backup and recovery firm, to take daily snapshots of Clinton's server.

It was a security measure in case Clinton's server failed. But per Clinton's wishes, Platte River told Datto to keep everything in the New Jersey data center -- and store nothing online in the cloud.
Platte River and Datto have been pointing fingers at each other.

Late Wednesday, an unidentified Datto official told The Washington Post that it told Platte River over the summer it was worried the Clinton system was vulnerable to hackers but was rebuffed...
Since even the companies storing Clinton's backups in the cloud feared hacking, Bernie Sanders must continue in 2016. Like the State Department, Clinton never consulted the two data companies she outsourced, pertaining the nature of her private server.
The issue of cloud servers, SAP emails, and foreign hackers all correlate to the recent State Department report. As stated by CNN, Clinton never received authority to store SAP emails on a private server:
The report says, "According to the staff member, the Director stated that the Secretary's personal system had been reviewed and approved by Department legal staff and that the matter was not to be discussed any further." The same director reportedly "instructed the staff never to speak of the Secretary's personal email system again."

But the report notes that interviews with officials from the Under Secretary for Management and the Office of the Legal Adviser found "no knowledge of approval or review by other Department staff" of the server.

But the report says that the Inspector General's office "found no evidence that the Secretary requested or obtained guidance or approval to conduct official business via a personal email account on her private server."
Yes, she needed someone's authority to store SAP emails. Again, without the 2,383 pledged delegates, and without knowing the FBI's findings, Bernie Sanders has every reason to remain in the race.
Like I stated in a recent MSNBC appearance, Clinton's convenience narrative is almost certainly an outright lie. Since Clinton stored SAP intelligence and other classified documents on an unguarded server (without permission), Espionage Act indictments are likely, as I explain in the following YouTube segment. We're still in the first inning of a long ballgame pertaining to the FBI's investigation. Nobody has won anything officially, so the Democratic Party must wait until the FBI shares its findings with the public.
If it recommends indictments, and the likelihood is extremely high based upon a number of factors, then the DNC will need Bernie Sanders. Ignoring this obvious fact could lead to a Trump presidency, so Bernie Sanders, and the Democratic Party, must stay patient. When the media finally focuses upon Clinton's SAP emails and the FBI's reaction to this security breach, Bernie Sanders will become Democratic nominee in 2016.
Popular in the Community