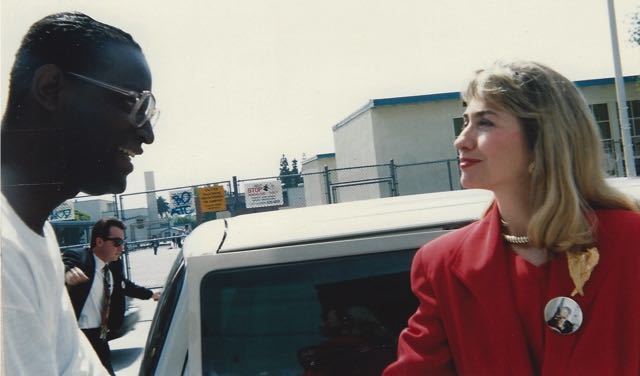 People with HIV/AIDS and the ugly history of the AIDS crisis received some unexpected attention last weekend in reaction to Democratic presidential candidate Hillary Clinton's bizarre comments at Nancy Reagan's funeral last Friday. Clinton told MSNBC that "because of both President and Mrs. Reagan -- in particular Mrs. Reagan -- we started a national conversation" about AIDS and that Nancy Reagan's "very effective, low key advocacy... penetrated the public conscious" and got people talking about the need for "something" to be done.
An outraged uproar immediately ensued with reams of lines written about how the Reagans cruelly ignored the disease as it rapidly spread and turned their backs on their gay friends, including actor Rock Hudson --which was confirmed to me by Hudson's personal physician Dr. Michael Gottlieb and by Hudson's late publicist Dale Olson. Clinton's campaign immediately issued an apology for "misspeaking," with a more in-depth statement released via medium.com quickly following that in which she again apologizes, recognizes the horror of the AIDS crisis and talks about what she would do as president:
"This week, at Nancy Reagan's funeral, I said something inaccurate when speaking about the Reagans' record on HIV and AIDS. Since then, I've heard from countless people who were devastated by the loss of friends and loved ones, and hurt and disappointed by what I said. As someone who has also lost friends and loved ones to AIDS, I understand why. I made a mistake, plain and simple... The AIDS crisis looks very different today. There are more options for treatment and prevention than ever before. More people with HIV are leading full and happy lives. But HIV and AIDS are still with us. They continue to disproportionately impact communities of color, transgender people, young people and gay and bisexual men. There are still 1.2 million people living with HIV in the United States today, with about 50,000 people newly diagnosed each year. In Sub-Saharan Africa, almost 60 percent of people with HIV are women and girls. Even though the tools exist to end this epidemic once and for all, there are still far too many people dying today. That is absolutely inexcusable."
Oddly, the statement is not on her website which features extensive LGBT and healthcare platforms. Nonetheless, AIDS activists, including Larry Kramer, accepted her apology and asked for everyone to move on.
Clinton's opponent, Vermont Sen. Bernie Sanders, however, was quick to seize the moment. Sanders' campaign issued an HIV/AIDS policy position which is posted on his website, focused on the greed of the drug industry. He also took
a swipe at Clinton on CNN's State of the Union show Sunday, telling Jake Tapper:
"I just don't know what she was talking about. In fact, that was a very tragic moment in modern American history. There were many, many people who were dying of AIDS and, in fact, there was demand all over this country for President Reagan to start talking about this terrible tragedy, and yet he refused to talk about it while the AIDS epidemic was sweeping this country, so I'm not quite sure where Secretary Clinton got her information. I'm glad she apologized but the truth is, it was not President Reagan and Nancy Reagan who were leaders in talking about this issue -- quite the contrary -- they refused to allow that discussion to take place. They didn't get involved in it while so many fellow Americans were getting sick and dying."
But while Sanders' comments are welcome, his record is nowhere near equivalent to Clinton's record, as Black AIDS Institute founder Phill Wilson noted on Facebook. He said, in part:
"For folks who are going to vote solely on a candidate's HIV/AIDS record, including Secretary Clinton's horrific revisionist statement about Nancy and Ronald Reagan, Bernie Sanders was elected to Congress in 1991, during some of the darkest days of the AIDS epidemic. While our brothers and sisters were dying and we were fighting for our lives, Senator Sanders was largely silent. I do not recall him demonstrating any leadership on this issue. On the other hand, Secretary Clinton has been there on this issue, every step of the way. I first met Secretary Clinton at AIDS Project Los Angeles in 1992 during Bill Clinton's first presidential bid. Secretary Clinton demonstrated leadership then and continued to fight with and for us on this issue as first lady, Senator, and Secretary of State. When my lover Chris Brownlie died in 1989, President and Mrs. Clinton sent me a letter. Where was Senator Sanders? There are probably many reasons to vote or against Secretary Clinton or Senator Sanders, but if your litmus test is their track record on HIV/AIDS, we should be angry and hurt, but it would be nice if we could also be fair."
I concur. I have covered LGBT and HIV/AIDS issues since 1988 and I had never heard of Bernie Sanders until he decided to run for the Democratic presidential nomination. On the other hand, I was there on March 26, 1992 when Hillary Clinton, then the First Lady of Arkansas, came to stump for her husband at APLA. She took a tour of APLA, met with volunteers and staff and talked about how she would prefer another term than the destructive "Manhattan Project" to described the needed federal response to AIDS. She pledged that if Bill Clinton was elected, he would create a centralize response out of the National Institutes of Health. AIDS, she said, was a health priority in Arkansas.
Arkansas? Seriously? Actually, yes, as I discovered interviewing Joycelyn Elders for a series in the Bay Area Reporter. Named by Gov. Bill Clinton as director of the Arkansas Department of Health in 1987, Elders created a controversial program to dispense condoms, teen pregnancy information and AIDS awareness in public schools. Clinton later confirmed that in a radio story.
"Joycelyn Elders doesn't back down. And the man who appointed her said he won't either," says the reporter.
"When I appointed her," Bill Clinton says, "I said I want you to deal with the AIDS problem in Arkansas...and I want you to do something about teenage pregnancy. I want you to do something about it. Unlike a lot of appointees in governmental organization, she took me seriously. She thought she was supposed to do something."
David Mixner, Clinton's friend from the anti-Vietnam War protest days, arranged for me to interview Hillary Clinton after her stop at APLA. Mixner writes about this in his book Stranger Among Friends, noting that prior to the stop the two had discussed AIDS policy issues at length. He writes:
With AIDS, my usual practice with decision makers-makers was to try to convey the reality of the plague through personal experiences I had had with it; but I knew Hillary had had friends who died of the disease so she was fully aware of its awfulness. I realized she wanted to focus on policy and the work of APLA, but I suggested she also share her own experiences of sickness and loss. She grimaced. "I understand why it's important to do that, but I hate it. My relationship with Dan and the others was so personal."

There was pain in her voice when she mentioned Dan Bradley, who had bee a very close friend. Hillary had been chair of the board of directors of the Legal Services Corporation when Dan was heading its daily operations. Dan had come out of the closet while at Legal Services, and even five years after his death she was clearly still grieving for him.

I could understand her reserve. Still, I told her, "Hillary, I know it is an invasion of your privacy but it is important."

"I know. I know."
Mixner warned Clinton that her reaction to people who were HIV positive would be scrutinized. "I would be absolutely great if you gave anyone who approaches you a hug," he said.
"David, I am not a hugger," she replied.
"Her comment caught me by surprise. I realized for the first time how difficult certain aspects of campaigning had to be for Hillary," Mixner wrote, adding that she "reserved her displays of affection for her family and a small circle of intimates."
But, with ACT UP protesters dogging the Clinton campaign at almost every stop, I asked Hillary if she had any close friends who'd died of AIDS. Her demeanor changed and the van in which we were riding felt suddenly imbued with the spirit of her friend Dan Bradley as she recalled when he told her he had AIDS:
"He was a great friend and he was a very effective advocate for whatever he believed in. I didn't know that would be the last time I'd ever see him. I knew he was very sick but he never talked about it. He talked more about comforting the people who were distressed at his sickness than he ever talked about wanting to be comforted or wanting anything for himself. That's Dan. You didn't have a conversation with Dan Bradley about why he had become an advocate for treating people fairly because that was a continuation of what he had done all his life--that's what you talked to him about."
As I wrote for the gay paper Update, Clinton virtually relived that last moment:
"I visited him for the last time shortly before he died in Miami where he was living at the time."

Clinton shifted slightly into a pose suggestive of a Gay Southern elegance, adding a lilt to her voice. "He got dressed up and came down and had breakfast with me in my hotel. That's the kind of guy he was. He never complained about anything and just went on with his liefe. He was indigent over some injustice that he was attempting to undo. It didn't even have to do with AIDS--it had to do with some problem in the Dade County School system that he ranted and raved about for 30 minutes.

I wish he was here today. I wish that he had not died. But he chose to live out his last years with the same level of intensity that he had lived his whole life and when somebody does that, you feel like it's been a life that should be celebrated and that's what I think most of his friends felt. He wanted for all of us to be committed to what he had fought for his entire life. He taught me a lot."

Interestingly, at the end of that Update article, I quoted APLA Chief Executive Officer Lenny Bloom's comments to Clinton:
"One of the things we want you to do and we hope Bill Clinton will do, is challenge George Bush throughout this election as to what they have done and what they have not done in this crisis of AIDS. We're in the 11th year of this crisis and George Bush and Ronald Reagan have blood on their hands."
Bill Clinton was a dark horse candidate when Access Now for Gay and Lesbian Equality (ANGLE) endorsed him in 1991 at the home of Dr. Scott Hitt and his partner Alex Koleszar. Hillary was there. ANGLE raised $3.1 million in early money after Clinton made a number of promises, including to make a public speech about AIDS and have someone with AIDS speak at the convention, though, as most LGBT people know, Clinton subsequently disappointed the LGBT community--threw us under the bus, as singer Melissa Etheridge put it during the 2007 "Visible Vote" Forum in Los Angeles sponsored by the Human Rights Campaign and LOGO TV. Clinton followed through on HIV/AIDS (other than needle exchange). In fact, he named out L.A.-based environmentalist and campaign staffer Bob Hattoy and straight founder of the Pediatric AIDS Foundation Elizabeth Glaser--two people with AIDS--to speak at the 1992 Democratic convention. Glaser said, in part:
"Exactly four years ago my daughter died of AIDS. She did not survive the Reagan Administration. I am here because my son and I may not survive four more years of leaders who say they care, but do nothing. I -- I am in a race with the clock...

I went to Washington to tell Presidents Reagan and Bush that much, much more had to be done for AIDS research and care, and that children couldn't be forgotten. The first time, when nothing happened, I thought, "They just didn't hear me." The second time, when nothing happened, I thought, "Maybe I didn't shout loud enough." But now I realize they don't hear because they don't want to listen.

When you cry for help and no one listens, you start to lose your hope. I began to lose faith in America. I felt my country was letting me down -- and it was. This is not the America I was raised to be proud of."
There were "watch-parties" in Los Angeles the night that Glaser and Hattoy spoke at the Democratic Convention. It was not only the first time people with AIDS spoke to the nation, but the first time the country saw a proud gay man with AIDS. As Mixner recalled:
"The hall was in the usual hubbub that passes for normal even when speeches are going on. But as Bob Hattoy mounted the podium, stillness fell over the entire place. One by one, the delegates stood up, until all five thousand people were on their feet in respect. The hush was palpable. When he paused, looked over the crowd, and said "This is difficult" he won the hearts of a nation. There was not a dry eye in the nation that night. Those of us in the hall had black armbands to honor those we knew who had died of ADIS and held onto each other as he spoke. It was as if at last we were finally being heard after a decade of horror, death and abandonment. Bob did us all proud that night."
Hattoy was a trouble-maker on behalf of people with HIV/AIDS. When Bill Clinton arrived too late to meet with and answer questions from a group of activists before his historic speech in
Hollywood in May 1992, Hattoy arranged for ACT UP/LA's Dan Levi to ask questions after the speech--accompanied by me. The only question Clinton didn't get right was on needle exchange, which proved to be a major problem during his presidency.
Hattoy wound up working for the Clinton administration--a time bomb in the White House, the New York Times called him--but Hillary Clinton was a friend and spoke at Hattoy's memorial in April 2007. Scott Hitt, who had served as chair of the President's Advisory Council on HIV/AIDS under Clinton in the 1990s and orchestrated Clinton's historic AIDS Conference in 1995, seven months later.
Understanding Hillary Clinton's record hopefully helps explain why so many AIDS activists and LGBT people were devastated by her remarks about the Reagans. How could she "misspeak" or mis-remember, having personally experienced the cruelty of those times? She still hasn't explained that.
In fact, 70 HIV advocates and organization leaders have asked to meet with Clinton and are pushing for her to appoint an HIV liaison from her campaign to the community. Someone, perhaps, like Bob Hattoy.
Unlike Bernie Sanders--and certainly unlike any of the Republican candidates who seem to long for the bad old days when we were dying daily and AIDS was considered God's punishment for homosexuality--Hillary Clinton has been there for people with HIV/AIDS. Now if she would only share her pain, as she does for the mothers of gun violence, and address the fact that in 2016, we still see 50,000 new HIV infections each year. Perhaps this June, before the L.A. primary, she could deliver remarks marking the 35th anniversary of that first 1981 CDC paper by L.A.-based Dr. Michael Gottlieb about what would become known as HIV/AIDS. Now that could start a real national conversation.
Popular in the Community