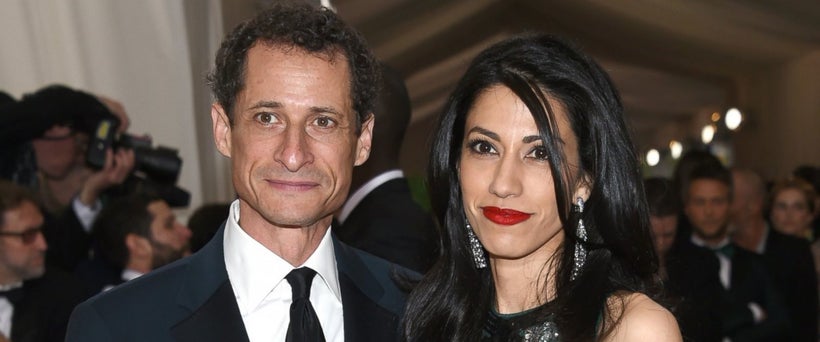 Hillary Clinton's renewed FBI probe is possibly linked to a great number of messages sent by Anthony Weiner while Huma Abedin worked at the State Department. AOL reports the "FBI found Clinton-related emails on devices belonging to Huma Abedin, Anthony Weiner." The Washington Post writes "The emails, numbering more than 1,000, were found on a computer used by both Weiner (D-N.Y.) and his wife, top Clinton aide Huma Abedin..." However, Weiner has stated numerous times he messaged more than just one individual; a potential security breach if these messages originated from a computer storing classified information.
According to an April 25, 2013 New York Daily News piece by Jennifer Fermino titled Watch: Ex-N.Y. Congressman Anthony Weiner 'can't say' no more sexts, the former Congressman admits to contacting well over twenty women:
In an interview with WABC-TV, the married former congressman chuckled nervously when asked how many women he sent sexy text messages and photos to before his online behavior was exposed.
Two years ago — as the scandal erupted — he said, "I've exchanged messages and photos of an explicit nature with about six women over the last three years."
So, he was asked Wednesday, was it only six?
"Six is . . ." he told WABC, before pausing. "It's not 20 and it's not 100."
He added, "I did it, with more than one person. It was wrong. I was doing it for some time, and I'm glad it's behind me."
Therefore, as the former Congressman admits, It's not 20 and it's not 100.
Does this mean he messaged thirty women?
Or, did Anthony Weiner text over 50 women?
The phrase It's not 20 and it's not 100 leads to an infinite number of questions, especially since The New York Times states "Senior law enforcement officials said that it was unclear if any of the emails were from Mrs. Clinton's private server."
According to information obtained by Judicial Watch in 2015, "The emails show Abedin used the non-secure clintonemail.com server to discuss sensitive travel and operations security information that could have placed the personal security of Clinton and other government officials at risk, such as real-time location information while traveling abroad, and other hotel and travel arrangements." Emails released last year show that Abedin used her email to discuss sensitive information.
In addition, The New York Times writes "Federal law enforcement officials said that emails pertinent to the closed investigation into Hillary Clinton's private email server were discovered on a computer belonging to Anthony D. Weiner, the estranged husband of a top Clinton aide.
If Anthony Weiner used a computer network linked to Hillary Clinton's private server in order to contact between 20 and 100 women, there's the potential that Clinton's private server could have been accessed by a number of people outside government.
Some might view this an unfair leap of logic, but many pundits have already accused Trump of owing Russian banks money, without ever having seeing his tax returns.
In addition, WikiLeaks has been accused of being involved with Russia, but nobody has offered any evidence (the unnamed security officials cited by Clinton's campaign haven't provided evidence) to back this claim.
Also, we know that Huma Abedin was granted access to highly classified information, which could have easily found its way onto her computer. As CNN reported in June, "Clinton herself and top aide Huma Abedin have both said they used the private email server -- but it's unclear if other top Clinton aides, including Jake Sullivan, also used clintonemail.com addresses."
Finally, there exists the possibility that Weiner messaged fewer than twenty women. POLITICO wrote in 2013 "He estimated there had been six to 10 women with whom he virtually engaged in total." In terms of a completely accurate number, Weiner is quoted in 2013 saying the following:
"If reporters want to go and try to find more, I can't say they're not going to be able to find another picture, find another person who may want to come out on their own," he told RNN Television. "But I'm not going to contribute to that. The basics of the story are not going to change. It's behind me. It was a huge mistake."
If Weiner sent pictures from a computer that also contained Clinton's classified emails, there's an enormous breach of conduct associated with Hillary Clinton's handling of classified material. It was Secretary Clinton's job to ensure classified intelligence never left U.S. government networks.
If the FBI reopened Clinton's email investigation because of Weiner's conduct, it's Hillary Clinton who might face the consequences. This latest investigation could lead to the FBI revising its definition of "intent."
The moral issue of Weiner's behavior isn't at the heart of this latest saga into Clinton's emails. The only thing relevant pertaining to the number of people Weiner contacted, and what device he used to contact these people, is whether classified information was at risk. As for other issues, like the Clinton Foundation, these too represent dilemmas.
One WikiLeaks email pertaining to a clear pay for play scheme has Abedin write about Clinton, "She created this mess and she knows it." As for a WikiLeaks email illustrating President Obama's role in even allowing Abedin and Clinton to utilize a private network, Cheryl Mills writes "we need to clean this up - he has emails from her - they do not say state.gov." Then of course there's a State Department email where Abedin suggests the following to Secretary Clinton:
"We should talk about putting you on State email or releasing your email address to the department so you are not going to spam."
Clinton denied Abedin's request, but had she simply taken her top aide's advice, the FBI wouldn't have needed to reopen an email probe because of Weiner's text messages.
Thus, the FBI reopening an investigation into Hillary Clinton's handling of classified information speaks volumes. If this FBI probe isn't resolved before Election Day, Clinton will enter November 8, 2016 as once again the subject of a criminal investigation. Unfortunately, the DNC favored Hillary Clinton and showed immense bias towards Bernie Sanders. If Vermont's Senator was given a fair chance to win the Democratic nomination, Democrats wouldn't be faced with yet another criminal probe just ten days before Election Day.
Calling all HuffPost superfans!
Sign up for membership to become a founding member and help shape HuffPost's next chapter
This post was published on the now-closed HuffPost Contributor platform. Contributors control their own work and posted freely to our site. If you need to flag this entry as abusive,
send us an email
.