NEW YORK ― By 6:30 a.m., Perry Gregory and Maddie Ireland were out of their homes and in a line. The two 19-year-olds joined a diverse crowd of women and men, starting at the entrance of Barnes & Noble in Union Square and filing down the block and around the next block. All of these people were spending their mornings waiting for one thing: A chance to meet Hillary Clinton and get a signed copy of her new book, What Happened.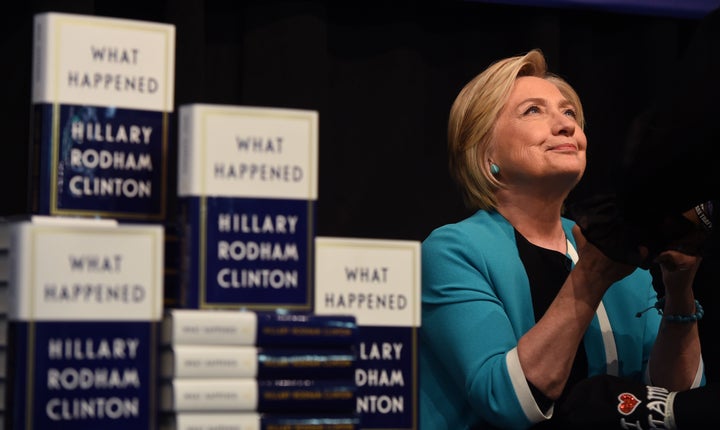 "We're very hyped to see her," said Gregory. She and Ireland, who insisted that we need to hear Clinton's story, had been talking about what might be in this book for a long time.
"We need to look deeper into why [Donald Trump] won and why he represents our country," said Ireland. "And [Clinton] has experience."
But the men and women who waited for hours to get a copy of What Happened don't want the woman they hoped would be our current president to shut up. They want to hear her story ― and learn from it.
Some of the people in line had long been ardent Clinton fans from a distance, like 16-year-old J.C. DeMaria, who came into Manhattan from New Jersey and had been in line with his father since 6:30 a.m. He's "idolized" Clinton since she ran for president in 2008, when DeMaria was just 7 years old. The thing he loves most about her? "She's unafraid to hold opinions."
Others in the line came at their admiration for the former secretary of state from a more personal place, like Jean Moore, 70, who was in Clinton's class at Wellesley College. She was in town from Tennessee to see her grandson and rushed over to Barnes & Noble at 7 a.m. She told HuffPost that she "had a feeling" Clinton would be a star someday from her first week on Wellesley's campus.
"Every time I saw her she was with a big group laughing," Moore recounted, reflecting on how inspiring Hillary Rodham's 1969 commencement speech was. "It let 'em know it was time for women to be recognized and be involved in public life. We weren't going to sit around taking it anymore."
Everyone HuffPost spoke to scoffed at the idea that Clinton should bow out of public life in 2017. Many felt that the suggestion that she stop talking and go away reeked of sexism ― especially given that Sen. Bernie Sanders has published two books since his primary run wrapped up.
"Hillary just wanted to vent," said Carol Walther, 64, who waited in line with her 25-year-old daughter, Kristine. "That's wonderful. That's what Bernie did. Why isn't Bernie criticized?"
Karla Chrzanowski, who only identified herself as a "woman of a certain age," told HuffPost that it's imperative that Clinton doesn't stop talking about the election, because silencing her would send a message to other women who might step into the public eye.
"There's so much to learn from what happened [during the 2016 election]," she said. "I think there is an effort underfoot to silence women, and I think it extends from rape victims on campuses to the highest levels of the government ... It is increasingly important for women to continue to speak their truth and find their voice and to share it with others."
Clinton's supporters say they admire her refusal to be silenced by people (often male people) who would like to see her shut up. They love that even after a devastating loss, she's out in the public eye, speaking up.
"Even when she fails, she still perseveres," said Ireland. "She lost the election, but she's still writing this book and she's still here. I really admire that about her."
Support HuffPost
The Stakes Have Never Been Higher
Related
Popular in the Community