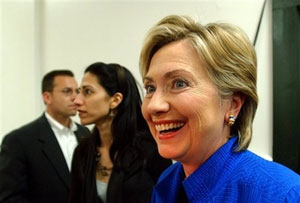 Iowa is the only state where current surveys show Obama to be within shooting distance of Clinton. In late August, Clinton took a small lead of 5.2 percent in a poll of likely Democratic caucus goers. That lead, the smallest Clinton holds in any early primary or caucus state, has held up through seven of the eight most recent polls, increasing the willingness of the Clinton team to gamble on a new offensive.
The Obama campaign has already described the January 3 Iowa contest as a must-win event. Clinton's burst of hiring is a declaration that she intends to go for a knockout punch.
There clearly is some risk for Clinton in this strategy: if her campaign is perceived as laying down the gauntlet in Iowa, a defeat would become all the more damaging. Clinton aides remain unwilling to discuss the significance of the upgraded Iowa staffing, resolved to dodge high expectations.
Until now, Clinton has pointedly maintained a comparatively low-key Iowa operation, spending substantially less money than Obama on in-state television, and maintaining a smaller contingent of local campaign workers.
Clinton's calculatedly discreet Iowa staffing commitment was designed to provide the candidate with cover in the event of a loss. Her slim advantage in Iowa polls now allows her to adopt a more aggressive strategy. The campaign hopes to do much of the new hiring on Sunday and Monday.
As recently as a month ago, Obama's campaign acknowledged publicly that Iowa would be crucial to the viability of the Illinois Senator's drive for the White House. "Iowa will make the difference," Michelle Obama said campaigning in Davenport on September 26. "If Barack doesn't win Iowa, it's just a dream, but if we win Iowa, then we can move the world as it should be."
Likewise, Obama's manager, David Plouffe, told the New Republic, "Iowa: that's the whole shebang."
Now, in the spin wars, Obama operatives contend that Clinton is the candidate who cannot afford to lose.
"She's in a tough spot, she needs to win Iowa, and every state, or her aura of inevitability is shattered," said Obama spokesman Bill Burton.
At the moment, Clinton holds double-digit leads in every state that hosts an early caucus or primary -- except Iowa. There, an average of the five latest polls shows her with 28.8 percent to Obama's 23.6 percent and John Edwards' 21.2 percent -- just over 5 points in her favor.
Since the start of summer, both Clinton and Obama have made gains against the former Iowa frontrunner, John Edwards, who throughout last spring held first place in the state and who hoped a good showing in Iowa would turn his campaign around.
As Edwards' standing in Iowa nosedived over the summer and fall, his staff investment has also been eclipsed by Obama. In an October analysis of third-quarter reports to the Federal Election Commission, the Des Moines Register reported that Obama had more staffers in Iowa - 145 - than any of his competitors, with Edwards at 130 and Clinton at 117. Clinton's new hiring is likely to eradicate Obama's personnel advantage.
The emphasis on Iowa this year -- and the plowing-in of resources -- marks the third election in a row in which the Hawkeye state is playing a key role in the Democratic nomination process. It has not always been this way. The salience of the Iowa caucuses has varied from election to election.
Since 1972, when Iowa first became a critical test of strength in a presidential race, the caucus has at times been key to the outcome, and at other times irrelevant.
In 1976, 2000 and 2004, Iowa victories by Jimmy Carter, Al Gore and John Kerry put them on the path to becoming the party's nominee. In 1972, 1988 and 1992, victories by Edmund Muskie, Richard Gephardt, and Tom Harkin proved to have zero lasting value. On the GOP side, Gerald Ford, Bob Dole (1996), George W. Bush (2000) won in Iowa and won their party's nomination. It is worth noting, however, that over the past 25 years, of the 13 winners of contested Iowa caucuses, eight won the nomination, but only two - Carter and George W. Bush - went on to win the White House.
Support HuffPost
The Stakes Have Never Been Higher
Popular in the Community