This past week, our country has seen a rash of gun violence that continues to dominate headlines. A shopping mall in Washington, a strip mall in Texas, a college campus in Illinois, an elementary school in South Carolina. More lives torn apart, more families destroyed. All in places where we should feel safe. It's unacceptable and we must do more prevent gun violence. But only one candidate in the first Presidential debate of the 2016 general election stood with the overwhelming majority of Americans who demand stronger gun laws. Hillary Clinton said emphatically and unprompted, "We have to tackle the plague of gun violence," and made the case for common-sense solutions like closing the loopholes in our laws that make it easy for criminals, suspected terrorists and other dangerous people to have access to guns.
Unlike previous elections, candidates like Hillary are running on what they will do to prevent gun violence, putting the issue front and center. They are doing it because the American people demand leaders who will stand up for our safety. They are doing it because contrary to the conventional political wisdom of the last generation, gun safety is now a winning issue for candidates.
Hillary Clinton is the only candidate for president in this election who has consistently supported criminal background checks for all gun sales. She is the only candidate who stands with survivors of gun violence in opposing immunity for gun manufacturers. She is the only candidate in the race who is willing to take on the gun lobby to keep our families and communities safe.
At rallies across the country, Hillary has ardently claimed we are "smart enough to figure out how to balance legitimate Second Amendment rights with preventive measures." I couldn't agree more. Hillary is determined to work with Congress to pass comprehensive background checks on all gun sales, a common-sense solution supported by more than 90% of Americans, including gun owners and NRA members. Background checks are the best way to protect Americans from gun violence. In states with background checks on all handgun sales, nearly 50 percent fewer women are shot and killed by their partners -and law enforcement deaths and gun suicides are reduced by almost half.
Last fall, I had the honor of joining other survivors of gun violence in a meeting with Hillary. I showed her a photo of my sister, Mary Sherlach and shared how her final act was one of bravery and courage. My sister's response to a disturbed armed man was an act of selfless heroism. Mary was the school psychologist at Sandy Hook School. Upon hearing the blast of gunfire on the morning of December 14, 2012, she made a split second decision to rush the shooter, finding the courage few could summon. In death, she became a hero.
During that meeting, Hillary promised us she would do everything in her power to fight the gun lobby. And while I knew of her commitment to addressing the epidemic of gun violence in this country, it was at that moment when she took my hands and looked me in the eyes, I could see this is a commitment she fully intends to keep.
Since my sister's murder, I have learned a lot about courage and bravery. I have learned that doing what is right is not always doing what is easy. I have learned that taking a chance in the face of uncertainty is true leadership. And when I think about the person I want to lead our nation during a time of such uncertainty, the choice could not be clearer.
Towards the end of our meeting with Hillary last fall, she told us that she will not allow the gun lobby to continue to be indifferent to our pain and suffering caused by gun violence. I thanked her for having courage like my sister Mary to take on the gun lobby. I trust and support Hillary Clinton because of her wisdom and intelligence, her rational temperament and her fearless determination. Hillary Clinton is our gun violence prevention champion. That's why I'm with Her.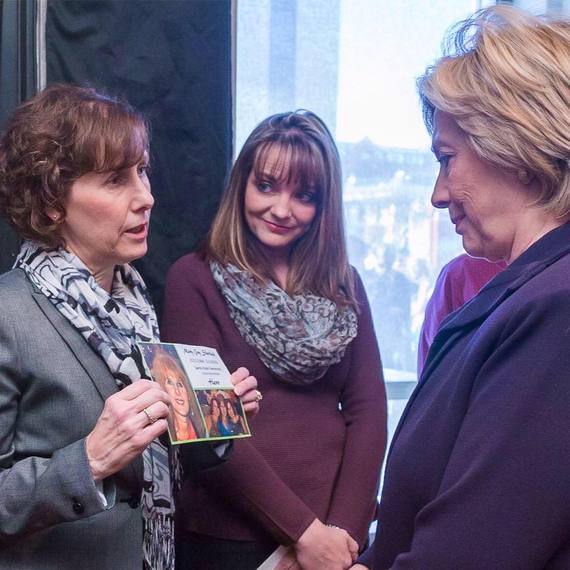 Calling all HuffPost superfans!
Sign up for membership to become a founding member and help shape HuffPost's next chapter