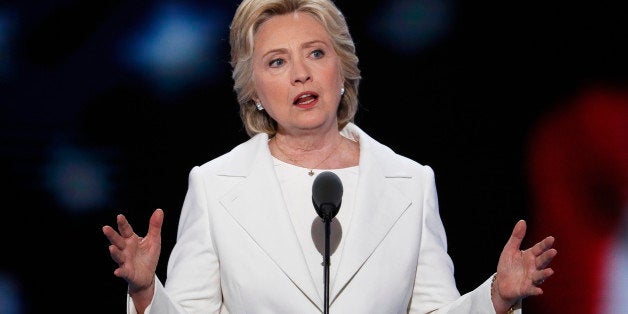 The 2016 Presidential campaign has revived some major disagreements about Dodd-Frank, the legislation that was designed to prevent Wall Street from engaging in the type of reckless behavior that crashed our economy.
Donald Trump wants to repeal this legislation, and remove the tough new rules and regulations on Wall Street that it put in place.
That makes no sense! Giving Wall Street a green light to engage in the same bad behavior that nearly collapsed our economy would only put our entire economy at risk again.
Hillary Clinton, on the other hand, supports the Dodd-Frank legislation and has outlined additional tough, no-nonsense proposals prohibiting the biggest financial institutions the opportunity to resume the type of gambling that almost drove our economy off a cliff. The contrast between her position to protect our economy from this behavior, and Donald Trump's position to repeal these protections couldn't be more clear!
Getting this right is one of the single most critical issues our country faces. The financial crisis in 2008 caused over five million people to lose their homes, nearly nine million to lose their jobs, and tens of millions to lose money in their retirement savings. So the American people have a lot at stake.
Much of my career in the U.S. Senate was spent fighting to stop the big banks' unbridled speculation in new, exotic financial products that put our country at risk. I wrote the cover story titled "Very Risky Business" in the Washington Monthly Magazine way back in 1995 that warning about the practice of big banks trading in unregulated, risky derivatives on their own proprietary accounts. Essentially, they were putting the taxpayers at risk to cover their gambling losses.
We have to make sure that never happens again. And the person I trust to make sure we never see another economic crisis like that is Hillary Clinton.
I served with Hillary Clinton in the U.S. Senate for eight years and I saw first-hand her work to protect our country from the recklessness of Wall Street. Hillary was relentless in her support for working families who were victimized by the financial crisis. Amid the turmoil, she called for new action to help millions of at-risk homeowners restructure their mortgages, and advocated for a new housing stimulus package to fight concentrated foreclosures. She also worked to end the carried interest loophole, so hedge fund managers could no longer pay a lower tax rate than their secretaries.
Hillary is the presidential candidate with a real plan to address the so-called shadow banking sector. Her plan would clamp down on the risks posed by certain activities of hedge funds, investment banks, and other non-bank institutions. She'd also impose a tax on high frequency trading practices, which can pose systemic threats to our markets.
Hillary will defend Dodd-Frank against attacks. She understands that we must not only ensure that these reforms stay put, but also strengthen key components of the legislation. If institutions become too big to manage and pose a risk to our economy, we must make sure they break apart or reorganize. Hillary's plan would strengthen regulators authority to break up major institutions when necessary, and impose a "risk fee" to charge the biggest institutions for the dangers they continue to impose on our economy. And she would strengthen the Volcker Rule by closing loopholes that allow banks to gamble with taxpayer-backed deposits.
Hillary's plan would also create real accountability on Wall Street. If institutions are ultimately found to be at fault, the individuals within those institutions would be held accountable as well. Her plan would increase the statute of limitations for financial fraud, enhance rewards for whistleblowers, and hold executives accountable.
And finally, as President, Hillary would appoint tough, independent regulators and ensure the Securities and Exchange Commission and the Commodity Futures Trading Commission are adequately and independently funded.
Hillary and I know that banking is an essential part of our economy. But we need to get back to prudent banking practices with real underwriting and old fashioned values and move away from the wild speculation and "fast buck" practices that put our economy at risk.
We need a President who will tackle the kind of abusive behavior that led to the last financial crisis. And as a legislator who has fought to reign in Wall Street his entire career, I am confident Hillary Clinton is that President.
Note: Byron Dorgan is a retired U.S. Senator who served in the Senate Democratic Leadership for 16 years.
Calling all HuffPost superfans!
Sign up for membership to become a founding member and help shape HuffPost's next chapter