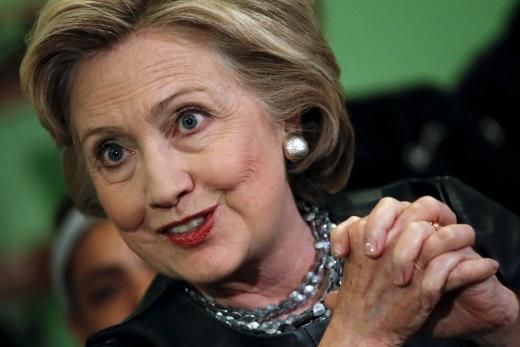 It's a tale as old as time with Hillary Clinton: She says one thing, yet her actions demonstrate the complete opposite.
Recently, billionaire Charles Koch gave a vague endorsement of Clinton, essentially expressing that she would be more favorable than any of the current Republican candidates. Koch told ABC News that, "It's possible [Clinton could be better than another Republican next time around]."
The Kochs are oil tycoons and one of the biggest GOP backers; they have consistently pulled the strings in elections using their hundreds of millions. As the face of Big Oil, they have lobbied Congress incessantly to block climate change and clean energy legislation, largely successfully. They also currently possess almost $900 million they hope to use during the 2016 election.
The Kochs epitomize the systemic corruption in Washington of wealthy donors controlling politicians. If they believe Clinton is their best bet in the White House, this is not a positive sign for the former secretary of state who has been constantly battling claims that she is bought by corporate interests and big money.
Clinton immediately took to Twitter to disavow this half-hearted support from Koch, writing, "Not interested in endorsements from people who deny climate science and try to make it harder for people to vote."
This is the correct PR move for Clinton. However, as Twitter users were quick to point out, it does not change the fact that she and her campaign are intertwined with Koch industry money and Koch lobbyists.
Lee Fang, reporter for The Intercept, gave numerous examples on Twitter of Clinton's ties to the Kochs.
For one, there are multiple executives and lobbyists involved with Koch Industries who are either raising money for Clinton or have donated to her campaign.
Fang also tweeted that others associated with Koch Industries, such as Amy Treanor and Robert Hall, have donated large sums to Clinton's campaigns.
Capitol Counsel, a lobbying firm for Koch Industries that has received a lobbying income of $320,000, also contains multiple employees who are fundraising for Clinton.
David W. Jones, a partner of Capitol Counsel, currently serves on the Finance Committee of Hillary for America, and was also "a volunteer fundraiser for the 2008 presidential campaign of then-Senator Hillary Clinton," according to the Capitol Counsel website.
Aside from the bundlers and executives donating Koch-backed money, Clinton is connected in yet another way to Koch Industries.
As Fang details, "Koch Industries served on the exec council of the [Democratic Leadership Council] DLC, the Clinton group that promoted conservative pro-biz Dems."
All this underscores a very significant point: Clinton, no matter her rhetoric, is a pro-corporate Democrat who has significant ties to Koch Industries executives and lobbyists, and has allowed Koch Industries members to influence the policies of Democrats for decades.
Akin to every other special interest, a connection to the Clintons is easily found.
Calling all HuffPost superfans!
Sign up for membership to become a founding member and help shape HuffPost's next chapter