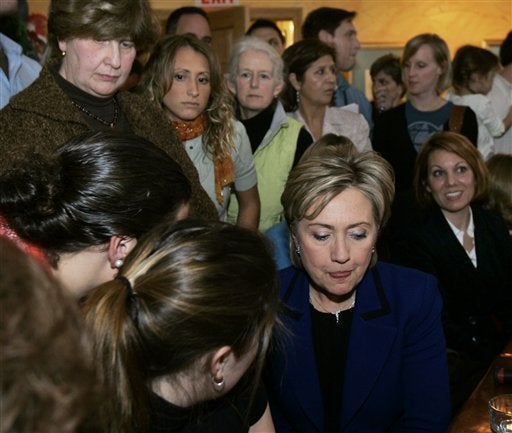 UPDATE: Edward's knocks Clinton for getting emotional on the campaign trail:
Edwards, speaking at a press availability in Laconia, New Hampshire, offered little sympathy and pounced on the opportunity to bring into question Clinton's ability to endure the stresses of the presidency. Edwards responded, "I think what we need in a commander-in-chief is strength and resolve, and presidential campaigns are tough business, but being president of the United States is also tough business."
Read about the original incident and watch the video below:
Hillary Rodham Clinton's eyes welled up and her voice broke repeatedly Monday as she talked with voters in a restaurant about her campaign for the presidency.
The former first lady was making a last-minute pitch for support as she spoke on the eve of the state's primary, with polls showing her trailing Democratic rival Barack Obama.
Asked by a sympathetic voter how she keeps going in the grueling campaign, she replied, "It's not easy. It's not easy."
"And I couldn't do it if I just didn't, you know, passionately believe it was the right thing to do," she said, her voice catching.
Read more continous coverage of the New Hampshire Primary at HuffPost's New Hampshire page.
Popular in the Community