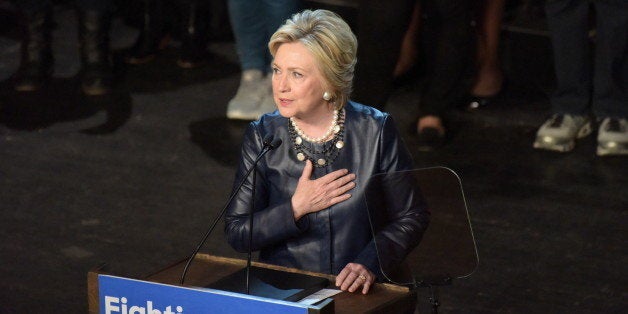 It's a lie that Hillary Clinton is a liar.
The truth is that Hillary Clinton tells us the truth -- and she has been doing so for decades. But many women -- particularly millennials -- have a different image of Hillary Clinton.
Writing in Mother Jones, Kevin Drum has this perspective on why millennials might think that Hillary is untrustworthy:
It's easy to understand why they might think this. After all, Hillary has been surrounded by a miasma of scandal for decades--and even if you vaguely know that a lot of the allegations against her weren't fair, well, where there's smoke there's fire. So if you're familiar with the buzzwords--Whitewater, Travelgate, Vince Foster, the Rose law firm, Troopergate, Ken Starr, Benghazi, Emailgate--but not much else, it's only human to figure that maybe there really is something fishy in Hillary's past.
I've been spending time on college campuses with young women who identify with what's being called "New Wave Feminism," and I get a lot of questions about Hillary Clinton and the "trust" issue. I'm gratified to report that I see heads nodding in agreement when I give my answer.
Hillary Clinton is the most admired woman in the world for a record 20 years, but as soon as she says she is running to be President of the United States of America, suddenly people say we can't trust her. There is a gendered aspect to this that we need to confront. Politicians are constantly, constantly telling us not to trust women. We're told we can't be trusted to make our reproductive health decisions. We're told we can't be trusted when we say we've been sexually assaulted -- it's assumed that we are lying, or asked for it, or wore the wrong clothes, or said the wrong things. Even in the corporate world, women aren't trusted to be top leaders. Only 5% of Fortune 500 companies have female CEOs. So when people say they can't trust Hillary, they are tapping into the same tired old excuses for keeping women out of leadership. I call sexist bullshit on that.

Beyond the buzzwords and soundbite-sized misapprehensions, Hillary Clinton has an inspiring record of achievement in matters of great importance to women. Let me count some of the ways Hillary is telling important truths in this campaign.
1. Hillary Clinton is telling us the truth about the college child care gap. Hillary's plan for debt-free college includes federal funding to place child care facilities in two-year colleges. Here's why: Nearly half of student parents attend two-year colleges, yet less than half of all two-year college campuses offer on-campus child care services. Lack of quality child care is a major reason why students, especially women of color, end up not completing their studies. What's more, Hillary has proposed he Student Parents in America Raising Kids (SPARK) program that will award scholarships of up to $1,500 per year to up to 1 million student parents to pay for child care, transportation and "emergency financial aid. This program follows on the Arkansas Single Parent Scholarship Fund, which then First Lady of Arkansas Hillary Clinton helped found in 1990 and has awarded nearly 40,000 single parent scholarships and significantly improved the retention and graduation rates of its awardees.

2. Hillary Clinton is telling us the truth about sensible gun laws. She knows that America simply cannot accept as "normal" about 33,000 gun deaths every year. Common sense, and long overdue gun laws, including getting rid of gun manufacturers' blanket immunity from being held liable for defective products, is key to making communities safer. The presence of guns in a home where there is intimate partner violence makes it five times more likely that domestic violence will turn into murder. Women are 11 times more likely to be murdered with guns in the United States than women in other high-income countries, and more than half of them are murdered by intimate partners or family members.
3. Hillary Clinton is telling us the truth about the need for full funding for abortion care. supports full funding for abortion care, whether a woman gets her health care through Medicaid, on an exchange, or through her employer. As I wrote here last February,
What's more, Secretary Clinton understands that reproductive health care is part and parcel of women's health, not some exotic outlier that gets forgotten or downplayed when health policy is being hammered out. Her leadership on reproductive health care goes way beyond the "I support a woman's right to choose" declaration we've come to expect from Democratic candidates. Hillary Clinton has been a leading voice in not only defending access to abortion, but in demanding public funding for abortion care like any other health care.
Hillary Clinton was the first candidate in the Democratic primary to come out squarely and emphatically in support of repealing the Hyde Amendment, the 1976 law that blocks Medicaid from funding abortion care. This means that for low-income women, disproportionately women of color, who rely on Medicaid, it's as if Roe v. Wade never happened. Hillary Clinton has said, "I would like to see Planned Parenthood even get more funding" and "A right without the opportunity to exercise it isn't a right. Low-income women deserve health care. The Hyde Amendment should be overturned."
4. Hillary Clinton is telling us the truth about paid family leave.
The United States is the only developed nation in the world with no guaranteed paid leave of any kind. In fact, only 13 percent of American workers have access to paid family leave--with the lowest paid workers up to four times less likely to have access than the highest paid. Hillary Clinton wants to guarantee up to 12 weeks of paid family and medical leave for workers and ensure at least a two-thirds wage replacement rate for workers so that low-income and middle class workers receive the financial support they need to take the leave they need.
But Hillary's understanding of this issue goes beyond support for legislative proposals. I'm impressed by how much she's thought about this, and her deep understanding of why family leave is so important to women. In a major economic speech, Hillary Clinton said,
The movement of women into the American workforce over the past 40 years was responsible for more than $3.5 trillion in economic growth. But that progress has stalled. The United States used to rank seventh out of 24 advanced countries in women's labor force participation. By 2013, we had dropped to 19th. That represents a lot of unused potential for our economy and for American families. Studies show that nearly a third of this decline relative to other countries is because they're expanding family-friendly policies like paid leave and we are not. We should be making it easier for Americans to be both good workers and good parents and caregivers. Women who want to work should be able to do so without worrying every day about how they're going to take care of their children, or what will happen if a family member gets sick.
I'm old enough to have seen more than my fair share of political campaigns that were built on lies, distortion and even hatred. When I was a law professor in New Orleans, I was deeply involved in the resistance to the racist gubernatorial campaign of David Duke. As President of NOW, I hear outrageous and offensive attacks on women and their advocates every day.
But Hillary Clinton has had to endure more distortions of her record and attacks on her character than any political figure in recent memory. I know exactly what Donald Trump means when he boasts, "I haven't even started on Hillary Clinton."
The best antidote to poisonous attacks on Hillary Clinton is the bright light of truth. The next time someone you know questions Hillary's honesty, point to her record, speak to her character and tell them why, like me, you'll be proud and thrilled when she is declared the nominee.