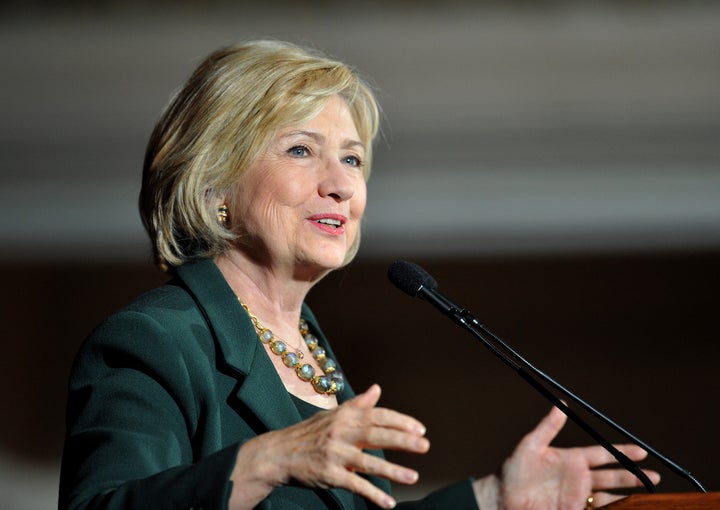 WASHINGTON -- What was once characterized as a "wild hypothetical" by Justice Samuel Alito in a 2014 campaign finance case is now a reality.
A joint fundraising committee linking Hillary Clinton to the national Democratic Party and 33 state parties is routing money through those state parties and back into the coffers of the Democratic National Committee. So far, 22 of the state parties linked to the Hillary Victory Fund have received $938,500 from the fund and sent the same amount back to the DNC, according to available campaign finance records. The Clinton campaign claims to have raised an additional $18 million for the party committees in the final three months of 2015, although records will not be disclosed until Jan. 31.
The movement of money from a joint fundraising committee through state parties and to the national party committee has been criticized by campaign finance reformers as a way to get around campaign contribution limits.
Here's how it works: Donors are limited by how much they can give to campaign committees, national party committees and state party committees. A single donor can give $5,400 to a candidate's campaign to cover both a primary and general election, $33,400 annually to a national party committee's general fund and $10,000 annually to each state party. These limits are known as "base" contribution limits. (Additionally, donors can give $100,200 annually to each of the national party committee's convention, building and legal funds thanks to a provision slipped into the 2014 omnibus budget bill.)
Since the Hillary Victory Fund links the Clinton campaign, the DNC and 33 state parties, the total amount a donor could give is $669,400 per year. Technically, a maximum contribution to the fund would include $330,000 to be split among the 33 state parties. Since party committees are allowed to make unlimited transfers between each other, that money can easily be sent to the state parties most advantageous to the candidate raising the money -- in a swing state, for example. Or, as is happening with the Hillary Victory Fund, that money can be sent to the DNC, which redistributes it as they see fit.
Wealthy donors like Fred Eychaner, M.K. and J.B. Pritzker and Donald Sussman have seen their six-figure contributions to the Hillary Victory Fund split into $33,400 contributions to the DNC and $10,000 to a variety of state parties. The state parties have then sent the exact amounts received from Hillary Victory Fund donors directly to the DNC. This arrangement was first reported by the Alaska Dispatch News.
Clinton is not the only Democratic presidential candidate with a joint fundraising committee linked to the DNC. Sen. Bernie Sanders (I-Vt.) has one that just raises money for the DNC, but not state parties. The DNC offered these joint fundraising agreements to the candidates in an effort to capitalize on popular figures who could help build the party's war chest. Only Clinton accepted an agreement that included state parties.
Eric Walker, a spokesman for the DNC, said that the joint fundraising committees are designed to build a stronger party and that the money will go to certain states for staffing and other purposes.
"The money raised through our [joint fundraising agreements] with the campaigns will be used for general election efforts up and down the ballot, and will include investments in data, technology, and our voter file, which are all used by the state parties and our candidates across the country," Walker said.
Many of the state parties linked to the Hillary Victory Fund and transferring that money to the DNC said the same thing.
"Like dozens of state parties across the country, we signed the joint fundraising agreement to help the Democratic Party fund things like research, communications and party infrastructure that will help Democrats up and down the ballot," said Lizzy Price, communications director for the New Hampshire Democratic Party.
"The [Democratic Party of Virginia] relies on the DNC for many valuable services like help with research, press, technology, and even transfers money to help fund staff," said Stephen Carter, spokesman for the Democratic Party of Virginia. "A well funded DNC is in the best interest of every Democrat in America."
Rachel Irwin, spokeswoman for the Maine Democratic Party, said, "Our hope is that these joint fundraising agreements will help us bolster our party at the state and national level to help elect Democrats up and down the ticket in 2016."
The money will help the DNC maintain its voter file and other databases used by all state parties. In the end, though, the DNC will decide which state parties will see an infusion of this cash during the election cycle based on need for the presidential nominee and other down-ballot races.
The ability of a single candidate to raise huge sums through a joint fundraising committee and spread it around to dozens of party committees was made possible by the Supreme Court's 2014 ruling in the McCutcheon v. Federal Election Commission case that overturned aggregate campaign contribution limits. Prior to the court's 5-4 ruling, individual donors were limited to giving $123,000 in overall contributions to campaigns, parties and political action committees in each two-year election cycle. (Unlimited super PAC contributions did not factor into this aggregate limit.)
These limits were meant as a defense against the subversion of the base contribution limits, as money could be moved between party committees or PACs to allow a donor to give more than their limit to a single candidate or party committee.
Conservative opponents of campaign finance regulation on the court saw this argument as unsupported by any evidence. Alito called it a "wild hypothetical" that a joint fundraising committee would be used to raise huge sums by one candidate and then have the money directed back into one committee.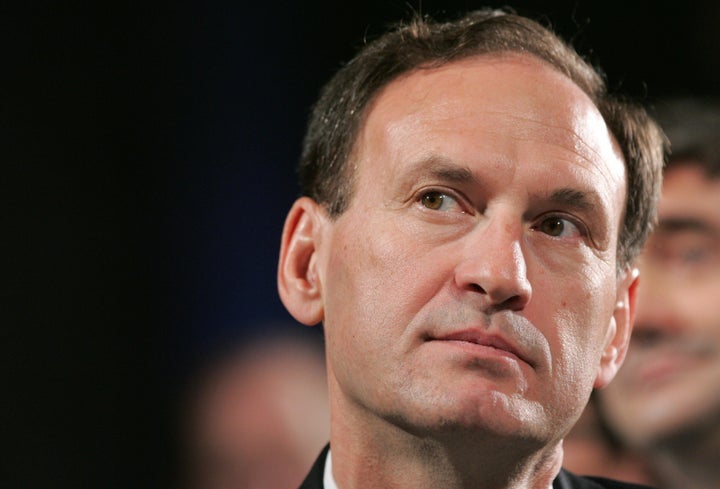 "Now, how -- how realistic is that?" Alito said in October 2013, during arguments in McCutcheon v. FEC. "How realistic is it that all of the state party committees, for example, are going to get money and they're all going to transfer it to one candidate?"
Chief Justice John Roberts, the author of the McCutcheon decision, also stated that these arguments -- along with others made by supporters of the limits -- were "divorced from reality."
As previously reported by The Huffington Post, Republican presidential candidate Mitt Romney's campaign employed a joint fundraising committee linked to four state parties in 2012. The funds directed to those four party committees were then redirected to swing-state party committees, often with funds from donors who had already given the maximum to those swing-state parties.
Similarly, joint fundraising committees connected to former Rep. Eric Cantor (R-Va.) and 2012 Senate candidate Josh Mandel (R-Ohio) included both state and local party committees. These local committees promptly transferred their portion of the funds raised to the state party committees.
These arrangements were made while aggregate limits still existed. The contributions flowing through the Hillary Victory Fund show how much more money can be moved now that the Supreme Court has eliminated them.
Popular in the Community