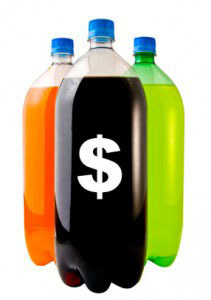 Philadelphia Mayor Jim Kenney's proposed three cent an ounce tax on soda to fund universal Pre-K made national headlines this week when Democratic presidential candidate Hillary Clinton endorsed the tax. Bernie Sanders then came out against the tax labeling it regressive. Despite the high-powered Clinton endorsement, it is still not clear the tax will pass Philadelphia's City Council.
The tax in Philadelphia would be the highest in the country at a rate three times higher than the one in Berkeley, California which is the only other city in the nation to have such a tax. Calling Kenney's tax a soda tax is a misnomer. The proposed tax is on all sugared drinks included iced tea, juice, and soda. The most visible opponent of the soda tax, Harold Honickman, has vanquished many a competitor and opponent while building a billion dollar business that distributes more than 150 million cases of beverages annually from New York to Virginia. The Philadelphia Inquirer estimates that his family company distributes about 35 percent of the soft drinks sold in New York City.
On one hand, taxes on sugared drinks, which present a public health risk and contribute to obesity, looks like a no-brainer especially when the revenues will go to support universal pre-K. Bloomberg's proposed soda ban was very unpopular with New Yorkers. Sanders told a crowd at the Sharon Baptist Center in Philadelphia that he objects to taxing soda in a city where 40 percent of the city's school children rely on food stamps for their nutrition and 30 percent of its citizens live below the poverty line. Former Pennsylvania Governor Rendell, who opposed the tax when it was initially proposed by then Mayor Nutter, argued on Talk Radio 1210 SPHT that "while it's true sugary drinks are a health problem, but so are cheeseburgers. So are donuts. Are we going to do a tax on sugary donuts at Dunkin Donuts and Krispy Kreme? Are we going to tax cheeseburgers at McDonalds?"
Honickman stresses that the economics of the soda distribution business, which emphasizes volume over profit margin, does not easily lend itself to additional taxes. His major objection to the soda tax is that it unfairly targets one industry, which is already reeling from an approximately 25 percent decline in volume over the last 7 ½ years. He said, "Everything has sugar in it. Maybe if they tax everything that has some sugar in it, either by the container or the store, I would be willing to pay some tax too. I am sure if everybody-Dunkin Donuts, Krispy Kreme, McDonalds selling French fries, Burger King-was being taxed on a percentage basis of what they sold in the city, I am sure that I would be willing to pay some tax too."
Before simply taxing sugar, he would like to see an overhaul of the entire city's revenue code. He points out that Councilman Alan Domb, who is one of the city's major real estate investors, has already stated the city's real estate is undervalued and its assessments are not current. He suggests looking at a proposal from one of the city's leading grocers, Jeff Brown, to tax plastic bags.
According to Honickman, the burden of the tax would fall on the 1300 mom and pop stores out of the 3300 accounts the company services in Philadelphia because they sell 34 percent of his sugared drinks in Philadelphia. He said, "He is driving good stores out of business. He is driving a lot of bodegas out of business. He will never collect the tax that he thinks he is going to collect and he will create the biggest black market that the city has ever seen."
The soda mogul is adamant that the industry won't absorb the 3 cent tax per ounce which translates into a weighted average of $14.48 a case of soda. There is already an agreement among grocers in the city that they would have to pass the tax to the consumer. He said, "If the mayor thinks that the industry is going to absorb one penny of the tax, he is smoking something funny. We showed him a certified audit and showed him exactly how much money we made a case, which is .0007 per ounce which translated into 28 cents a case. It is ridiculous to think the industry would absorb any part of the tax."
Honickman says 70 percent of his soda sold is bought on sale which indicates that it is price sensitive. Both sides of the soda tax war agree on one thing-the imposition of the tax will result in a drop in soda sales. The Mayor's office predicts a drop in sales of 51 percent while Honickman argues that it is a much higher number. He explained, "Our numbers of what the city will collect in the tax are far different than the mayor's office is projecting. American Beverage Association is saying they believe there will be shrinkage of 79 percent of the beverages being sold in Philadelphia. If we lose 79 percent of our business in the city, the mayor is millions and millions of dollars off of what he thinks he is going to get."
Honickman, who with his wife is already one of the city's leading philanthropists, reiterates his support for universal pre-K and pledges to make a major donation. He also agreed to use his influence to encourage other foundations to join the effort. But he knows charity is a band aid because but for Pre-K to be successful it needs to have a reliable and continuing revenue stream.
Calling all HuffPost superfans!
Sign up for membership to become a founding member and help shape HuffPost's next chapter