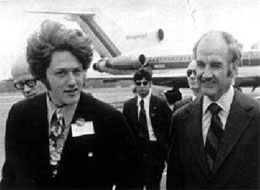 George McGovern, the anti-war senator and 1972 Democratic presidential nominee, is set to endorse Hillary Clinton in Iowa on Oct. 6, ABC News reports.
Clinton, Barack Obama, and John Edwards are all "pretty attractive," McGovern tells ABC, but Clinton will "likely secure his backing," in part because of her work on his presidential campaign.
"I got to know her 35 years ago," McGovern said. "She and her boyfriend, Bill Clinton, took over the McGovern organization in Texas. They did a terrific job against impossible odds. I never forgot that. They worked night and day in that state."

McGovern said that he was "impressed by the experience she had as first lady. I know some people say it's not governing experience, but it really is. You're at the elbow of the power broker. She was there for all the decisions." He said he was impressed with her performance at the debates and her ability to win large re-election margins in both New York City and upstate New York.
With George's endorsement, Clinton has wrapped up the anti-war McGovern vote. Vocal Iraq war critic Rep. Jim McGovern (D-MA) -- no relation -- endorsed Hillary in March.
Popular in the Community