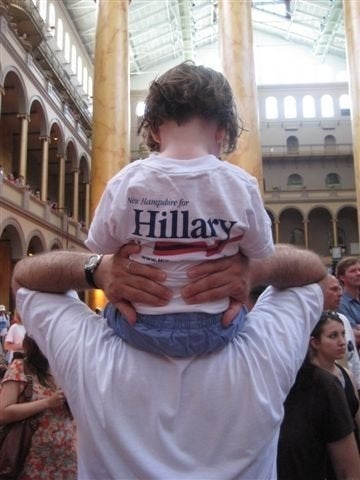 Here are some photos taken at Hillary Clinton's concession speech, held at the National Museum of Building in Washington, D.C. on Saturday, June 7th, 2008. Read an account of the speech here.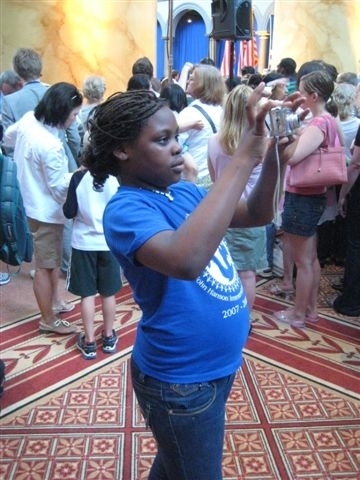 A day to remember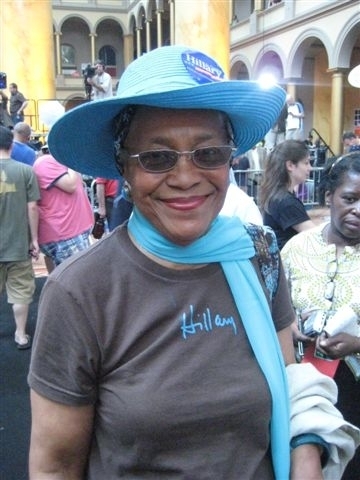 An outfit to remember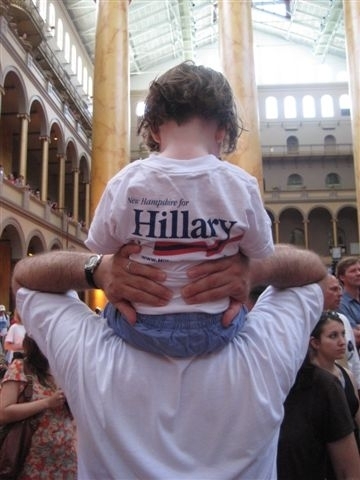 Gentle reminder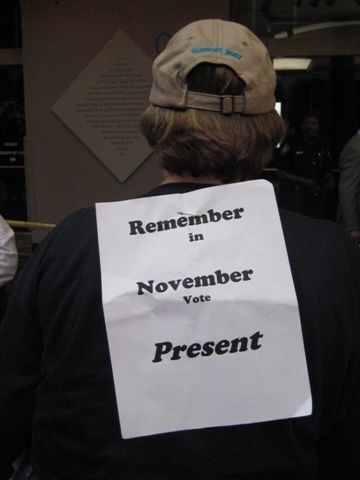 Not-so-gentle reminder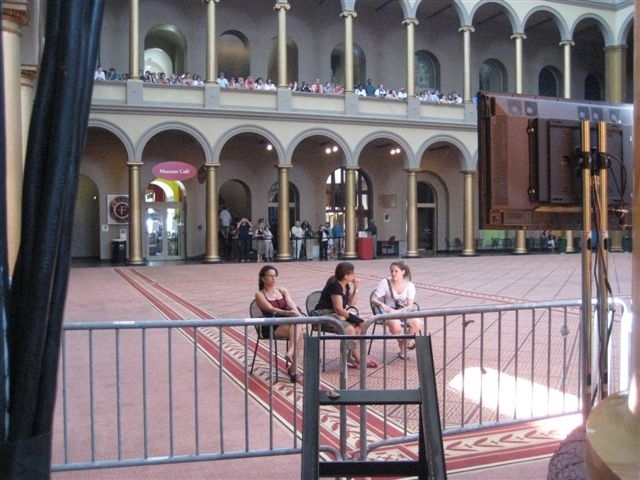 Behind the action, space, and an unobstructed view (of the TV).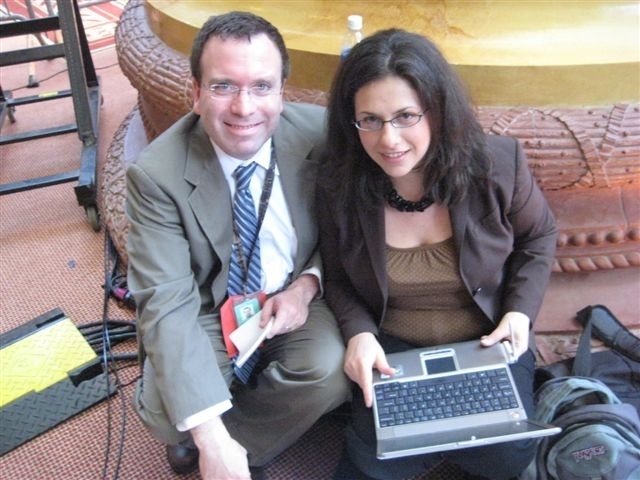 WaPo's Dana Milbank and Garance Franke-Ruta.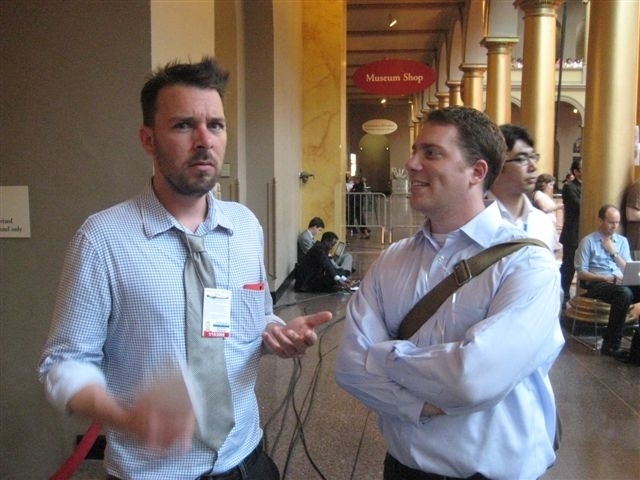 The Observer's Choire Sicha and Politico's Ben Smith. It looks like Sicha's getting ready to dap!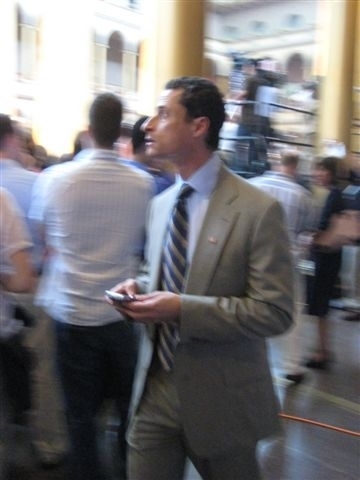 Congressman Anthony Weiner berries and walks through the crowd.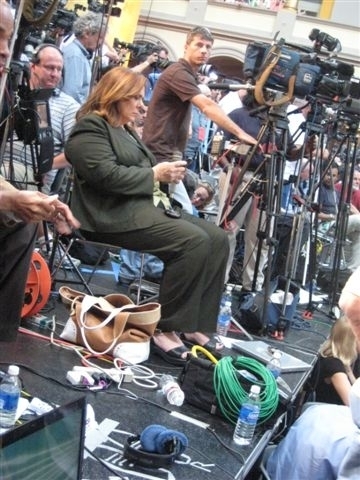 Candy berries. (Actually, candy berries would have been delicious right about then, or even water.)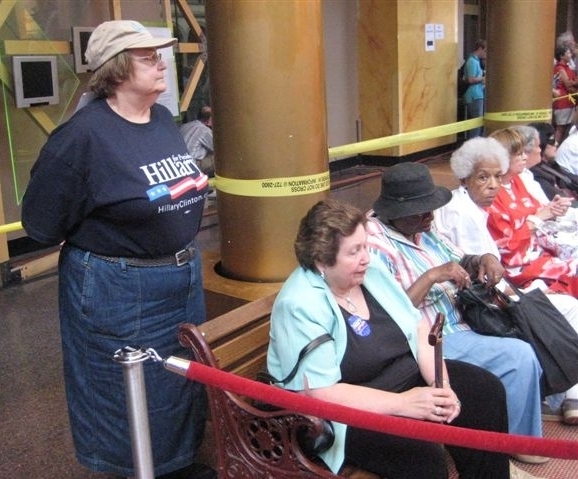 Hillary's sentries.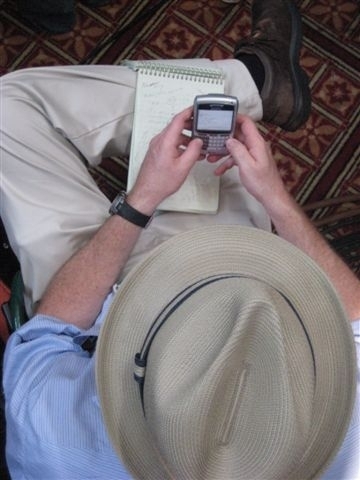 I don't know this guy's name, but he was a jerk. Rebecca Traister stood on a chair by the press area, and then he came over and demanded that she move because it was "his" chair, and he'd moved it there. He'd been away for at least 20 minutes. "Are we going to do this nicely, or what?" he said to her. Whoever you are, dude, you're a prick. Update: According to Choire Sicha, he's Glenn Thrush from Newsday, apparently "one of the best-regarded and most hilarious and helpful of reporters working during this endless campaign season." Oh! That makes sense because he totally helped himself to the chair! Funny how Choire tries to make this an issue of sexism; I didn't. Just general rudeness.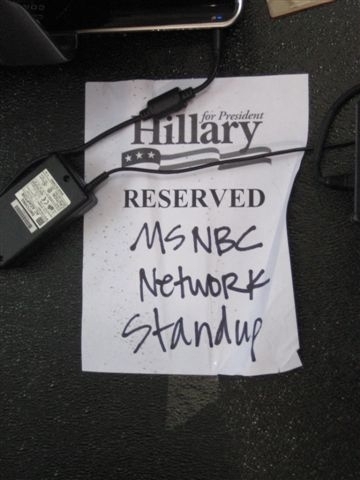 Maybe if Glenn Thrush had one of these...
Michael Calderone
of The Politico. He's polite, unlike
some
people.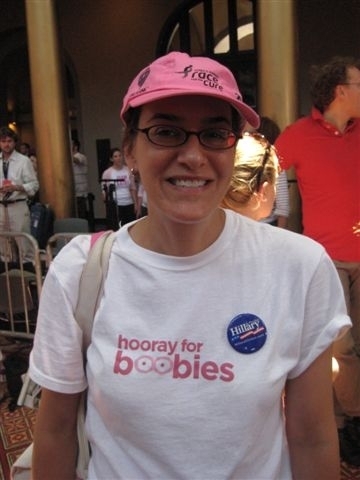 Hooray, indeed!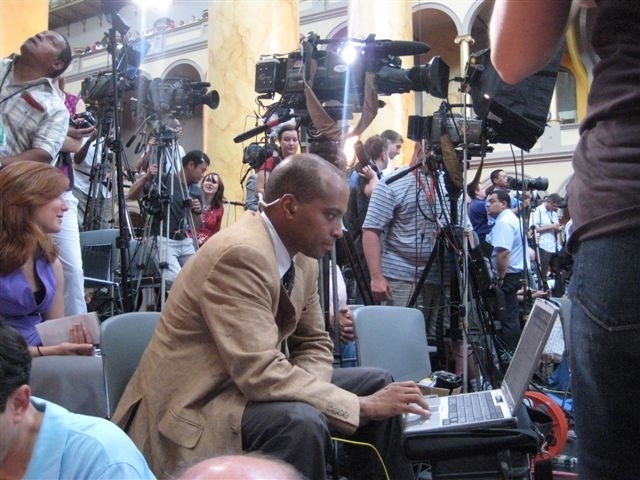 MSNBC's Ron Allen didn't have to fight for a spot, but if he did, we bet he would have been very nice about it.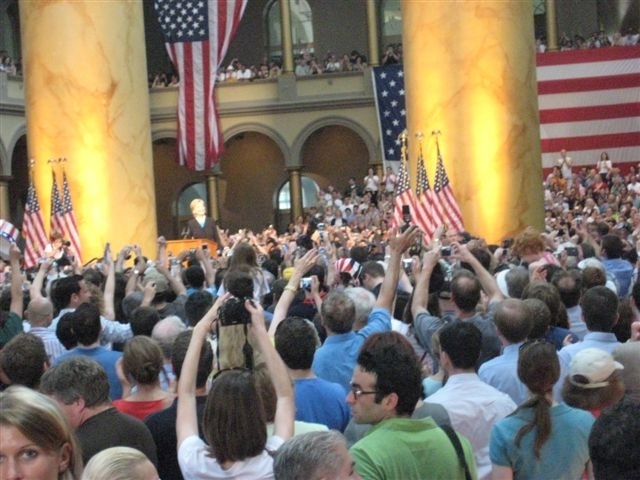 She speaks! Hillary takes the stage for a 30-minute speech that flew by. Well done.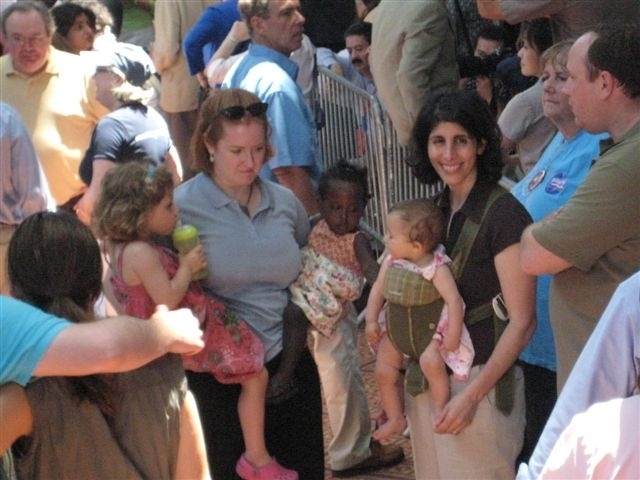 The next generation of superdelegates.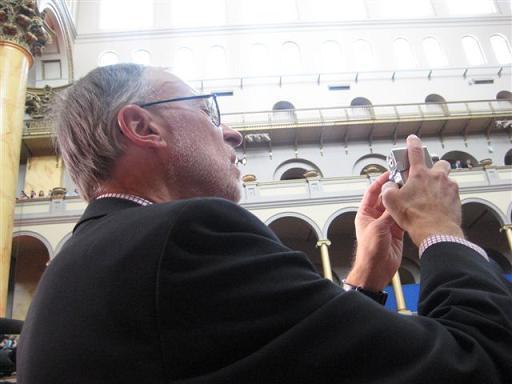 A shot for posterity.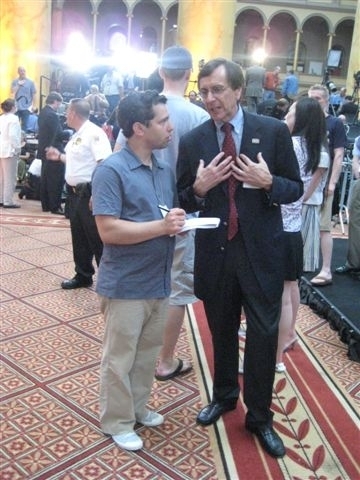 Earnest commentary dutifully recorded by even more earnest cub reporter. Update: ...who happens to be Sasha Issenberg of the Boston Globe, writer of The Sushi Economy . Sushi would not have lasted long in that hall.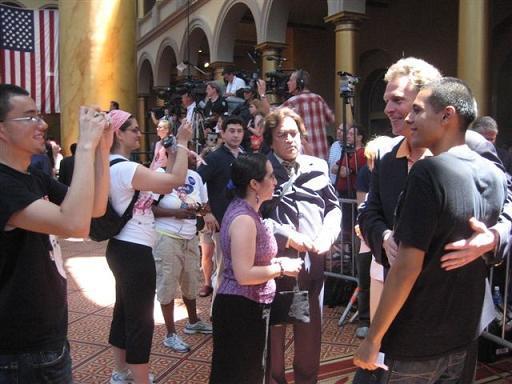 Terry McAuliffe loves you back!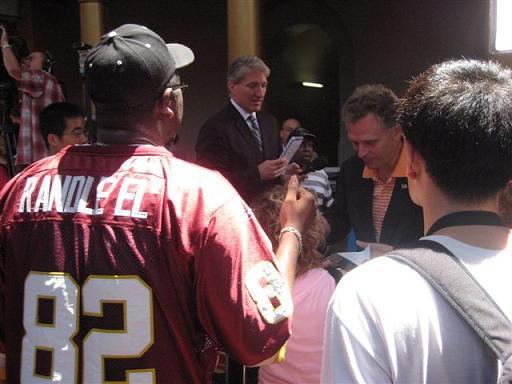 You, too!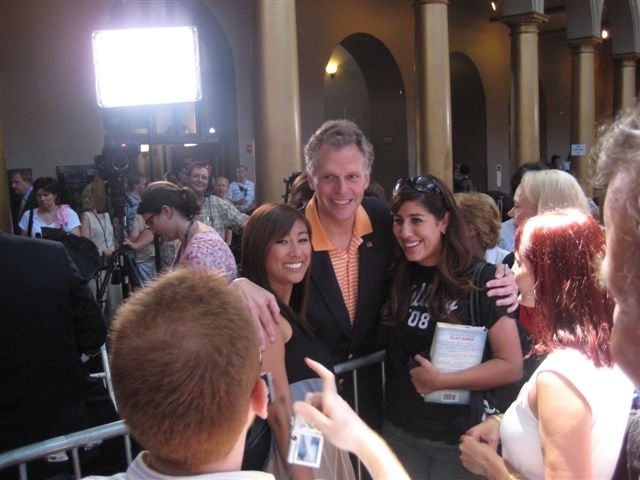 And you and you and you! Terry loves everybody!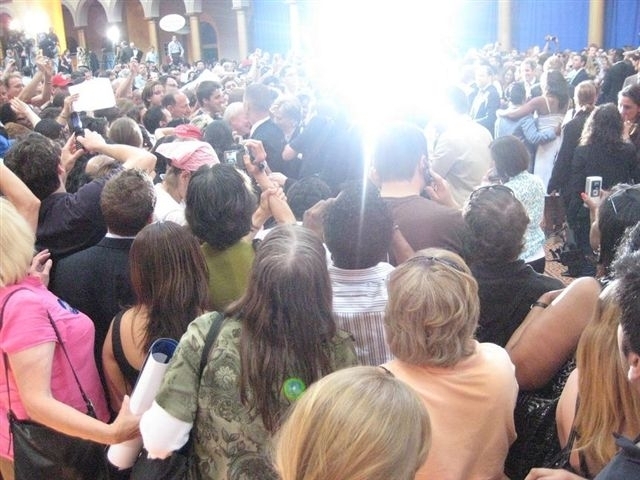 The post-speech scrum (Hillary is somewhere in the center)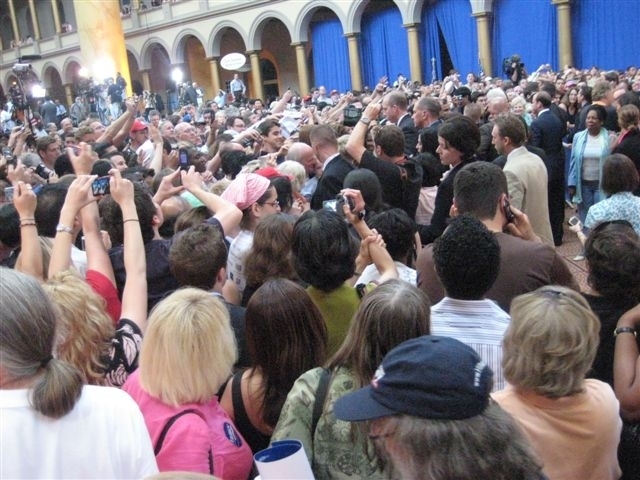 A sea of hands, paper and digital cameras.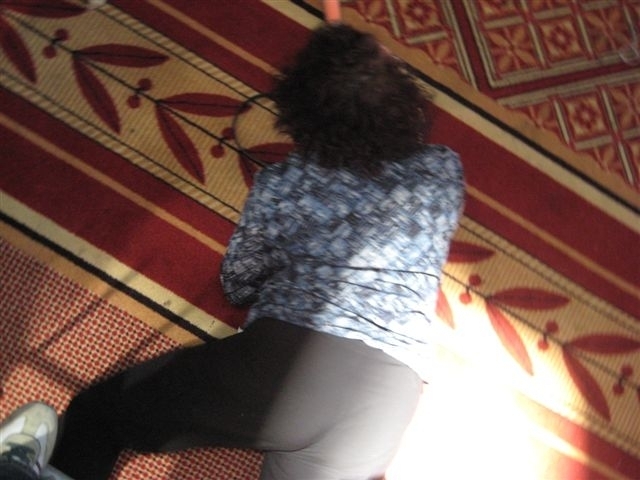 A woman crawls under a barrier to get into the scrum around Hillary.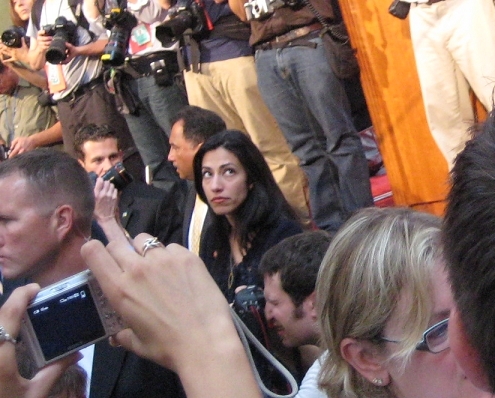 Longtime Hillary aide Huma Abedin, from the center of the scrum.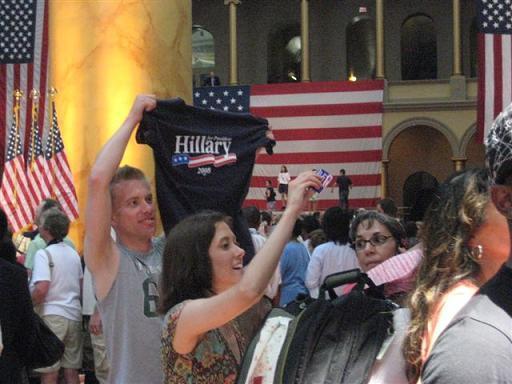 Shirts! They've still got plenty of good wear left.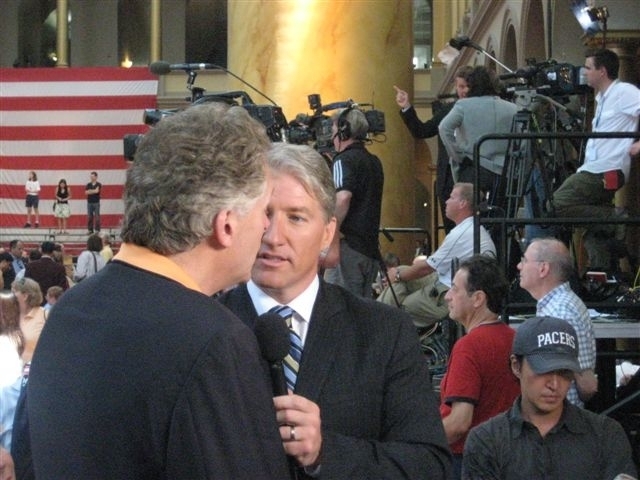 "Terry, now that the campaign is over, I just want to say...I love you."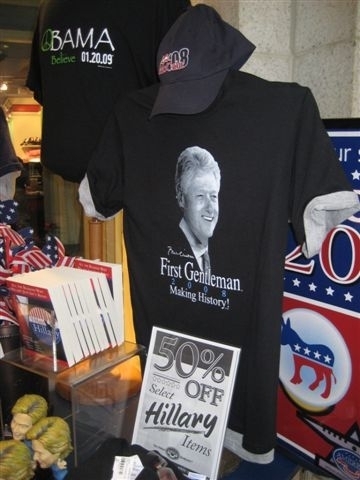 A shirt deferred.