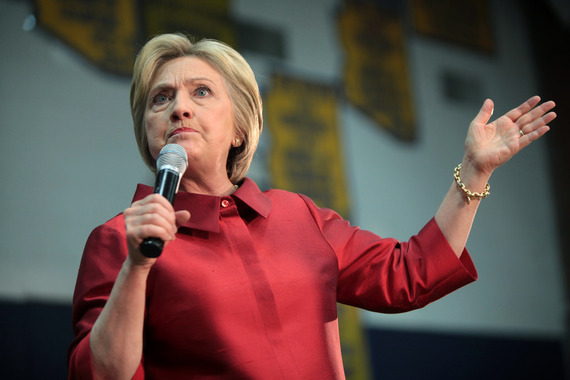 "Save us from weak resignation to the evils we deplore."
You may be surprised to learn that's a line from the famous hymn God of Grace and God of Glory by the great American preacher and seminary teacher, Rev. Harry E. Fosdick, and not a Tweet from the last few days.
After I heard Hillary's now famous description of half of Trump supporters as a basket of deplorables I realized I had started humming this wonderful hymn. Whether this was in the back of Hillary Clinton's mind (and Methodists do love to sing the old hymns), it certainly came to my mind.
The deplorable views of Trump supporters are not a secret. Last month The New York Times published a shocking video of unfiltered voices from a Trump rally. The "coarse, vitriolic, even violent language" is so vile I choose not to reproduce it here. If you choose, you can follow the link.
Racism, sexism, homophobia and xenophobia have all been on display in these events, and yes, without a doubt, these are evils. I do not think it is a mistake to call these out.
In fact, I think the "evils we deplore" are at the heart of our country's struggle over who we are as a nation. Are we welcoming, diverse, and tolerant, or are we shutting our doors, privileging the white race, and intolerant of other religions and people from other countries?
Evil is very poorly understood. It is not satanic forces, but in effect a huge collection of human sins that take on a life of their own and become a system. My co-author Mary Potter Engel, in our book Lift Every Voice: Constructing Christian Theology from the Underside makes this point that all the sins we commit create systems that "tempt us toward injustice and impiety." Individual sin and collective evil become mutually reinforcing.
In other words, they become the "evils we deplore."
Rev. Fosdick's hymn calls on God to "Grant us wisdom, grant us courage" to confront fear, to let go of greed and selfishness, and to be cured of the love of violence so manifest in our "warring madness." It is as contemporary a plea as we could want for "the living of these days."
Please God, grant us wisdom and courage to call out "the evils we deplore" and help us do better as a nation in valuing all people.
REAL LIFE. REAL NEWS. REAL VOICES.
Help us tell more of the stories that matter from voices that too often remain unheard.