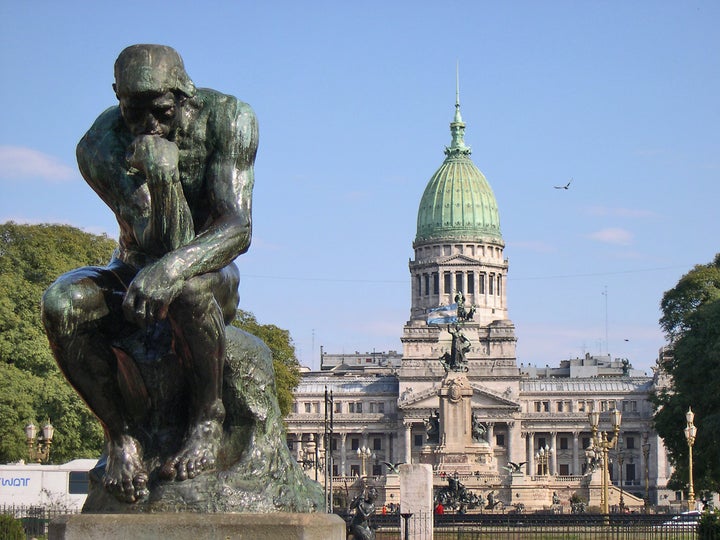 Reading the New York Times the other day, I came upon an interesting article about Hillary Clinton's upcoming trip to South America. Not surprisingly, the Secretary of State had no plans to stop in Venezuela, Ecuador or Bolivia, nations which have been critical of U.S. foreign policy. However, Clinton also intended to steer clear of Argentina, a major country in the wider region. What can account for such a diplomatic snub?
According to the Times, the U.S. diplomat agreed to meet with Argentine President Cristina Fernandez de Kirchner, but only in Montevideo where Clinton was scheduled to attend the presidential inauguration of Uruguay's Jose Mujica. The Secretary of State intended to fly from Montevideo to Santiago direct, thus bypassing Argentina altogether even though the Uruguayan capital is just a quick hop across the Rio de la Plata from Buenos Aires.
At the very last minute Clinton changed her travel itinerary and announced she would fly to Buenos Aires, but only as a mere stopover: the Secretary would spend the night in Argentina and then depart the very next morning for Chile in order to assess earthquake damage in the troubled South American nation.
The not so subtle message is that Washington disapproves of the Kirchner regime, but what are the underlying motivations? Perhaps, the U.S. seeks to avoid diplomatic meetings with Argentine officials because the Obama administration is reluctant to back Buenos Aires' claim to the Falkland Islands.
Speaking at the United Nations recently, Kirchner said that the Falklands, or the Malvinas as Argentines refer to the islands, still represented "a colonial enclave" in the south Atlantic [perhaps, Kirchner may calculate that the Falklands imbroglio could serve as a welcome public distraction from mounting political and economic troubles at home]. When the United Nations meeting proved inconclusive, Argentina sought diplomatic support from Washington in its long simmering dispute with Britain over the Falklands.
Clinton would probably not wish to wade into such thorny political and historical waters. The islands have been a British possession since 1833, and the local inhabitants consider themselves thoroughly British. Yet, Argentina claims the Malvinas as the country inherited them from the Spanish crown in the early 1800s. In 1982 Argentina seized the islands but was later expelled by a British naval force. The war was short but bloody and cost about 1,000 lives. During the conflict, the U.S. backed Britain over the Argentine military junta.
Since then the Falklands issue has moved to the backburner, but now the two countries are again at loggerheads as a result of energy resources. That's because recently, the Brits started to drill for oil and gas beneath the Falklands seabed. But ominously, just 150 miles west of the British drilling, Argentine-Spanish consortium Repsol YPF also wants to drill, thus raising the prospect of a hydrocarbon race in the area.
There's a lot of oil and profits to be made here: geologists estimate that there are up to 60 billion barrels of oil near the Falklands. Britain is hardly the military superpower it once was, but would probably win another showdown. The Brits have an airfield on Port Stanley with four Typhoon jets and other air defenses. That's not very much, but the Royal Navy has already dispatched a submarine and other vessels to the area.
Recently, ARA Drummond, an Argentine vessel, had an encounter on the high seas with HMS York, a British destroyer. Drummond withdrew, but Argentine nationalism has been ratcheted up with veterans of the 1982 war protesting London outside the presidential palace in Buenos Aires. Argentina says it has no desire for a military confrontation, but insists it has the right to seize international supply ships headed to the Falklands and argues that British ships need permission to head into the area. Britain rejects any such notion.
The U.S. would probably not like to take a position one way or the other, but in Buenos Aires Clinton was forced to wade into the debate at long last. Walking a delicate tight rope, the Secretary of State urged both Britain and Argentina to work towards a peaceful resolution of the Falklands dispute. If the two nations sought to negotiate, Clinton said, the United States could "facililitate" the talks if asked. But later, splitting hairs, Clinton clarified that she was not offering to serve as a mediator but merely sought to offer moral support.
Another complicating factor for Clinton is the wider geopolitical context. Argentina has received diplomatic support from Brazil and Chile, two countries with whom the U.S. has warm political ties. However, Venezuela has also been backing Argentina's Falkland claims and the U.S. surely doesn't want to identify too closely with Hugo Chavez who is wont to employ anti-imperialist rhetoric. Counter productively escalating the war of words, Chavez recently remarked "Get out of there, give the Malvinas back to the Argentine people. Enough already with the empire."
But beyond Chavez and wider geopolitics, Clinton has other reasons not to encourage Buenos Aires. The Kirchner regime hasn't pursued a radical social and political agenda at home, yet the State Department is apparently worried. Fundamentally, Washington does not understand where Argentina stands. Which camp is Argentina ideologically allied to, business friendly Brazil or Chile or the more populist Venezuela?
Judging from its behavior, the Obama administration feels it could be the latter. "Up to now," according to a recent article in Argentine newspaper Pagina 12, "Obama has not shown any interest in meeting with the Argentine president, as he has done with Lula, the Mexican Felipe Calderon, the Colombian Alvaro Uribe and the Chilean Michelle Bachelet. There have been letters, a telephone call and even an informal conversation about Honduras in New York, but never a bilateral meeting and that, although the Pink House [presidential palace] may not like to admit it, is a cause of uneasiness."
There have been many issues as of late which have divided Washington and Buenos Aires, for example the handling of the political crisis in Honduras and climate change. What seems to make the White House particularly leery however is the overall investment climate in Argentina and, perhaps, labor relations. The Buenos Aires government is still in arrears to international creditors as a result of the 2001-2 economic crisis and foreign companies have filed a number of arbitration claims which have yet to be resolved.
Meanwhile, Argentine laborers have established cooperatively owned businesses and undertaken important political exchanges with their Venezuelan counterparts [in my latest book, Revolution! South America and the Rise of the New Left, I discuss one such colorful business, the Hotel Bauen]. There are currently 500 American companies operating in Argentina, employing over 155,000 workers. In a relative sense, the U.S. does not have vital economic interests at stake in the South American country, though Washington may fear that the Argentine government, which has retreated from neo-liberal orthodoxy, could set a bad ideological example in Latin America if it continues along its present political trajectory.
Kirchner has on occasion celebrated worker-run, "recovered" factories and has signaled that she might seek to reform the bankruptcy law which would allow laborers to assume control over companies which are in the midst of financial turmoil. At the international level, Kirchner wants the International Labor Organization to be included in meetings of the G-20. In Geneva, she remarked that workers needed to play a role in solving the world financial crisis which had been caused by speculators. The state had not adequately regulated financial capital, she added, and would have to assume a greater economic role in future. Since 2003, Kirchner said, Argentina had sought to rebuild its economy based on real employment and production rather than mere speculation.
U.S. "Viceroy" in Buenos Aires
U.S. Secretary of Labor Hilda Solis was also present in Geneva and promised to convey Kirchner's G-20 proposal to Obama. Behind the public cooperation however real tensions exist. For all his lofty rhetoric about listening to Latin America as opposed to imposing U.S. designs on the wider region, Obama has behaved rather imperiously in Argentina. One recent episode involved Assistant Secretary of State for Hemispheric Affairs Arturo Valenzuela. An American of Chilean descent and a Chavez critic, Valenzuela made his way to Buenos Aires late last year. When asked by Argentine officials why Obama had failed to meet with Kirchner to date, Valenezuela reportedly failed to answer.
Then, to make matters worse, the diplomat exited the meeting and declared to the Argentine media that Argentina lacked adequate legal protections. When the government protested that such was not the case, Valenzuela clarified that he had personally spoken with representatives of American companies through the U.S. Chamber of Commerce who were upset about management of the economy. They were reluctant to invest due to lack of legal protections, Valenzuela added.
The U.S. official's aggressive diplomatic approach is somewhat ironic, in light of the fact that Valenzuela had stated that the purpose of his trip was "to listen." As if he had not annoyed the government enough already, Valenzuela then declared that he personally had detected a change in the investment climate between 1996 [the height of Argentina's flirtation with neo-liberal economics] when "there was a lot of enthusiasm to invest," and the present day.
Valenzuela's remarks struck a chord with pro-Kirchner Senator Nicolas Fernandez, who declared that "in that moment [1996]...our country lost a massive amount of jobs as a result of being in debt and having to follow the proscriptions of the IMF." The head of the high court's commission on constitutional affairs expressed incredulity that Valenzuela would pine away for 1996, the very year that saw an exodus of investment which flooded into Brazil, thus leaving workers destitute.
In a communique, the Argentine foreign ministry angrily retorted that the government "had not received complaints from U.S. companies which had interests and investments" in the country. The authorities added that it was not the first time that the U.S. had made an issue about the investment climate. U.S. ambassador Vilma Martinez, they added, had made similarly vague charges previously. When pressed to clarify her words, however, Martinez had refused.
The irate chorus continued with Interior Minister Florencio Randazzo regretting that some U.S. officials had gone back to "the old practices" even though "there was an expectation in Argentina of the inauguration of a new U.S. foreign policy" during the Obama era. The Minister of Justice added that Valenzuela's remarks were "very unusual and unjustified." By far however the most incendiary remarks came from former president Nestor Kirchner, Cristina's husband, who accused Valenzuela of behaving like a "viceroy."
In an effort to mend fences, a group of U.S. congressmembers recently traveled to Buenos Aires where they met with the Argentine Foreign Minister and U.S. ambassador Martinez. Democratic Congressman Eliot Engel of New York, who chairs the House's Subcommittee on the Western Hemisphere, was present at the meeting. Making reference to Valenzuela's previous visit, Engel remarked that "what defines the relationship between two countries is not just a reflection of what one person says."
Engel then visited the headquarters of the General Confederation of Workers, known by its acronym CGT, and said he was proud to have made history "as they tell me it's the first time that a legislator and the U.S. ambassador have visited the CGT." Hoping to ameliorate any bad feelings caused by the U.S. State Department, Engel declared that his father was a union man at a metal plant "and that's why I am very involved with labor rights, not just in the U.S. or Argentina but all over the world."
Perhaps, the Obama administration hopes that the Engel delegation may have smoothed things over. Still, however, there's no doubt that Washington seeks to maintain low level diplomatic contact as evidenced by Clinton's very brief and last minute stop in Buenos Aires. Amidst the conflicting signs, it's difficult to sort out where Obama would like to take U.S.-Argentine relations. In 2010 the U.S. president plans a Latin America tour, but so far there's only been mention of stops in Brazil and Chile.
At the beginning of his presidency, Obama said that he did not see Latin America as a junior partner and voiced support for an ongoing relationship governed by mutual respect. On balance, however, Obama seems to view Latin America as divided into good and bad camps, and in this sense he doesn't differ substantially from his predecessor. For the time being, Obama doesn't know which camp Argentina falls into, and as a result he is keeping his distance.
Popular in the Community