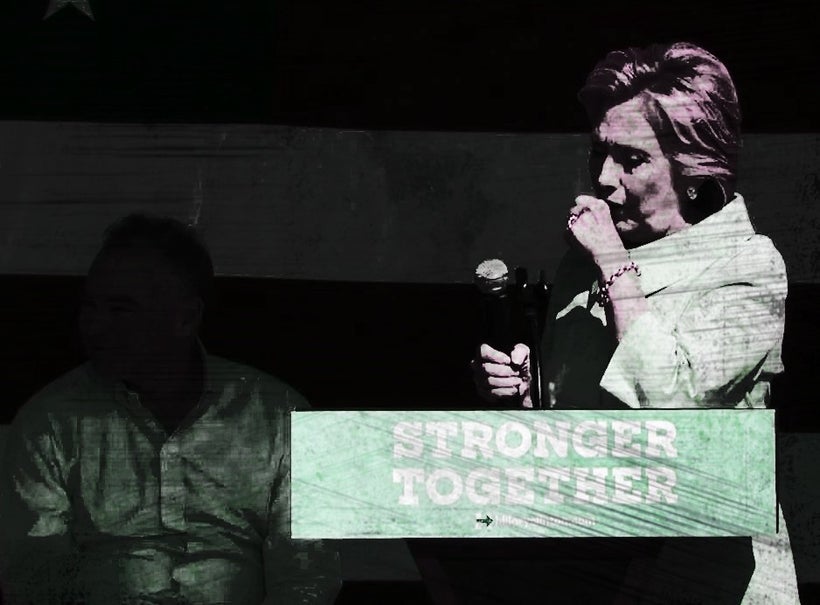 In 1944, while campaigning for President, Franklin Delano Roosevelt received some startling news. Having been examined by the eminent physician Frank Lahey, Roosevelt, who had a long history of health problems, was told that he did not have "the physical capacity to complete a term." Rather than withdraw from the race or even inform the public as to his condition, his campaign decided to suppress the information and present the President as a man in adequate health.
Roosevelt would go on to win a landslide victory before dying of a stroke three months into his term.
Americans who believed they were voting for a fourth term of Roosevelt had unwittingly not done so at all. In voting for a dying man, their votes had been cast, functionally and without their conscious consent, for Roosevelt's vice-presidential candidate Harry Truman, who would go on to serve the final three years and nine months of the term as President.
In 2008, Republican presidential candidate John McCain had his health voraciously scrutinized throughout the campaign. At 71 years old and bidding to become the second oldest President ever, the scrutiny was perhaps not unwarranted, especially when considering the list of America's oldest Presidents; Ronald Reagan (69 years, 73) was alleged to have had Alzheimer's and dementia as early as his first term, William Henry Harrison (68) died one month into his term of natural causes, Dwight Eisenhower (66) suffered a stroke in office.
Diligence turned to alarm when McCain named as his vice-presidential running mate Alaska Governor Sarah Palin. Monumentally unprepared and an unapologetic imbecile, the thought of Palin one health problem away from a position as leader of the free world was too much for many to bear. McCain would, of course, lose the election, and Palin would descend into the realm of reality television and semi-satirical punditry.
Now in 2016, with apologies to conspiracy haters and censorship purveyors, even unrepentant Hillary Clinton mouthpieces like CNN and the Washington Post have had to admit and report that Clinton's "health just became a real issue in the presidential campaign." Clinton, who has a history of serious health problems including a blood clot in her brain, would be 69 years old at the time of her inauguration and has suffered, some would say heroically, through coughing fits, memory loss, spasms, and now an outright collapse on the campaign trail.
The idea that an elderly person, yes even the President of the United States, could become incapacitated or potentially pass away, especially after exhibiting symptoms of poor health, is morose, yet uncontroversial. Certainly, few Americans would wish ill-health on another. But if Hillary Clinton's health is a "real issue" then, much as was done with John McCain, investigations must be directed towards the person who would be next in line to assume the throne.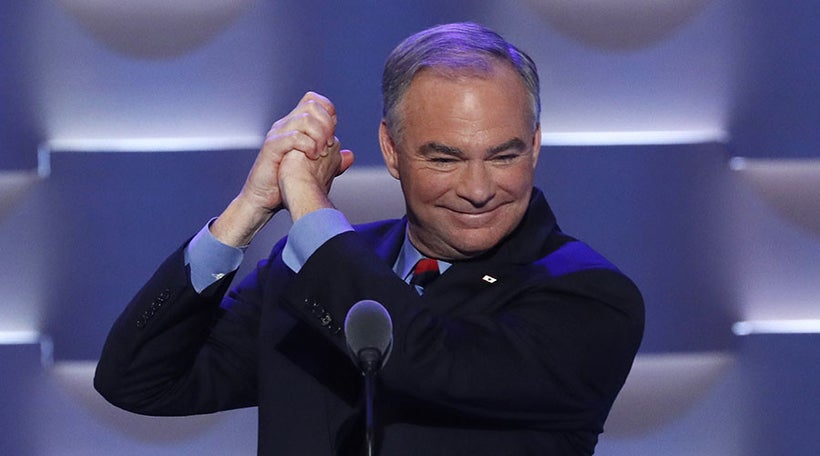 Vice-presidential candidate, and the next President of the United States should an elected Hillary Clinton be medically unable to do the job, Tim Kaine is not Sarah Palin, though few could claim to be quite that unique of a snowflake. The former Governor of Virginia and Chair of the Democratic National Committee, and now first-term Senator is, by most accounts, a well-respected establishment politician. Of course, similar words could be used to describe John McCain, and most Democrats would recoil in horror at the thought of voting for Senator McCain. There is, unfortunately, no direct correlation nor causation between being a well-respected establishment politician and being a representative of the Democratic Party's purported ideals and values.
As Kaine stated repeatedly in campaign ads when running for Governor – which used the catchphrase "these are my values and that's what I believe" – "I'm conservative." An effective way to become well-respected as a politician, regardless of party affiliation, is to stick to and fight for your "values" and what you "believe." And Tim Kaine, to his credit, has certainly done so.
He is a man who stood with George W. Bush on Iraq, professing to "share the President's view," and continued as a champion for neoconservative imperialism as a Senator. Kaine led the effort to get Congressional approval for the use of military force against ISIS, which to that point had been ongoing illegally, mocking opponents as "afraid." He has advocated for the enactment of a "safe zone" in Syria which would "need US military assets to protect it," – put another way, 'ground troops' – and in a time of ostensible non-proliferation supports strengthening America's nuclear capability.
As a pro-coal Governor, and the Senator who co-sponsored legislation to lift the moratorium on offshore drilling, Kaine has been an environmental antagonist, often drawing criticism from activists and related organizations.
But environmental advocates are not the only ones who have been antagonized by Tim Kaine, as so, too, have supporters of labor and worker's rights. For Tim Kaine, trade deals continuing the labor (not to mention sovereignty)-crushing legacy of NAFTA are "something I feel really passionate about." As Governor he sent letters of support for the Colombia Free Trade Agreement and others, voted to fast-track the TPP as a Senator, and was passionate enough to critique the "loser's mentality" of those who opposed this agenda.
And while Donald Trump throws around "loser" as an insult from a man who told people they were fired on television, Tim Kaine does so as a politician who oversaw the execution of 11 people as Governor. From his time as a city councillor who was "excited" about the 1994 Crime Bill, to his vocal support for Project Exile as Governor and, before that, Mayor of the city the project started in, to becoming one of only four Democratic Senators to be graded an "F" from StopTheDrugWar.com, Tim Kaine has definitively been a 'tough on crime' politician.
Well, certain types of crime, at least. As a Senator, Kaine has been a great crusader for bank deregulation. He voted for a bill which would roll back the already modest Dodd-Frank regulations, standing in opposition to colleagues such as Elizabeth Warren and Bernie Sanders, and earlier this year, according to Politico, was "part of a lobbyist-driven effort to help banks dodge consumer protection standards and regulations to prevent banks from destroying our economy."
Throughout his career, and across a wide range of policy initiatives, Tim Kaine has earned respect for following his conservative values, beliefs, and passions. But if there is one arena in which Kaine is distinctly prolific, it is that of big dollar corporate fundraising. He has, through his political career, raised over $60 million towards his campaigns – including nearly $20 million for his Senate run — only 17% of which came from donations under $200. As DNC Chair, Kaine raised hundreds of millions of dollars, infamously fundraising three days a week while acting in his spare time as Governor of Virginia. He has also proven particularly adept at maneuvering through Virginia's lax political gift laws, avoiding quid-pro-quo illegality while receiving vacations, tickets to sporting events, clothes, and other gifts from pharmaceutical, energy, and investment 'sugar daddies.'
Tim Kaine understands as well as anyone how the business of government works and who it works for, and has used this understanding to climb to the rarefied air at the top of the political mountain.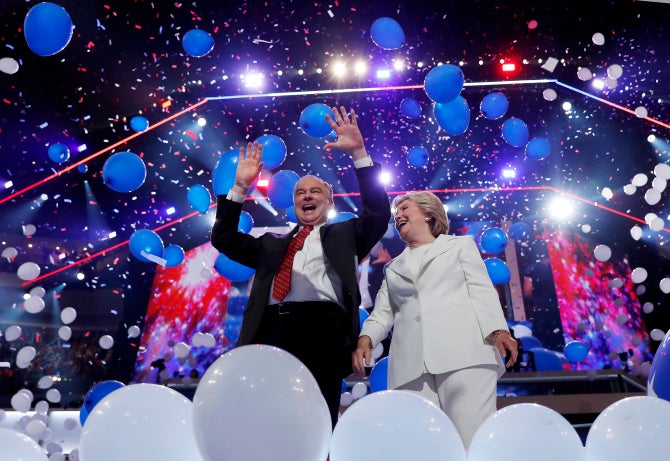 When Hillary Clinton is not advertising herself as "moderate and center," liberals and left-leaning Democrats can, if they so choose, cling to the "progressive who gets things done" narrative. But they will receive no such reprieve from Tim Kaine. He is a self-defined conservative, and while this does not make the man 'deplorable,' it has meant his positions have been thoroughly and unapologetically those of a stereotypical 'moderate and center' Republican.
Perhaps Hillary Clinton really did believe she was so far ahead that she could take the summer off and go nearly 300 days without giving a press conference during the most important political campaign of her life. Perhaps pollen levels have been high, the heat in New York unbearable, and bouts of pneumonia going around.
Or perhaps Hillary Clinton, a politician with a questionable history with the truth, is, like FDR before her, not being entirely forthcoming with the American people with regards to her health. It is not preposterous to ask if a vote for Hillary Clinton may in fact be a vote for Tim Kaine.
Regardless if Clinton is currently seriously ill, or simply a near 70-year-old person with a history of health issues proposing to undertake one of the most difficult and stressful jobs on earth, it is time for Democrats who believe in the advertised values of the Democratic Party to look at the policies, the words, and the actions of her running mate. It is time to recognize that .
Calling all HuffPost superfans!
Sign up for membership to become a founding member and help shape HuffPost's next chapter
This post was published on the now-closed HuffPost Contributor platform. Contributors control their own work and posted freely to our site. If you need to flag this entry as abusive,
send us an email
.