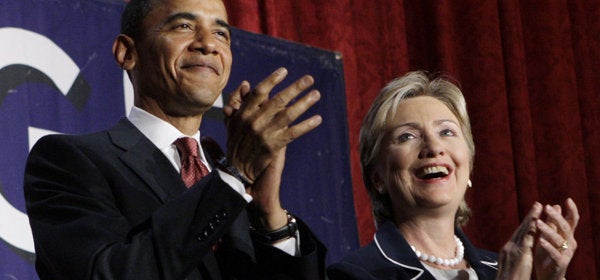 By now, most political junkies know that Barack Obama raised a lot of money in June.
But his campaign's $52 million dollar take for the month becomes all the more impressive when considering the utter lack of help he received from Hillary Clinton's high-dollar fundraising machine. When comparing Obama's full FEC filing for June with a list of 311 "Hillraisers" -- or supporters who bundled more than $100,000 in contributions for Sen. Clinton -- the Huffington Post found only eight names in common between the two lists. Not all of those donors maxed out, either, making for a relatively paltry figure of $19,250 in direct, hard-money contributions from Hillraisers for the month.
That does not mean that only eight of Clinton's top donors have contributed to Obama since Clinton dropped out. Several dozen more Hillraisers are rumored to have donated in July, but those details will not be available until late August. Some other prominent Hillraisers, like Barbaralee Diamonstein-Spielvogel, have hosted high-dollar events at their homes, drawing many more times the $4600 limit they each could have given individually by law.
But still, the fact that fewer than three percent of Clinton's donors have donated any money directly to Obama in his first month as presumptive nominee is likely to raise the eyebrows of some leaders in the Democratic Party who are hoping to see signs of unity. Clinton suspended her campaign in early June, and officially endorsed Barack Obama in a speech on June 7.
In addition, only a scattered few Hillraisers donated to the Democratic National Committee or its Victory Fund in June -- perhaps a more worrying development for the party as it tries to keep pace with its Republican counterpart. (Such checks to the party, however, can go as high as $28,500.)
A source close to the Clinton camp who spoke to the Huffington Post on background said the trend was not irreversible for the Obama campaign, however. "The best thing they can do to bring the Clinton people along is to hire Clinton finance staffers to work with their donors," the source said, adding that no high-level Clinton finance figures have been hired to work for the campaign. "There are some people [Hillraisers] who will never come over," the source conceded, "but some of the people just haven't been involved in the process [thus far]. ... And in a tight race, you need as many people as possible. It's a big deal."
The Huffington Post has reported previously on some of the most outspoken Hillraiser holdouts. And, it must be noted, the ultimate usefulness of some of these figures is not how much they donate personally, but whether they perform the hard work of organizing others to open their wallets. Still, individual contributions can be a sign of intent or enthusiasm.
Judging by the latest figures, there isn't much of either among Hillraisers at the moment.
The complete list of names for Hillraiser donors in June is below:
Obama for America: 8 Hillraisers
Gary Gensler
John Graham
Lorraine Hariton
Laurence Humphries
Pat Maloney Jr.
Amb. Arthur Schechter
Ann Stock
Eleni Tsakopoulos-Kounalakis
Victory Fund: 6 Hillraisers
Mark Aronchick
Clarence Avant
John Emerson
John Graham
Chad Griffin
Marc Nathanson
Rashid Chaudary
Gary Gensler
Amb. Arthur Schechter
Maureen White
LATE UPDATE: The Washington Post's The Trail blog offers another dimension to the picture. Scouring the latest FEC reports, they discovered a total of 2,200 individual Clinton donors -- as distinct from the smaller group of elite Hillraisers we tracked -- who became first-time Obama donors in June, and who donated $1.8 million of the $52 million total (or approximately four percent of the campaign's June take).
As we reported, Clinton and Obama sources described to the Post the fact that some bundlers may help fundraise without writing checks themselves. However, during our own review, it was clear that many more Hillraisers also wrote personal checks to Clinton, in addition to their bundling, than have currently done the same for Obama.
Calling all HuffPost superfans!
Sign up for membership to become a founding member and help shape HuffPost's next chapter