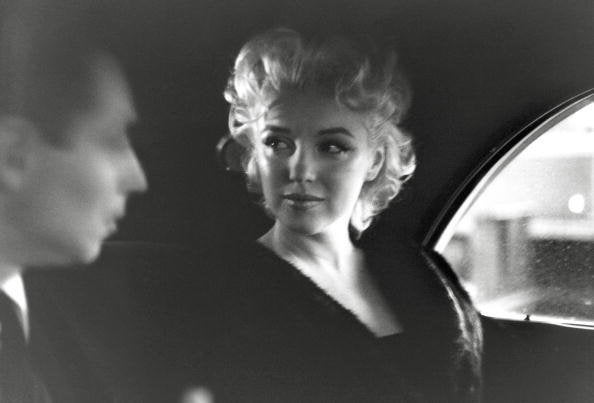 America had Marilyn Monroe, Europe had Brigitte Bardot, and the Arab world had Hind Rostom.
She was a screen sex goddess from a golden era of Egyptian cinema, one whose talent and presence was captured in both glamours black-and-white and glorious technicolor.
She was the Arab world's once most desired woman, 'the Marilyn Monroe of the Middle East,' and like Marilyn, she also died in August.
So as the world commemorates Marilyn's 50th anniversary since her passing on August 5, the Arab world remembers Hind Rostom this month on her first anniversary.
The film star died on August 8, 2011, at a Cairo hospital in Egypt from a sudden heart attack.
For those who didn't know her, she was the poster girl of the Arab world, a mix between Rita Hayward and Marilyn.
Of aristocratic Turkish & Arab roots, Rostom was born on November 11, 1931 in Alexandria as Nariman Hussein Murad (almost similar to Marilyn's real first name, Norma Jean)
Beautiful with a full voluptuous figure -- helped by dresses that accentuated her feminine hourglass figure -- striking facial features, sultry smile matched by flirty eyes, blond hair (sometimes even platinum blond), fans flocked to copy her latest look.
But it wasn't just her looks or even her seductive belly dancing that made her legendary, she had a powerful presence on the big screen that broke the stereotypical gender role of the weak and meek female leading ladies.
Veering away from the soft spoken femme fatale, she laughed out loud, demanded attention, was mischievous, witty, a seductress, a minx, a kindred spirit, and an independent character with a fiery temper and even sometimes a tragic figure that fought till the end, a female persona rarely seen in Arab cinema. She had the fire of the legendary Bette Davis.
In the Arab world, this "Queen of Seduction" needs no introduction. Ironically, it was a title she "hated" and worked towards breaking through challenging dramatic roles, including that of a nun. Her role of a coptic nun in the 1963 Shafeeka the Coptic and later another nun film, the 1965 El Rahba (The Nun) were so convincing that her fans wondered about her religion.
"Many called just to ask if I was Christian or Muslim," Rostom was quoted as saying.
Despite being tagged as the Arab Monroe, Rostom was a screen siren who did not resort to nudity, nor did she indulge in any public affairs. She also reportedly never had any plastic surgery done.
Like Marilyn, she became a favorite subject for artists in Egypt, including similar colorful recreations of Rostom's images to that of Andy Warhol's Marilyn.
She has a channel dedicated to most of her 74 films on YouTube here.
There is a lot of debate whether Marilyn would have maintained her status as a legend and the public's obsession with her if she had lived onto old age and was seen by public as just another mortal.
She had escaped the gravity of old age and will always be remembered at her best. I myself am I fan, and I am not 100 percent sure why, there is just something about Marilyn.
Perhaps Rostom understood this better than anyone else and therefore retired in 1979 at the peak of her career.
Once she disappeared, it was rare for her to give interviews, to be seen at public events or even be photographed. She is said to have wanted the public to remember her as she was in her movies, at her best.
She has not been forgotten by the youth of Egypt. Her image reappeared in public on street art during last year's uprisings. In one highly circulated picture, Rostom is painted in black with "We'll bring you from Sharm" written in Arabic under her image, referring to Egyptian President Hosni Mubarak taking refuge in the Egyptian resort of Sharm El Sheikh after he was ousted from Cairo.
Supporting the uprisings, Rostom had told a news channel via telephone that there are "hidden hands" controlling the revolution, even though it is the youth, "like fresh roses," who launched it.
Once a defiant youth herself, Rostom's journey to stardom was a turbulent one -- she went against her father's wishes at age 16 to pursue a career in acting.
"He didn't speak to me until after I was married," said Rostom of her policeman father. "He was strict and tough. He looked down at my profession, unlike my mother, who supported me whatever I did."
Besides her love for quiet walks, staying at home, readings, she had a passion for animals.
"I have had 21 dogs of all sizes and breeds, and my heart breaks every time I see a stray animal suffering in our streets," she said. "They are cruel to them here."
It was and remains rare to have a celebrity in the Arab world that is an animal lover and advocate for their rights. This made her even more special to me personally.
Rostom turned out an offer of over one million Egyptian pounds (165,000 US dollars) in 2002 for her life story to be turned into a drama series.
"My life is not for sale," she is famously quoted as saying at the time.
She appeared in cinema for the first time in 1949 in the film Ghazal El Banat (The Flirtations of the Girls) as a background actress on one of the horses, who were accompanying the singer Leyla Mourad during a song scene that lasted for just two minutes.
But there was something about her, and the offers kept coming and slowly, she rose to become one of the most sought after actresses,  on a par with stars of that era: Faten Hamama, Magda and Shadia. From romance to comedies to musicals, to film noirs, action and melodrama, she played all sorts of roles.
She is most remembered for her role in Youssef Chahine's 1958 classic Bab al-Hadid or Cairo station, a film that won international acclaim when shown in Hollywood in 1990. Throughout her career, she starred against giants like Chahine, the bad man of Egyptian cinema Farid Shawqi, and the romantic leading man Omar Sharif, and even other legendary actresses like Hamama and countless others.
She had received many awards like one of her favorite one for Best Actress by the Association of Egyptian Cinema Writers and Critics for her part in The Coward and Love (el Gabân wal houbb) in 1975. She received a special mention at the Venice Film Festival for Fatin Abdel Wahab's Nessa' fi hayati (Women in My Life) in 1957 and as well as a lifetime achievement award from the Arab World Institute in Paris.   
Despite some similarities between her and Marilyn, I believe overall she was much happier in her personal life than Monroe ever was.
She had the courage to shut the door on fame to become a mother and housewife for her daughter Passant and her husband, the late Dr. Mohammed Fayyad. She was married to him for over 50 years, and she died shortly after him.

"I have no regrets," she says to her choices in life, and particularly her choice to retire.
"I did it for the love of my life, my prince Dr Fayyad."
Calling all HuffPost superfans!
Sign up for membership to become a founding member and help shape HuffPost's next chapter