Not every pregnancy, childbirth and postpartum experience is blissful. I should know. I had a bumpy road to motherhood complete with infertility, childbirth complications, and postpartum depression (PPD). During the heart of my bout with PPD, I found myself trapped in a deep, dark tunnel, alone, with no real emotional support other than from my husband. Sure, my mother and mother-in-law helped with the baby on and off for the first month or so and my husband helped with the baby and the housework. My husband tried to be there for me emotionally, but he had no way of understanding what I was going through. Heck, I didn't even know what was going on with me and why. I had to suffer through insomnia, panic attacks, weight loss and loss of appetite without any sort of reassurance that I would ever return to my old self. I was not referred to anyone experienced in the treatment of postpartum mood disorders. I didn't consult with a therapist. I didn't have access to any mothers' groups or PPD support groups. I didn't have any online resources. I didn't have any friends who had been through what I was going through. I didn't have anyone who could provide a shoulder to lean on and provide non-judgmental advice. I had nothing in the way of non-judgmental, empathetic social support from moms who have been there themselves.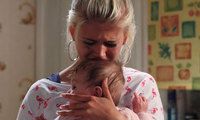 I would've loved to have enjoyed my experience in my first few months as a mother, but I didn't. I was caught unaware and uneducated about PPD. Had I known back then what I know now, things would've been so different, so much better. I would've known that there is truth behind the saying "It takes a village" when it comes to raising a child. I would've known the importance of lining up adequate practical and social support especially when it comes to the first-time parent. I would've known not to let motherhood myths--myths that seem to perpetually plague new moms-- prey on my vulnerable emotions and weakened physical state. I would've known that the messages in my head-- thoughts that made me feel alone in my experience and full of guilt and thinking that I was the only one who has being deprived of that perfect pregnancy, childbirth and postpartum experience -- were lies. I would've known that motherhood is not as instinctive as one would think.
Well, as they say, hindsight is 20/20. This is where one normally applies their personal experience to the next time. But there won't be a next time for me, since I had a partial hysterectomy three days after childbirth. Instead, I've become a PPD advocate hoping to reach as many people as possible about PPD through my blog and my book.
In the years following my PPD experience, I've befriended PPD advocates whose passion to help other mothers is borne from personal experiences like mine. Yes, I have met many passionate individuals who have become experts in PPD research and treatment, as well as established mothers' support groups and/or PPD support groups. Two such wonderfully inspirational individuals are Liz Friedman and Annette Cycon, founders of MotherWoman. Liz and Annette realize that there is a gap in today's society that needs to be filled. Mothers need a place where they can come together and help one another navigate their first weeks and months of motherhood in order to gain perspective and be in a community of support while experiencing the changes that come with the transition into motherhood. Today, MotherWoman not only offers mothers' groups to enable mothers to get together in a mutually supportive and non-judgmental setting as they transition into motherhood, it also offers support groups for mothers experiencing intense perinatal emotional experiences like depression and anxiety. These groups, simple and transformative, enable mothers with similar experiences to share their thoughts and feelings with each other in an informal, nonjudgmental setting, and in the process empower one another.
Mothers' groups are increasingly vital in replacing the community support that used to be much more prevalent back when experienced mothers in the community (e.g., extended family, friends, neighbors) used to educate the expectant mother on what to expect, helping to ease the transition to motherhood, be there for her at childbirth, provide emotional and practical support to her in the first months after the baby is born, and provide breastfeeding support. Now, with family members living farther and farther apart and the breakdown of the neighborhood structure, more and more new mothers lack emotional and practical support as well as role models. It's no wonder first-time mothers are anxious, uncertain what to do, find themselves exhausted and at a higher risk for PPD and other intense perinatal emotional experiences.
Offering two areas of support so critically needed in our society today, MotherWoman is a model upon which all organizations focused on maternal mental health should follow!

Ivy Shih Leung is a PPD survivor/advocate, the author of Ivy's PPD Blog and "One Mom's Journey to Motherhood: Infertility, Childbirth Complications and Postpartum Depression, Oh My!" and a Postpartum Support International member. A graduate of Mount Holyoke College with a BA in Biology, Ivy lives with her husband and daughter in New Jersey.
Related
Popular in the Community