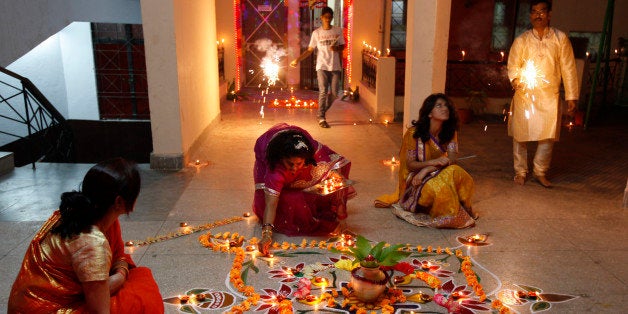 The last time Manav Lalwani celebrated the holiday Diwali in his parents' home city of Mumbai, he was 6 years old. He remembers "lots, lots of fireworks and very little else." Growing up Indian-American Hindu family that was heavily involved in its religious and cultural communities, Diwali, known as the "festival of lights," was for him a time of prayer to the goddess Lakshmi, lighting diyas -- small oil lamps -- elaborate dinners with family and going out to see the latest Bollywood hit with friends.
But this year, the 27-year-old who lives in Secaucus, New Jersey, has traveled to India for one of the biggest and most widely observed Hindu holidays -- Jains and Sikhs also celebrate it -- in India's biggest city. And he's brought along four friends, including two who aren't Hindu, to teach them what it's about.
"For me, India and Hinduism -- these are parts of my life that I really treasure," said Lalwani, the director of product development at American Spraytech, a spray-products company in New Jersey. "I wanted to share this part of myself with them. And I wanted to find out how Diwali is India is different. Is it the one my parents remember from living there, or is it something else?"
As America's 1.8 million Hindus celebrate Diwali, also known as Deepavali, this week, many are taking advantage of the holiday's popularity to not only teach others about their faith, but to take a deeper dive into it themselves. The five-day festival, which aligns with the Hindu New Year and is mainly celebrated on its third day -- Thursday in the United States -- is generally viewed as marking the triumph of light over darkness and good over evil. It's also a celebration of Lord Rama and his wife Sita returning to their ancient northern Indian kingdom from exile, as told in the Ramayana.
"I've been asking myself, what is Diwali? Is it the firecrackers? But in some places they don't do that anymore in India because of health concerns for asthma. Or is it Lakshmi pooja (prayer to the goddess of wealth), which doesn't happen in some parts of India?" said Lalwani, who encountered diverse Hindus as an undergraduate at Princeton University, where he was co-president of the Hindu students' organization. "Is it recounting the Ramayana?"
Indeed, Hinduism -- described by many as a spiritual practice or a way of life as opposed to a formal religion -- has many manifestations and is tied closely to Indian culture, though Hindus exist in large numbers in more than a dozen countries, including the U.S., which is home to a growing group of American converts.
"There are a lot of people, even Hindus, who don't really know what Diwali is," said Madhu Sharma, the Hindu chaplain at Duke University. The relatively new position, which was created three years ago, is one of many springing up on college campuses to guide young, American-born and foreign Hindus in their spiritual journeys. At Duke, Sharma, who was born in India and raised in the U.S., is joining with students to host a Diwali festival on Friday. When there's not a holiday, she usually holds a meditation or discussion circle each week, and monthly worship.
"We don't do a lot of ritualistic events, for one because not everyone shares the same rituals," said Sharma. "So at Diwali, I want to talk about what Diwali is about and relate it to everyday living, not just lighting lamps or doing pooja. It's happy, it's colorful, and it signifies a unity in joy."
Nationally, the Hindu American Foundation is also putting forth its own effort to teach Diwali this year. The nonprofit, which often focuses on civil rights and public policy issues, has launched a fundraiser to train public school teachers on how to educate students on Hinduism and Diwali.
"There's a frustration we have in how Hinduism and ancient India are presented in textbooks" -- often as caricatures -- "and it's a way to offer students a more amiable view of the religion and holiday," said Suhag Shukla, the foundation's executive director. "Diwali comes at a time when other religions are having their own festivals, so it's a good time to educate about our own."
Launched in the last year, 700 teachers have been trained in the group's "Hinduism 101" teaching modules, primarily in major Hindu communities on the East Coast. They cover how Hindus understand God, karma, dharma and moksha (liberation).
"The topic is daunting. There's no single founder, no single sacred text," Shukla said. But the faith's diversity shouldn't hinder teaching efforts, she added.
One way Hindu-Americans have long educated their own is through Bal Vihar, a Hindu Sunday school system. In Atlanta, Geetha Grandhige has been a religious teacher to kids and teens since 2007.
"If you work with them from a young age, they understand the tradition when they grow up. But, still, we can't expect 100 percent of children to be involved," said Grandhige, 63, a member Chinmaya Mission, an international spiritual organization that follows the teachings of Swami Chinmayananda and focuses on education. "People have to get interested in their own ways."
Each Sunday, Grandhige and her colleagues teach about 400 students in small classes at two locations for 2 1/2 hours on the Bhagavad Gita and Ramayana, as well as Sanskrit and Hindi. On Sunday, she'll join hundreds of Hindus at their Atlanta temple for festivities, with prayers, candle lightings, songs and sweets -- all while dressed in their best traditional clothing.
"In India, you learn through osmosis, but here that doesn't happen," said Grandhige, a retired office manager from Mysore, India. "Back home, sometimes your parents don't even know the significance of the traditions. You just do what they do. But in this country, it doesn't work that way. Kids, even neighbors ask and we have to be able to explain."
Related
Before You Go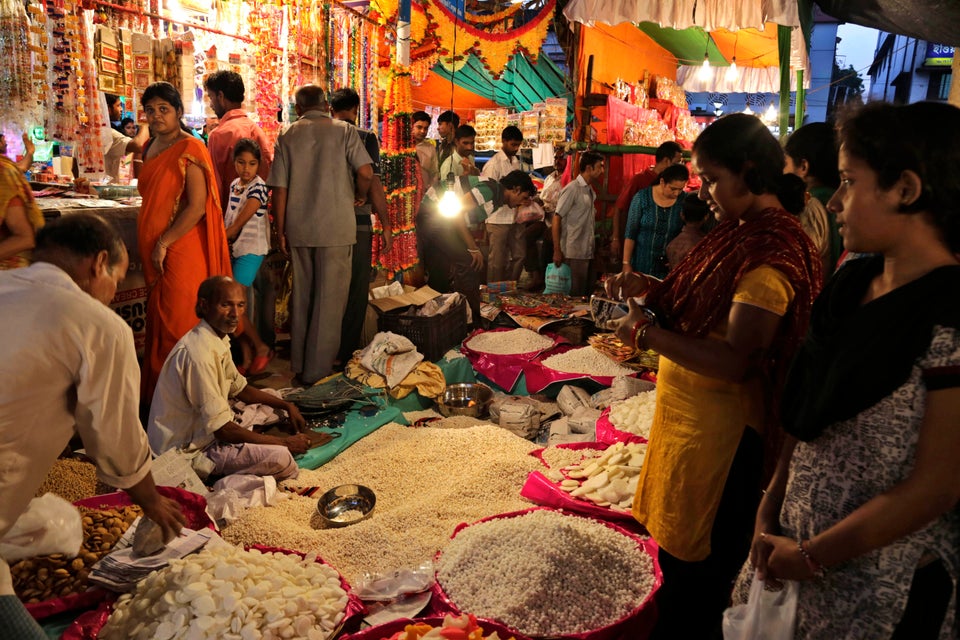 Diwali 2014
Popular in the Community