PASSAIC, N.J. -- In a cluttered fifth grade classroom in this New York suburb, Niki Shah has spent the summer attempting an almost impossible task: teaching yoga to seven-year-olds.
Each day at an annual free summer camp the city sponsors for children of mostly low-income families, Shah, a 31-year-old AmericaCorps volunteer, interrupts games of basketball and soccer to gather students in a circle around him for breathing exercises, poses such as the "the mountain" (also known as the "downward dog") and silent meditation -- difficult tasks for these first-graders with no shortage of energy or conversation.
"I am Hindu and I was taught yoga in school at a young age in India," said Shah, who recently earned his masters' degree from from Rutgers University in global affairs. "I thought, how can I use what I know from my faith and experience to impact the community -- whatever their faith may be?"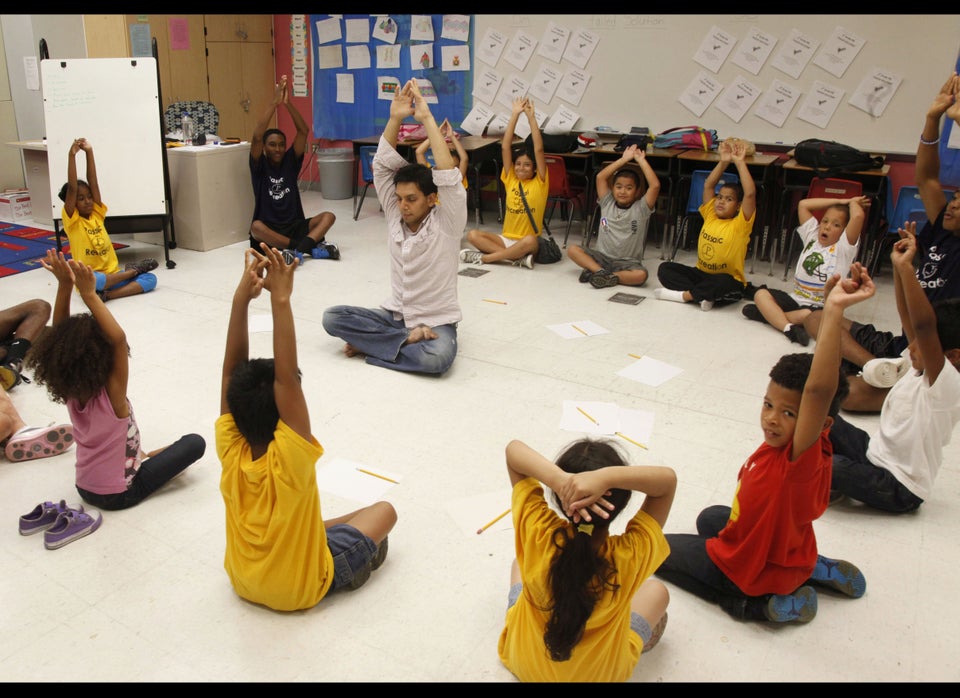 Hindu American Seva Charities
He's one of dozens who will convene in Washington, D.C. this weekend for a national conference at The White House and Georgetown University to talk about a topic of growing concern to a new generation of the nation's 1.2 million Hindu Americans: How can Hindus, a diverse religious group with members that differ vastly in theological beliefs, unite to impact their communities through service?
The event, the first of its kind, is being organized by Hindu American Seva Charities, a two-year-old non-profit that was born out of a "call to service" that President Barack Obama made in 2009.
The idea of community service may seem intuitive. Christian denominations, for example, have emphasized social service programs in the United States for more than a century. Yet for Hindus, who only began having sizable population in American cities the 1960s and 1970s, experts say the community focus has long been on building temples (there are now 1,600 nationwide), developing careers and educating their children.
"There is a gap in the Hindu American community," said Anju Bhargava, a former member of the President's Advisory Council on Faith-Based and Neighborhood Partnerships and the founder of Hindu American Seva Charities. "We're engaged religiously, we're starting to get engaged with civil rights issues, but we're not very engaged in faith-based service," said Bhargava, who by day is a Senior Vice President at Bank of America.
Still nascent in its operation, Bhargava's organization has dispatched several volunteers like Shah to community centers, schools and health fairs around the nation to work with low-income and minority communities. And while almost every member of the organization is Indian and Hindu, the focus is almost exclusively on seva toward non-Hindus.
"In general, I've never really been a religious person, but I call myself Hindu and am proud of it. I was looking for a way to work with other Hindus, to feel like part of that family, but to help people who weren't just like me," said Supriya Prakash, a junior at George Washington University who has spent her summers traveling to health fairs in Latin American communities in New Jersey to teach wellness classes as part of a Hindu American Seva Charities effort.
Prakash represents the kind of demographic the organization is attempting to reach: U.S.-born or U.S.-raised Hindus that may not frequent temples very often, but still want to feel connected to other Hindus.
"Hindu communities tend to prioritize two ways types of connections: one is local, usually via the temples, and one is back home to India. But there are not as many connections between temples, or between Hindu organizations themselves, or between them and other organizations in America," said Vasudha Narayana, a religious studies professor at the University of Florida who specializes in the Hinduism diaspora.
"But that is what the young generation wants right now. We have lots young or new Hindus who want to embrace their heritage, but may not want to do it via the temple," Narayana added.
Hindu American Seva Charities is just one of several non-temple based Hindu organizations that have formed in recent years, though it is one of the few focused exclusively on community service and interfaith efforts. Another popular organization, the Hindu American Foundation, has largely focused on civil rights issues and an educational campaign about yoga.
While it's not a political group, one of the advantages Hindu American Seva Charities has over other Hindu groups is its connections to the Obama administration's faith-based efforts. For its Washington, D.C. conference, it has assembled a broad array of Hindu American community leaders as well as non-Hindus. They include former Senator Harris Wofford; Shaun Donovan, the U.S. Secretary for Housing and Urban Development; the Rev. Mark Farr, President and CEO of The Faith & Politics Institute; Rabbi David Saperstein of the Union for Reform Judaism's Religious Action Center and several others from Sikh and Muslim communities. President Obama will not be at the event.
"Faith-based organizations are often the groups that are closest to the people. They are going to be the ones who are putting roofs over the heads of the homeless or feeding the hungry or making sure we are helping people prevent foreclosures," said DuBois, who will speak to the organization at The White Hose.
Vineet Chander, a 33-year-old Hindu chaplain at Princeton University who will be speaking at the Washington, D.C. event, believes getting Hindus involved in community service will also help Americans better understand the religion.
"If there is a lack of information about who Hindus are or what they believe, one way of bridging that gap is to be out there in the wider community. We have to say 'Yes, we have our roots in India but we are here in America," said Chander, who works with about 200 Hindu students at the university on religious, cultural and service-oriented efforts. "We have to engage in America -- not despite our faith roots, but actually with our faith front and center."
Related
Popular in the Community