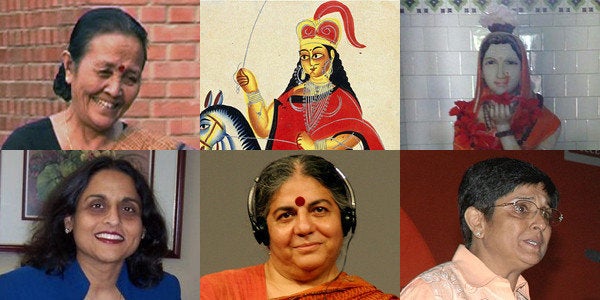 When I tell people I'm Hindu, one of the first reactions is sympathy. Because I'm not just Hindu, I'm a Hindu woman. It's assumed that this is a difficult thing to be. Honestly, sometimes it is. Hinduism comes with considerable gender baggage (what doesn't?). Yes, a lot of Hindu women are discriminated against and oppressed. Don't make the mistake of thinking that that means we are subservient.
When I sat down to write about Hindu women who inspire me, I first thought of my cultural ancestors: women whose lives shine through the avalanche of male-oriented history, who not only overcame trials in their lifetime, but the challenge of being remembered centuries later. While heritage is important, I also included Hindu women that I encounter through the news, my community and daily life. My contemporaries: women who live and strive in the world in which I live and strive, but do it with assertiveness, verve and grace to which I can only aspire.
Gargi (dates unknown): Philosopher, Public Speaker, Royal Advisor
When we think of sages who wrote the Hindu scriptures, we picture men. While most priest-philosophers of ancient India were men, there were a number of extraordinary women among them. Gargi was one of the composers of the Upanishads. Her philosophy-poetry addresses metaphysical questions about the construction and origin of the universe. She is best known for a public debate in which she silenced (and irritated) a renowned sage by posing an unanswerable question, which can be simplified into: "Where is the realm of the Gods located?" You can read one interpretation of their complicated debate here. Gargi was also said to be an advisor in the Court of King Janaka; today a prestigious Women's college of University of Delhi is named after her.
Gargi reminds me of the long history of women's intellectual contributions. She inspires me to think critically and to keep asking questions even when it annoys people.
Akka (12th century): Poet, Social Reformer, Feminist
Akka Mahadevi devotional songs express her rejection of societal expectations; she considered Lord Shiva her spiritual husband and resisted pressure to marry. She was influential in the development of Veerashaivism (also called Lingayatism), a form of Shiva-centered Hinduism which rejected caste-based hierarchy and scriptural authority in favor of Bhakti: personal revelation and ecstatic expression of God. While the 16thC Krishna Bhakti mystic Mirabai is better known today, Akka remains somewhat mysterious.
From Akka, I learn to loosen the grip of my intellect, seek bliss through experience, and stop worrying about what people think of me.
Rani of Jhansi (19th century): Warrior Queen, Freedom Fighter, Folk Hero
The first time I rode my horse into a dusty north Indian village, I was greeted with cries of "Rani, rani!" They meant Rani of Jhansi: an equestrienne, queen and battle commander who fought the British during the 1857 War of Independence. Virtually every strong, outspoken Indian woman is compared to her; it's a humbling but exhilarating association. The young queen from a small nation defied the British Empire, had an all-women regiment in her army, once rode into battle with her young son strapped to her back, blew up her throne rather than let an enemy force claim it, and died in battle.
She is a legend in India. At a time where there was little information about female riders and warriors, knowing that she once existed was powerful knowledge. Rani of Jhansi inspired me to keep riding horses, embrace my innate feminine warrior nature, and to be true to myself no matter what the cost.
Phoolan Devi (1963-2001) Bandit Queen, Minister of Indian Parliament, Folk Hero
While I was growing up in India in the 1980s, there was no-one cooler than Phoolan Devi. While details of her controversial life remain murky, the story I knew was that she turned to banditry after being abused by her husband and/or raped by some high-caste men. After evading capture for two years, she finally negotiated her surrender and served 11 years of jail time; Phoolan Devi went on to be elected as a Minister of the Indian Parliament. She was revered by many as a champion for the rights of oppressed people and women.
As an adult, I learned more about her, and about the price that can be paid for being a woman and a revolutionary figure. While she was in jail, she was given an unnecessary hysterectomy; the prison doctor allegedly said that this was to prevent her from "breeding any more Phoolan Devis." A movie (loosely) based on her life was famously criticized by Arundhati Roy (I strongly recommend you read Roy's piece The Great Indian Rape Trick; it's better than anything I'll ever write). Roy's excoriation of the exploitative film was one of the first times I read anything by an Indian feminist; it was revelatory. (If Roy was Hindu, she'd be on this list, too.) Phoolan Devi inspired me to trust my own definitions of femininity, to never keep quiet when I was threatened or attacked, and to let my own experiences with injustice motivate me to help others.
Kiran Bedi: Cop, Reformer, UN Advisor
In contrast with Phoolan Devi's banditry, Kiran Bedi was the first woman officer in the Indian Police Service. As Traffic Police Chief of New Delhi, she became a household name when she had Prime Minister Indira Gandhi's car towed for being illegally parked; this was the start of her determined (and successful) effort to bring some order to dangerous Delhi traffic. Later in her career, she became the Inspector General of Prisons, and introduced yoga and meditation as part of an innovative rehabilitation program. She has served as Police Advisor to the United Nations Secretary General as well. Today, she is an advocate for social justice and accessible education for women and marginalized communities. Kiran Bedi showed me that, despite social oppression, women can achieve positions of authority; she also exemplifies my definition of "peacekeeper."
Vandana Shiva: Scientist, Activist, Educator, Environmental Steward
The seemingly irreconcilable differences between religion and science in western thought is bewildering to many Hindus. Behind her bindi, Dr. Shiva, like many Hindu women, has a keen, scientific mind: her background is in physics and the philosophy of science. In the dark ages of the 1990s, before most of us had heard the word "sustainable," Dr. Shiva made connections between environmental issues, gender imbalance and social inequity. Renowned for her groundbreaking, ongoing work on bioethics and environmental policy, Dr. Shiva inspires me to better understand our place in the world and to remember that any injustice fuels all injustice.

Anuradha Koirala: Anti sex-trafficking Activist, Educator.
She has helped over 12,000 women escape slavery. Named "2010 CNN Hero of the Year," for her work to end human trafficking in Nepal, Anuradha Koirala is the founder of Maiti Nepal, an organization that rescues and rehabilitates girls and women who have been forced into sex work. This organization builds networks to help women, prosecute abusers, educate the public, and help monitor the Nepali border to prevent more victims from being taken out of their home country. Koirala 's commitment to overcome the multifaceted problem of violence against women in Nepal is remarkable. (Before leaping to judgment about the condition of women in Hindu cultures, check out the situation of sex trafficking here in the United States. This is a global problem.)
From Anuradha Koirala, I learn that in order to overcome systemic cultural problems, we need to be courageous, motivated and organized. One person can make a difference, but we need to reach out to many people and build networks of support.
Anju Bhargava: Hindu-American leader
The first Hindu appointed to The White House Advisory Council on Faith Based and Neighborhood partnership, Anju Bhargava is a social activist and innovator. Her organization, Hindu American Seva Charities, unites Hindu-American communities to work on diverse social service projects. HASC partners with organizations such as The Berkley Center for Religion, Peace and World Affairs, The Bhumi Project and Green Faith. I first worked with her to help organize a "Yogathon" in 2010, to bring free yoga to temples and worship centers across the United States. Anju taught me to keep my faith in humanity at the forefront of my work, and to never give up on what I believe is possible.
Lalita Arya: Activist, Educator, Mother
Famous women are important role models, but it's the women who raise and surround us that really shape and inspire. I could go on at length about my mother's work as an activist and educator, but you can read about that here. Instead I'd like to tell you how my mom taught me to respect her work as a homemaker.
When I was a young girl, my mother supervised everything going on in the house. In our tradition, it is believed that our emotional state when cooking has an influence on the food we prepare, so Ammaji (mom) would not cook if she was angry or upset. Whether or not you believe that food is flavored by intention, the practical result of this was that if Ammaji was upset, we didn't eat. I've heard many moms complain that their work in the home is taken for granted, and that they suppress their own emotional needs in order to serve their family. We didn't have that problem. If Ammaji was upset, we had to deal with it if we wanted to eat. It taught me to respect the often invisible work of the women and men who provide for us, and to establish healthy boundaries for myself.
We were visiting the holy city of Haridwar, where Hindu pilgrims come to bathe in the River Ganges. A group of women had partially undressed to submerge themselves, when a man started videoing them and loudly commenting on their bodies. One of the pilgrims looked up and saw him. She came out of the water, picked up her sturdy walking stick, and, bare-breasted and soaking wet, began striding over. "Is this what you came to the sacred river to see?" she shouted, knocking the camera out of his hands and crushing it. She then proceeded to thump him with her walking stick until he apologized to her and the river Goddess and all the women present.
While I admired brave, assertive public figures like Kiran Bedi and Phoolan Devi, this was the only time I ever personally witnessed a woman defending herself from harassment. She made me feel like I was not alone.
That is the lesson I take from all the strong Hindu women, women who are homemakers, activists, mothers, peacekeepers, rebels, warriors, pilgrims, scientists and artists: we can be whatever we choose to be; if the world tries to stop us, then the world will have to be changed. It helps to know that other women have been there before, and are out there now, doing that work by living their lives.
What's your story? Who are the women who have inspired you?
PHOTO GALLERY
Inspring Hindu Women
Calling all HuffPost superfans!
Sign up for membership to become a founding member and help shape HuffPost's next chapter