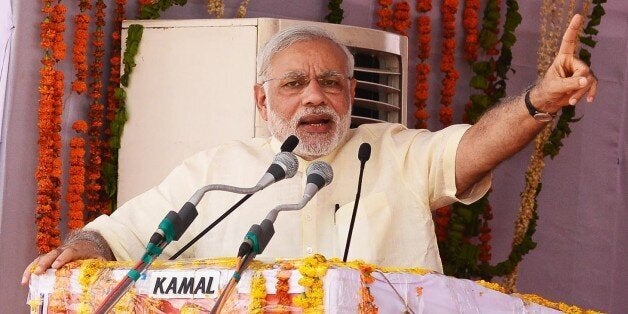 NEW DELHI -- Here are the telltale signs of a government in serious trouble: when it sniffs a conspiracy in every criticism aimed at it; when it deploys state power in a ham-handed manner to curb dissent; when it looks the other way as its supporters abuse, intimidate, injure and even murder its ideological and political foes; when it seeks shelter behind a veil of high-decibel nationalism; when it dons the mantle of victimhood; and, not least, when it attracts ridicule more than rage.
The trouble is all the more disconcerting when the government in question seems to be invincible. Indian Prime Minister Narendra Modi and his avowedly Hindu nationalist Bharatiya Janata Party commands a majority of its own in the Lower House of Parliament. Together with its partners in the National Democratic Alliance, the majority is even more impressive. India had not seen such an intrinsically stable government in four decades.
Since it was voted to power, the BJP has registered a staggering increase in its membership. By the end of last December, it had outstripped the membership of China's Communist Party. Equally impressive is the growth of the Rashtriya Swayamsevak Sangh, the BJP's fount of ideological inspiration. It boasts of more than five million active members who, during elections, campaign for the party's candidates. In opinion polls, Modi has consistently figured far ahead of his political rivals.
Not everyone though was carried away by Modi's governance. That something was amiss in it was evident in the very first days and weeks of his tenure. One pointer related to his style of functioning. Nothing would move in any ministry without a nod from the Prime Minister's office. Such a concentration of power had not been witnessed since the heyday of Indira Gandhi's authoritarian rule in early 1970s and 1980s.
The other sign was more ominous. That Modi was beholden to the RSS for ensuring his spectacular triumph in the general election became obvious. He gave it a free hand to advance its agenda of "cultural nationalism" -- a barely disguised synonym for turning India into a Hindu nation. The RSS began to take control of educational institutions and cultural bodies. History textbooks were re-written to suit its ideology. Individuals with desultory professional credentials were named to head universities, research bodies and various cultural institutes. Modi chose to look the other way.
How long can the prime minister run with the hare of development and hunt with the hound of discord?
He was also conspicuously silent when members of his ideological fraternity hounded Muslims, leftists and liberals on one pretext or the other. These ranged from a ban on eating beef -- and in one case, Madhya Pradesh, even eggs -- to assaults on young people having fun in bars and on dance floors. Indeed, anything that smacked of "Western" culture and ideas, such as free speech and tolerance of diversity, invited the wrath of this fraternity.
Not content to denounce Modi's critics as anti-nationals, its cadres, sympathizers and even its leading lights often roughed them up and, in one horrendous instance, even lynched a poor Muslim on the suspicion that he had beef in his refrigerator. But Modi, who never misses an opportunity to tweet on every conceivable issue, chose to remain quiet. He was unmoved when India's finest thinkers, writers and artists returned the awards they had received from the government and from government-sponsored institutions.
The question that surged to the fore was: how long can the prime minister run with the hare of development and hunt with the hound of discord? The answer was not long in the coming. The BJP was routed in the assembly elections in Delhi and in the populous state of Bihar. It fared poorly in several by-elections and elections to local bodies, including in his own state of Gujarat.
None of this, however, tarnished Modi's image more than his government's thoroughly inept handling of students first at the University of Hyderabad in the wake of the suicide of a young Dalit (low-caste) scholar, Rohith Vemula, and then at the Jawaharlal Nehru University, where the students union leader, Kanhaiya Kumar, was slapped with the charge of sedition on the ground that he chanted slogans calling for the implosion of India and glorifying a Kashmiri militant who was hanged after he was found guilty of conniving in an attempt to blow up the Indian Parliament.
The matter is now in court but already evidence has come to light that the conduct of the government and the police commissioner was not quite in tune with due process. That, however, has not prevented the Modi government and the supporters of Hindu supremacy to play the nationalist card to the hilt both inside Parliament and in the streets. Indeed, to add to the government's woes, men sporting lawyers' robes manhandled Kanhaiya and media persons inside the premises of a court even as policemen remained mute spectators of this outrage.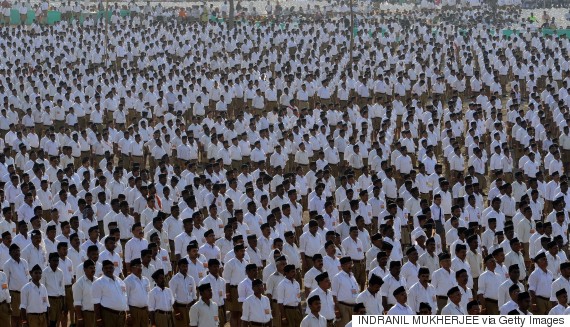 RSS volunteers stand in formation at a rally in Pune, some 135 kms from Mumbai, on Jan. 3. Over 150,000 RSS volunteers are attending a day-long congregation, 'Shivashakti Sangam,' the largest in recent years. (INDRANIL MUKHERJEE/AFP/Getty Images)
Students and their teachers in campuses across India continue to stage protests against what they perceive to be a vicious onslaught on their autonomy. And even those sections of the media that tilted towards Modi -- and had indeed amplified the "anti-national" chorus -- have begun to entertain second thoughts about the government's commitment to safeguard the basic right to freedom of expression.
Modi, however, has not uttered a word of regret, let alone of remorse, about these developments. On the other hand, he has gone on the offensive against his critics in a manner that leaves one breathless. The strongman of India believes that his tormentors are determined to oust him for two reasons: one, that his government is leaving nothing to chance to expose corruption in their ranks; and two, that they have been unable to digest the fact that a mere tea-vendor has become the country's prime minister.
On the first count, Modi has done precious little to bring the corrupt to heel. His personal integrity is doubtless impeccable. But that cannot detract attention from his failure to deliver on the promise he made to the electorate -- that he would bring back to India money illegally stashed abroad.
On the second count, his stand is even less tenable. Except for one foolish remark made by an otherwise bright and articulate member of the Congress party, no one has spoken about his modest social background. The charge that he is a victim of class or caste prejudice is poppycock. It is nothing but a sign of creeping nervousness.
Two issues will now test his mettle. One is the growing clamor of land-owning and politically powerful peasant castes in several states -- Jats in Harayana, Patidars (or Patels) in Gujarat, Gujjars in Rajasthan, Marathas in Maharashtra, Kapus in Andhra Pradesh, Ahoms in Assam -- to be given a "backward caste" status. That would enable them to benefit from quotas in educational institutions and government jobs. The quotas only apply to castes that have historically suffered from social discrimination and to those who have been identified as socially and economically backward classes.
He needs to learn that Indians can worship an idol and demolish an idol with equal zeal.
The fragmentation of land holdings make the peasant castes economically unviable and only a few of the landholders have been able to succeed in trade and business. While the difficulties they face are acute enough, it is not possible under the law -- which pegs "reservations" at 50 percent -- to accommodate their demand for "backward caste" status. But the Modi government, aware of their electoral clout, has agreed to accept it in the full knowledge that the Supreme Court will strike it down. The conundrum, that has led to destruction of property and the loss of 19 lives in Harayana, poses an intractable problem for the prime minister.
The economy is the second test. The Modi government lacks a majority in the Upper House of Parliament. With their smaller numbers, the opposition parties have not allowed the passage of bills that would have eased acquisition of land for investors, more flexible labor laws and fewer bureaucratic hurdles to start businesses. Modi can reach out to the opposition provided he can place his Hindu nationalism on the back burner.
But can he do that? He is damned if he does, and he is damned even more if he doesn't. Indians who voted for him in such large numbers -- for his promises of speedy economic growth, a corruption-free government and a stable polity -- are a dispirited lot today. Modi's only shard of luck is that no alternative to him has emerged just yet.
But the ground is clearly slipping from beneath his feet. Like the Bourbons of France, he seems neither to learn anything nor forget anything. He needs to learn that Indians can worship an idol and demolish an idol with equal zeal. He needs to forget that he can ride roughshod over what is at the core of India's democracy -- respect for the country's exuberant diversity upheld in its Constitution -- in the name of Teflon nationalism. To persist with this delusion is to embark on a path leading to certain perdition.
Calling all HuffPost superfans!
Sign up for membership to become a founding member and help shape HuffPost's next chapter