A number of Hindu leaders and activists are angry about a new CNN show they say depicts their faith in a sensationalist manner.
"Believer," hosted by religion scholar Reza Aslan, premiered on Sunday with an episode on an obscure Hindu sect that practices cannibalism. The Aghori reject India's caste system, as well as the notion of untouchables and the distinction between purity and pollution.
In the hour-long premier, Aslan sits down with an Aghori guru and ends up getting smeared with cremated ashes and drinking alcohol from a human skull. At one point, he takes a taste of what's presented to be cooked human brain tissue.
The guru later threatens to cut off Aslan's head if the scholar asks any more questions, and begins throwing his own waste at Aslan and the camera crew.
"It is unbelievably callous and reckless of CNN to be pushing sensational and grotesque images of bearded brown men and their morbid and deathly religion at a time when the United States is living through a period of unprecedented concern and fear," Juluri wrote.
The U.S. India Political Action Committee, an advocacy organization for the Indian American community, released a statement claiming that CNN was presenting "a fringe sect ... as the face of Hinduism."
"In a charged environment a show like this can create a perception about Indian Americans which could make them more vulnerable to further attacks," USINPAC Chairman Sanjay Puri said in the statement.
The Hindu American Foundation released a statement on Sunday saying the organization was "extremely concerned that while they are not Aslan's intentions, erroneous depictions, misleading imagery, and provocative first half of the program could exacerbate Hinduphobia in the face of widespread religious illiteracy about Hinduism."
Aslan responded to claims of Hinduphobia on Twitter:
And as several social media users tweeted their dismay during the episode's airing on Sunday night, Aslan and the show's director, Ben Selkow, encouraged people to keep watching.
Later in the episode, Aslan meets with non-cannibalistic Aghori practitioners who run an orphanage and care for people with leprosy. And promotional materials on CNN's website also offer a more balanced look at Aghori practice and beliefs.
Aslan responded to claims of insensitivity in a statement to HuffPost, saying: "As someone who writes and speaks about religion for a living I know better than most the sensitivities of the topic, and I have spent much of my career trying my best to address those sensitivities."
The scholar, who is Muslim and frequently speaks out against religious discrimination, noted that he published several articles and videos on CNN.com in advance of the premiere to address common misconceptions about Hinduism.
And although Aslan said he wanted to make a show that would entertain, the intention behind "Believer" was to spread awareness and not to sensationalize.
"Our hope is to introduce people to world views and faith communities that may seem a little strange and foreign and even frightening," he said in a previous interview with HuffPost. "But after watching me go through the experience of becoming part of these communities they may seem more relatable."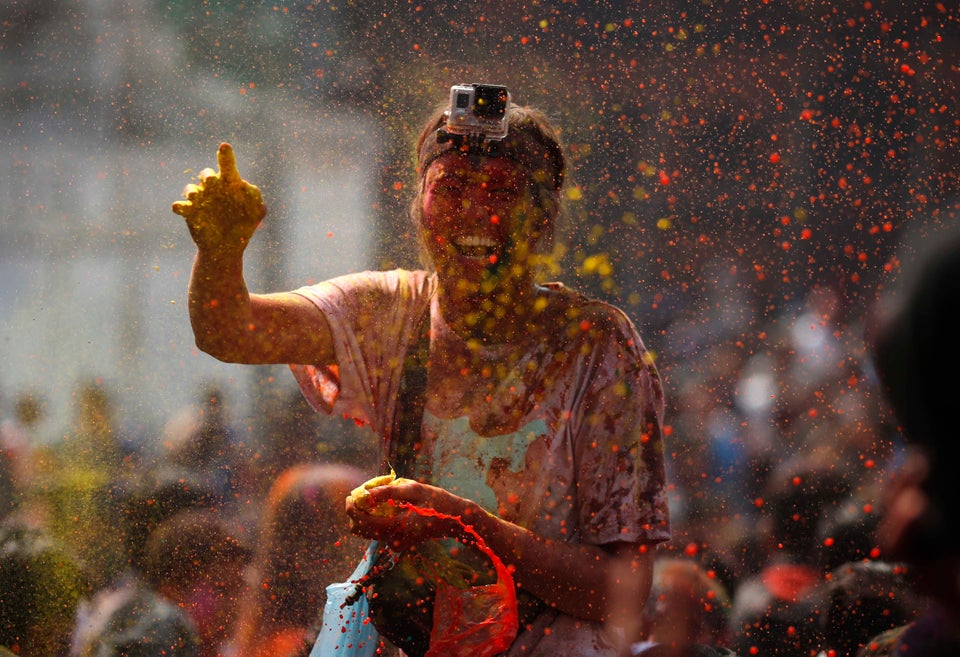 Hindus Celebrate Holi
Popular in the Community