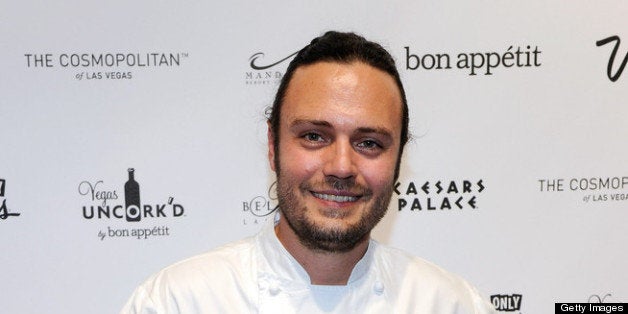 We eat with our eyes first. Before I went to Chef David Myers' new Century City swankery, Hinoki & The Bird, I read online reviews as my amuse bouche.
I respect my friend Jay Weston's great taste, and devoured every word of his delicious-sounding HuffPost review of Hinoki. I was blinded from the stars flashing off the page of LA Weekly's love letter of a write-up. Every tab I opened glowed with tales of Myers' culinary perfection from Yelp, local blogger KevinEats, and the New York Times.

So I went, but my meal was eye-poppingly different. Hitting even closer to the critical Army in my head that marches on its stomach, my confidence as a diner-who-writes was shaken. My courses arrived too fast and too close together to give any one dish, including dressed-up me, time to enjoy them. The food wasn't great.
More than even wanting to like it, I expected to like it. But my tongue doesn't lie. My experience was clearly different than other reviewers. I might just be one fork, but as a hard charging former Marine with a strongly refined stomach, I know a good meal when I eat it.
The next morning, I received a timid text from a friend asking, "hinoki, well?" I was afraid to respond. What if I misunderstood her simple desire to have me agree that it was indeed, "well"? Maybe it was a cryptic and brave reach-out for validation of her own poor experience. Maybe her kid stole her phone. I texted back with the eff it bravery of the man eating the first oyster, was a let down. I tossed my phone away in case the shock killed me. It flashed back a tiny me too. She added a sad faced emoticon that I wished had question marks for eyes.
I get my hair cut by a food freak who flies to China to eat stuff I'll see on U.S. menus in ten years. I flinched as I told her about my meal, wishing I'd hidden her scissors. But she exhaled and her shoulders slumped, glad to be free of the secret burden of the brave face she'd been wearing for Hinoki. I know, right? What about people that aren't critics? Ask us.
But we are critics, each and every diner.
I wanted my meal to taste like all of the critiques I'd read, so I could go lovingly on and on and on in my own review instead of writing this bird of a different feather.
Popular in the Community